Apple's new M1 Pro and M1 Max equipped MacBook Pro models have hit the ground running, and we're finally starting to see some accessories trickle onto the market. Currently, they're still few and far between. Still, some smaller manufacturers and particularly ambitious individuals have already had some protection options available for those of you who want to keep your new MacBook Pro in tip-top shape.
As a note: the M1 Pro and M1 Max are the processors in the new MacBook Pro models, not the names of the actual devices. To avoid confusion with other MacBook models, look for the model identifier numbers A2422 (the 14-inch model) or A2485 (the 16-inch model) since those numbers are unique to the new designs.
DONGKE MacBook Pro A2442 Case
DONGKE and many other manufacturers started cranking out plastic art print cases for the new MacBook Pro models pretty soon after release. If you've used a MacBook in the last decade, you've probably used something similar. These are snap-on plastic cases that come in a variety of art prints. They provide some protection against scuffs, look nice, and come relatively cheap. This one from DONGKE includes a screen protector and matching silicone keyboard cover, so it's an affordable way to get some basic protection.
Related: All Macbook M1 Pro and M1 Max Specs, Screen Size, and Dimensions
WaterField Designs Vero Leather Sleeve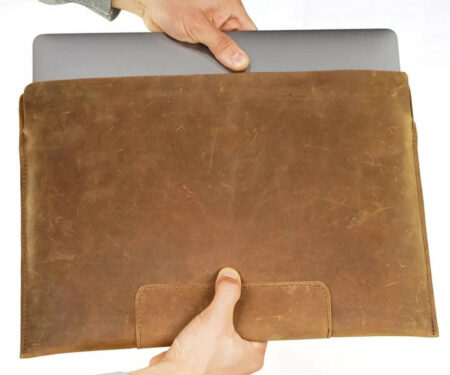 WaterField has been cranking out extremely high-quality cases and bags for electronics for years now. All their products are made and designed on-site in California. They have a reputation for using some of the highest quality materials you'll find in the entire electronics accessory market.
Their Vero sleeve is a single piece of full-grain leather, which comes slightly distressed. It's outfitted with rounded corners and a reinforced grip along the bottom edge of the sleeve to prevent uneven wear. The handy grip section also provides a quick visual indicator of which side the opening is on so you don't accidentally take it out upside down and fling your precious new MacBook Pro. It's simple, extremely high quality, and will likely outlast your MacBook Pro for many, many years.
WaterField Designs Neo Sleeve
The Neo sleeve from Waterfield Designs is more approachable and affordable than a lot of their higher-tier offerings. It's a 4mm thick neoprene sleeve with high elasticity and strength. It uses a cross-stitch for the edges designed to flex and move with your device as you use it to prevent stress and tears along the seams. Along the bottom is a full-grain leather grip to help with orientation and grip. They offer it in both horizontal and vertical orientations, so you can choose whichever works for the bag that you'll be using it with.
Solo Pelle MacBook Pro 14 Leather Case
Etsy seller Solo Pelle has been crafting durable, high-end leather accessories for various devices for some time now, and this leather folio-style case continues that trend. It's handcrafted using genuine leather and fits around the device's corners for a snug, protective fit. The hinge portion is built with flex in mind, and it comes in several different types and colors of leather. Solo Pelle also offers custom engraving so you can get a truly custom, handmade item that will provide many years of protection.
Crazy Horse Craft MacBook Pro Case
Crazy Horse Craft is one of many leather crafters on Etsy, turning its attention to the consumer electronics market. This MacBook Pro case is made in the shop, with each part cut and assembled by hand. Even the packaging is made of high-quality, recyclable materials using only cotton and paper. The sleeve is lined with wool felt, which helps keep your device clean and scuff-free as you slide it in and out of the case. Outside is genuine, nicely finished vegetable-tanned Italian leather and heavy-duty snaps to keep the flap closed. Currently, it's only offered in the 14-inch size (A2422). It's an extremely high-end handcrafted case that will keep your MacBook Pro safe and sound.
When choosing a case, it's important to remember what exactly it is you're trying to protect. Things like plastic snap cases are very nice and affordable but provide minimal protection if dropped. Currently, the most available options are high-quality, independent, small-batch made items, which means you have a lot less poorly made offerings to wade through when selecting the right case for your new MacBook Pro.
For more hardware guides check out What is the Battery Life on the MacBook M1 Pro and M1 Max? and Best M1 Pro and M1 Max External Hard Drives on Pro Game Guides.