It sounds silly, but the case is one of the easiest portions of a new PC build to overlook. Not only do you want one that is going to be compliant with your parts, but you want one that's easy to work in and attractive looking. We sometimes forget what a difference having a nice looking case can make. After all, you're going to spend a lot of hours looking at it and when something goes wrong you want to be able to easily and quickly access the internals. It's no secret that micro-ATX is top dog when it comes to case form factors either, and it's a specification that covers a wide array of case sizes and types. So take a look below for some help selecting your next micro-ATX case.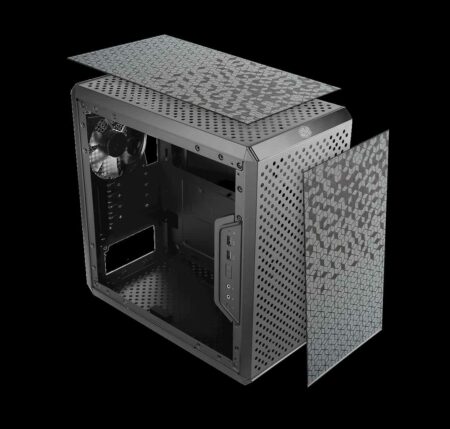 The MasterBox Q300L is often seen on best-selling mATX lists, and for good reason. Its sturdy, attractive, provides great airflow, and is relatively cheap. The magnetic dust filters along the top and front mean that wherever you decide to mount a radiator you'll be getting good airflow along with dust filtration. The side-mounted IO panel also has a neat trick: you can mount it on any edge of the acrylic side panel.
The steel construction means that you don't have to worry about bending things out of whack while working, and behind the motherboard is a space for cable management to keep things clean and out of the way. Usually clocking in around the $50 mark, this case provides a lot of function for very little money.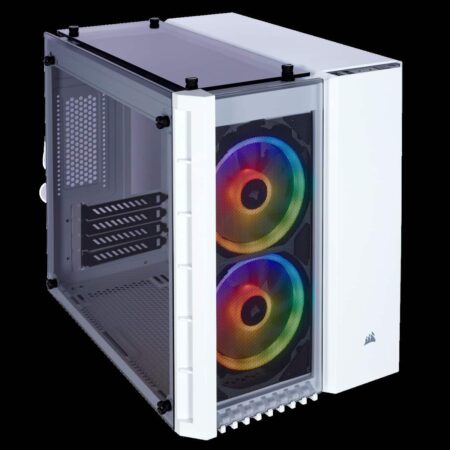 The Corsair Crystal Series 280X RGB sports a pretty radical design while still maintaining the standard rectangular design that you'd expect from a computer case. The front comes equipped with dual Corsair LL120 RGB fans, which connect internally to a Node PRO for use with other Corsair lighting solutions via their iCUE software. Over the front of the fans is a magnetic dust filter and the side, front, and half of the top are covered in tempered glass. The glass panels on the front and top are raised to provide airflow to the front fans and a top-mounted radiator, respectively.
The extra wide nature of the case provides plenty of cable management behind the motherboard, and even includes drive bays in the same area for a super clean setup even with a bunch of drives. The floor, roof, and PSU areas are also fitted with dust filters to keep things clean. If you're looking for an interesting design or just really want a super clean setup then the Corsair Crystal Series 280X RGB will fit the bill nicely.
The Fractal Design Node 804 is a cube style case for those of you looking for something a bit more compact in a sea of mid-tower designs. It also adopts the dual-chamber design like the Corsair case we previously mentioned, which means your setup will remain clean and cool while your drive bays and PSU stay out of the way. Included are three 120mm fans, and the case supports up to a whopping four radiators for the cooling-conscious.
Unlike many cube designs this one still includes the classic side panel window to show off your setups, and removable dust filters will keep things clean and working as intended. Which should pair nicely with the very clean brushed aluminum front panel.
The second case on our list from the Cooler Master MasterBox line, the E300L is yet another example in the debate that has raged in the PC building community for years now: to RGB or not to RGB. Some say that having neon rainbow lights in your case is a distraction. If you're one of those people then the E300L will fit the bill nicely, with its minimal-yet-fashionable brushed panel and subtle trim accents that come in three colors (blue pictured).
Internally the E300L is much more classically designed that most of the other cases we've covered so far. With no top mount for a radiator and traditional PSU and drive bay placement. But for some of us, that's enough. If you're just after a basic case that will do the job and get hidden under your desk, then the E300L provides just enough features to get that job done.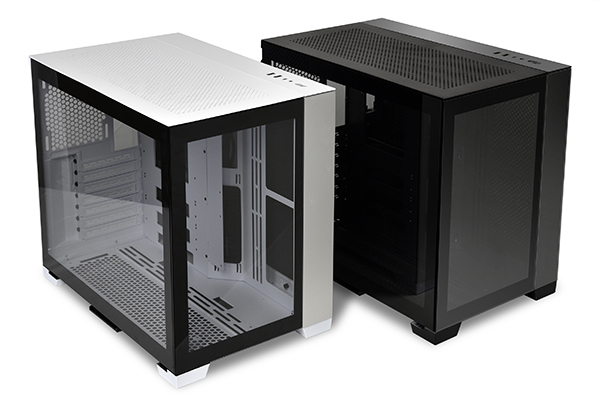 To enthusiasts, Lian Li will be a familiar name. For a while now they've been making great case designs with interesting designs. Their O11-Dynamic-Mini, shortened to O11D Mini by Lian Li, is yet another dual chamber micro-ATX design, this time with a mesh top to provide maximum airflow.
Keeping with their enthusiast-focused mindset the O11D Mini provides a modular pump stand for those running custom loop builds, three different back panel choices depending on how you want to configure things, and tempered glass front and side panels. The pump stand in particular offers three different mounting options, and Lian Li also offers vertical GPU kits for those who want to opt for that configuration.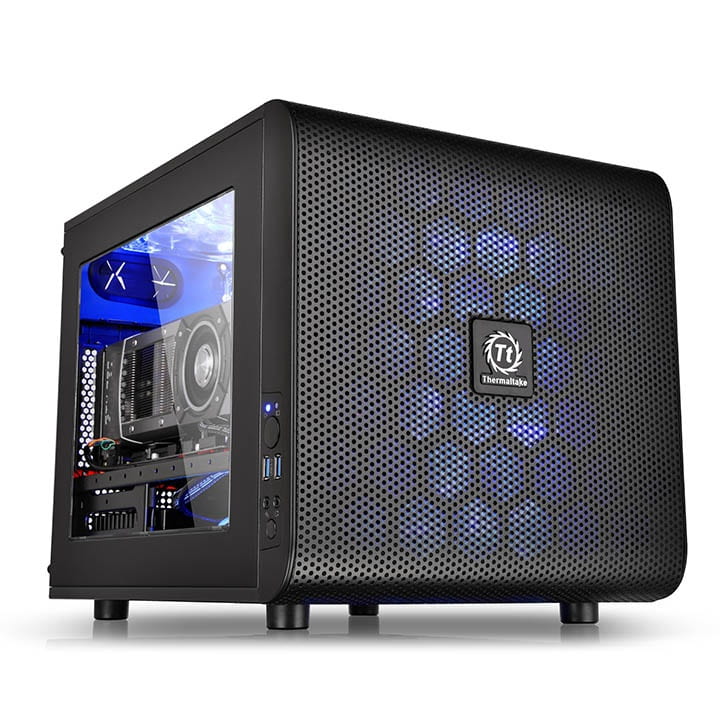 Finally we have one more cube design with the Thermaltake Core V21, which offers a compact design complete with a clear side panel placement and a massive 200mm fan up front to keep things running cool
It also supports both horizontal or vertical motherboard placement and top mounted radiators. And, in an odd but definitely interesting design choice, the Core V21 is stackable. Which means you can actually string your components across multiple cases and stack them to create one large case. It's definitely not the most common use case, but if that's the kind of feature you're after then the Core V21 should definitely be on your radar. Like several other designs we've listed here it also uses a chambered concept, which keeps your PSU and drives separate from your core components.
The number of micro-ATX cases on the market is just too numerous to count. Just about every conceivable design is out there somewhere if you're willing to search hard enough. It's definitely the most varied and well-served section of the computer case market. Keep in mind that airflow, ease of use, and supported configurations should be your first few considerations when choosing a case.
For more recommendations, check out 2021's 10 Best Gaming Chairs with LEDs | Best RGB Gaming Chairs and The 7 Best Gaming Ethernet Cables in 2021 at Pro Game Guides.