Sound is one of the most important parts of gaming. The same goes for streaming. Or even game chat.
Gaming headset mics are okay and all, but most of them sound like you are using a helicopter or airplane radio and have a weird filtered type of sound to them. We have come a long way past settling for the basic headset microphone, and don't even get me started on using the mics that are built into webcams. While those mics are convenient and easy to use, a dedicated gaming microphone can help everyone hear you clearer and, even better, maybe help you start adding numbers to your Twitch or Youtube account. With game streaming, or even just online content creation in general becoming more of the norm, a separate microphone is almost a necessity really.
Almost every gaming or streaming microphone connects through USB, which makes them incredibly easy to use straight out of the box. If you are looking to have a full audio setup, XLR mics provide the best sound quality, the same that you would hear in a music or sound studio. They range in prices and are becoming more and more available in stores by the day.
Related: 2021's 5 Best Webcams for Streaming
Probably the most accessible microphone out in the market right now, the Blue Yeti X is possibly one of the best USB microphones that simply just works great out of the box. Despite its somewhat high price tag, we promise that you are going to get your money's worth. Easily.
The Yeti X takes the best features from the Yeti Nano and the original Blue Yeti microphone to create one heck of a USB microphone. It features an 11-dot LED-lit front panel with a dial so you can control the mic volume easily. It sounds as close to a professional mic as a USB, plug-and-play microphone can get. It also features a four-capsule condenser that allows you to record in four modes: stereo, cardioid, solo, and omnidirectional. Most of the time, you will probably use cardioid, but it's good to have several options. It also connects to Logitech's G-Hub software for further sound customization.
At $170 this isn't anywhere near a bargain for a microphone, perhaps too high for a majority of people looking for a streaming mic. However, for the $170 price tag, you get a high-quality, near-professional sounding mic that will help you sound like the big-time streamers and even help you start that podcast you have been sitting on.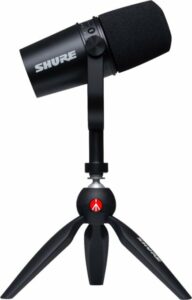 If the Blue Yeti X mentioned above is a near-professional sounding mic, then the Shure MV7 is a professional mic in quality, and with a professional $250 price tag to solidify its pro-level class. This is as close to an accessible studio-quality microphone that you can get for streaming, and although it may be overkill for 95 percent of you, this mic is certainly worth the money.
If sound quality is your thing, then the MV7 is the best mic that you can purchase that lets your sound be heard the way it's supposed to. It is the first hybrid XLR/USB microphone which allows it to provide pro-quality sound straight out of the box. That XLR/USB Type-B micro connection allows the best of both worlds for users, from simplicity of the USB to the high-quality results through the XLR. The problem with XLR microphones for streaming and gaming usually is its cost, especially when compared to USB microphones which are usually cheaper. The MV7 manages to focus solely on your voice while blocking background noises like a loud PC, fans and air conditioning as best as possible. The ShurePlus Motiv software allows you to customize your sound to your liking pretty easily, from EQ's to adding a limiter and more.
The Shure MV7 is probably overkill for the common user especially when we talk about price and quality. But it is that pro-grade quality and the ease of use for an XLR type of mic that justifies its high, but worth it, price tag.
Related: 2021's 5 Best Audiophile Headphones for Gaming | Headphones for Audiophiles
This is my personal favorite on the list for so many reasons outside of actually owning it. The HyperX SoloCast combines high-quality audio recording and ease of use with USB plug-and-play for just $60, highlighting the flood of budget-friendly streaming mics.
While the SoloCast has some direct competition with the likes of the Razer Seiren Mini and the JLab Audio Talk GO, HyperX's debut into the budget mic scene could easily go for $100 or more considering its recording quality. The SoloCast features the same microphone that is built into its older and more premium Quadcast and Quadcast S brothers continuing HyperX's theme of high-quality products at an approachable price. Its "downfall" is that it takes away an entire list of customizable flashy features that the more expensive Quadcast mics feature. The SoloCast doesn't have RGB lighting and some recording customization as the Quadcast mics. Its USB-C connection allows for it to be used on PC and consoles for those who choose to stream on their Playstation or Xbox, and it easily screws onto the edge of any standard microphone arm. I recommend using this mic on a mic arm because while it comes with a stand of its own, it's too easy to knock this mic around and knock it over when it is on its small stand.
Despite its minor flaws, the SoloCast prioritizes sound quality over anything else and it succeeds easily in doing that. For just $60 (and even less when on sale) you get a mic with no customization features, no RGB or any other flashy features that other mics could have. Instead, you get a strong microphone that provides the sound quality of mics that are easily twice its price.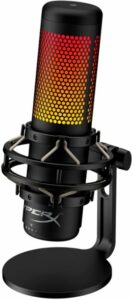 If you aren't on a tight budget, the HyperX QuadCast S is a more expensive and more premium version of the previously mentioned SoloCast, coming in at nearly triple the value.
Despite its relatively high price, the Quadcast S is a very strong mic that stays on pace with the other streaming mics on this list. It features the same 48kHz recording sample rate as the SoloCast at the same 16-bit depth. Where the QuadCast S shines is that it is also compatible with HyperX's NGenuity software which allows you to customize the audio pickup and the RGB lighting, neither of which are available on the budget-friendly SoloCast, which sacrificed those features to keep a low price and plug-and-play ability. The Quadcast S's RGB lighting is the biggest non-audio related selling point making it a spotlight for any advanced setup. The lighting is built into the mic and is fully customizable through NGenuity, while the base QuadCast only glows red.
But don't let the pretty lights fool you. The QuadCast S, and the base QuadCast itself are worthy mics that will immediately raise your audio profile to a higher level.
Elgato's products are made for streamers. They supply just about everything you will need to build your stream and the Wave 3 mic officially adds the audio portion of your stream to that list. The Wave 3 not just adds to Elgato's list of necessary streaming products, it takes the spotlight when it comes to audio.
The Wave 3 might be the most customizable mic on this list. It connects via USB, making it easy to simply plug and use right out of the box. The Wave 3 also has a dedicated headphone port on the mic itself to monitor your audio, which is a pleasant addition that none of the other mics here feature. It's also capable of recording at a ridiculously high 96kHz sample rate at 24-bit depth, adding a lot of clarity and depth to your sound without being completely overbearing. That in-depth audio control is done through Elgato's Wave Link software.
The Wave 3 link is not cheap by any means and will run you north of about $150. While the base mic is just $150, there is a separate $40 shock mount and $30 pop filter, and no included microphone arm. However, even if you are just buying the microphone itself, for just the microphone itself, for $150 you get a high-quality microphone that brings several features that we didn't know we needed, along with various levels of customization that most other mics at the same cost and more don't provide.
For more Hardware Guides, check out 2021's Best Budget Wireless Gaming Mouse | 5 Budget Wireless Mice on Pro Game Guides!
This article includes affiliate links, which may provide small compensation to Pro Game Guides.