As important and as popular as gaming routers have become throughout the last several years, the best modem is still the key for most households. A strong modem for your provider's cable internet service means the difference between hitting or not hitting the shot, or even worse, staying connected in-game as opposed to getting disconnected. Connection strength and stability are probably as important, if not more important than just about everything else when it comes to gaming.
However, not all modems are built alike. Most handle different speeds, some have built-in router capabilities (which we actually don't recommend using if possible), and some are good enough to use with one device and one device only. The following modems are some of the best that can easily handle the high demand of online gaming today, from competitive play to live service.
Just a reminder to those gamers who are not sure whether to get a router or modem, here is the difference. Both are internet boxes in their own right. A modem connects your entire home network to the internet as a whole, usually through your local cable service provider. On the other hand, a router connects all of your devices and allows them to talk to one another on the same network. It's the city hall of sort of your home internet for all of your connected devices. Most cable companies will include a modem-router in your internet package, especially if you use services like Comcast, Spectrum, and AT&T, this is the list for you.
Related: How to fix high ping on Roblox

For most users, the Netgear Nighthawk CM1200 is the gold standard of cable modems and the one that you can easily buy today.
The CM1200 does feature its own router capabilities as well, although we really recommend having a separate router to create a wirelessly smooth connected home. But for those using the CM1200 purely for gaming and internet-related purposes, this is the one to recommend immediately, at least to get you started. Considering the average home has roughly a 200-500Mbps plan because of its low cost from their local cable provider and the current lack of fiber connection throughout numerous parts of the country still. The CM1200 can reach speeds of up to 2Gbps, pending your connection package and works with just about every major cable provider.
The Nighthawk CM series of cable modems feature other lower-powered modems that have less top speed, along with the CM2000 which is the premiere cable modem of the line handling speeds past 2Gbps and is Wi-Fi 6 ready. But for the majority of people looking for their first non-cable company-owned modem, the CM1200 is fast, easy to install, and reliable for the everyday gamer and overall user.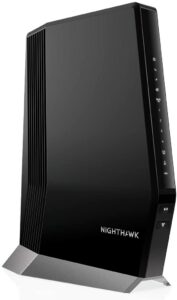 The Netgear Nighthawk CAX80 might be one of the best performing cable modem routers out in the market. However, considering its price tag of well over $400, and its size, it better be.
While most gamers out there don't recommend the modem router combo, the CAX80 doesn't do a bad job of featuring both. It features both a Wi-Fi 6 ready router capable of pushing speeds up to 6Gbps with a built-in eight-stream channel bonding to handle several devices at full speed and a DOCSIS 3.1 cable modem capable of speeds up to 10Gbps. As far as cable modems are concerned the CAX80 is probably the fastest out there, that is if you have the right internet plan from your provider. Those with internet speeds of less than 500Mbps could probably look elsewhere as this would be overkill in price and performance, like buying and driving a Ferrari in second gear the entire time. It features four gigabit ethernet ports for you to connect your gaming devices and, wirelessly has enough signal range and strength to cover just about the entire house or apartment.
For most users out there the CAX80 may be quite the reach. If you have gigabit internet, more than likely you just need a router as gigabit connections run through the phone line. But for those with relatively premium high-speed cable plans, the CAX80 is an investment certainly worth considering.
The TP-Link Archer CR700 is similar to the aforementioned Nighthawk CM1200, except it costs less than half of the price, making it as close to a steal as it can get for the budget-minded gamer. But don't be fooled, the "budget" label for this modem doesn't mean budget performance either.
The CR700 combines a 16x4 DOCSIS 3.0 cable modem with an AC1750 wireless router, both of which provide wired and wireless performance with good wireless range. It is a bit slower than some other premium modems out there, specifically the Netgear models, however, the CR700 can still hold its own very well, It features speeds up to 450Mbps on the 2.4 GHz channel and up to 1,300 Mbps on the 5GHz, along with beamforming technology for more direct connections when needed. Again those speeds are top speeds for the modem, a lot of the speeds that you will get depend on your cable internet provider. Although the CR700 has surprisingly solid wireless capabilities for a sub-$100 modem, it still works way better when your gaming device is plugged in.
Considering its price, the Archer CR700 is a steal at under $100. From its great performance, easy setup and surprisingly quality build, this is definitely a modem worth picking up. However, if the top speeds on this modem are not fast enough, you may want to look elsewhere.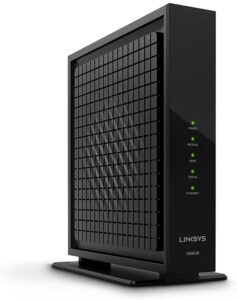 The Linksys CM3016 is the lone modem-only modem on this list, which isn't a bad thing considering that, once again, we recommend having a separate modem and router if you need both wired and wireless capabilities. But coming in at just $60, if you are looking for a gaming modem purely for one device that gets relatively high speeds pending on your provider, the CM3016 could be an easy steal.
The CM3016 is a 16x4 channel bonding DOCSIS 3.0 modem capable of top speeds of up to 686Mbps. Linksys recommends speed plans up to 250Mbps for this modem from the major internet suppliers, making it a strong option for low to mid-range speeds.
Yet, while there are other, faster modems out there, keep in mind that the average American household internet speed is roughly around 200Mbps, and for most games you really only need like 50Mbps to load in. For that person who is in their first apartment and wants to cut down on internet costs, and is only going to use this for a direct wired connection to their gaming PC, this is a quality modem at a beyond budget price.
Netgear Orbi (CBK753)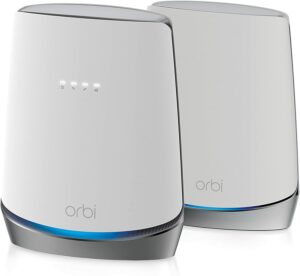 The Netgear Orbi combines the best of several internet worlds: cable, wireless and mesh wireless, and its result is pretty extraordinary. And expensive, but worth it.
The Netgear Orbi, specifically the CBK753 model that we'll be talking about today, gives cable modem routers almost unlimited range within the house due to its high-quality mesh wifi capabilities. The Orbi CBK753 is still a cable modem router in its own right as we've seen with three of the other four on this list (there is a pure router Orbi model available so be aware in your purchase). It still connects via a cable from your cable internet provider, it still features four-gigabit ethernet ports and Wi-Fi 6 capabilities. The biggest difference between the Orbi and just about every other cable modem router in the market is that the Orbi is part of a mesh wifi system, an internet system that has continued to grow nowadays with seemingly everyone needing strong connections in their individual households. The base Orbi can connect to a satellite Orbi which can be plugged into another room, to extend the WiFi signal and can also delegate between numerous devices.
While the Orbi is one of the most expensive modems, routers, and mesh networks in the space, it certainly is one of the best for those families with numerous high-powered devices and significantly high internet speeds.
For more Hardware Guides, check out 2021's Best Membrane Gaming Keyboards | 5 Best Membrane Gaming Keyboards on Pro Game Guides!