It has been pretty standard advice in the PC building world for years now that building your newest machine with an SSD will provide a more immediate and noticeable difference in performance than just about any other piece of hardware. High-end processors and graphics cards are wonderful, but at the end of the day if your hard drive can't push data fast enough then you're going to end up with a bottleneck, and most software these days (games especially) seems to pretty much expect SATA SSD speeds as a bare minimum. Thankfully almost all motherboards these days are outfitted with high-speed M.2 slots for NVMe drive, which provide a huge bandwidth boost over SATA. Although unlike more traditional SSDs, NVMe drives come in a litany of shapes and sizes, so we will be focusing on the (relatively) standard 2280 spec for this article. It's the most widely supported and common size on both the motherboard and drive manufacturer sides. Additionally, all of the drives listed here come with five year limited warranties, so buy with confidence.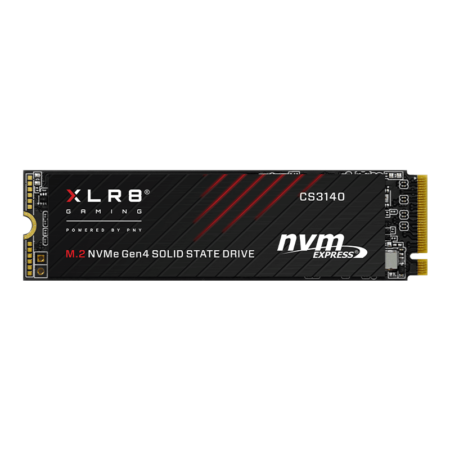 PNY might not have the brand recognition of companies like Samsung or Western Digital, but they've been around since 1985 and have been cranking out flash memory devices for the vast majority of that time. Their CS3140 line of M.2 SSDs comes in 1TB, 2TB, and 4TB capacities. It also features NVMe Gen4 x4 technology so bandwidth shouldn't be a concern. Performance-wise PNY lists 7,500 MB/s read speeds and 5,650 MB/s write speeds for their 1TB and 2TB versions. The 4TB version has an identical 7,500 MB/s read speed and a slightly higher 6,850 write speed. They also provide a version of the CS3140 with a massive (for an NVMe drive anyway) 45 gram heatsink, to ensure things continue to run smoothly even under load.
Samsung has been a big player in the solid-state storage game for a long time now, and is one of the premiere manufacturers of all sorts of SD cards (both micro and otherwise). The 980 Pro is PCIe 4 ready and comes in 250GB, 500GB, and 1TB variants. While Samsung lists it as a gaming SSD, a fast drive is a fast drive and the 980 Pro will be blazing fast for just about any task you throw it at. It also includes support for Samsung's Magician software, which will allow you to easily monitor your drive for any potential issues.
Related: The 5 Best White Gaming Mouse: 2021's Best White Gaming Mice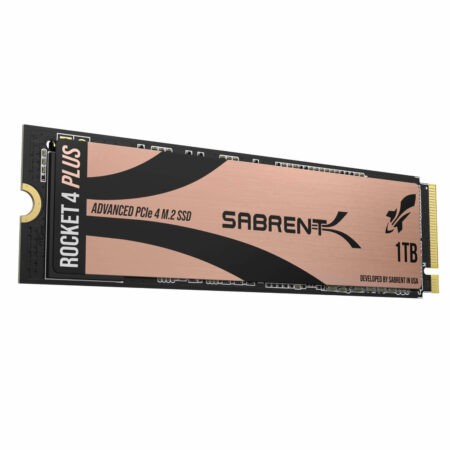 Sabrent has been popping up quite a bit in recent years on SSD lists, and it's no wonder why: they make solid hardware at good price points. Their Rocket line of NVMe SSDs includes several different products but their Rocket 4+ line is the fastest drive they've made to date. It has the latest PCIe Gen4 interface, meaning that bandwidth limitations shouldn't be a concern with this drive. They do state that if you're using PCIe 4 speeds you will need to provide a heatsink to keep things running cool, so do keep that in mind when considering this drive. Thankfully lots of motherboard manufacturers include them standard (especially on gaming-focused boards), and they're readily available at very low price points on sites like Amazon. As an added bonus the Rocket 4+ comes with a free copy of Acronis True Image, for those looking to clone existing drives over to a new one. You should always choose drives based on your hardware needs, but bonus software is always a welcome addition.

Crucial has become somewhat of a RAM and SSD darling in the PC building community over the years. They started out as the default budget option for lots of enthusiasts and have quickly become a premier brand. The Crucial P5 Plus continues that premier trend with NVMe Gen4 in 500GB, 1TB, and 2TB drive capacities. All capacities list a 6000 MB/s read speed with 4000 MB/s write speeds on the 500GB drive and 5000 MB/s write speeds on the 1TB and 2TB versions. Crucial is also open about the fact that they use Micron flash memory on their drives. Micron is one of the largest flash memory producers in the world so most manufacturers use their products, but it's still nice to have this information front and center on the product's specifications.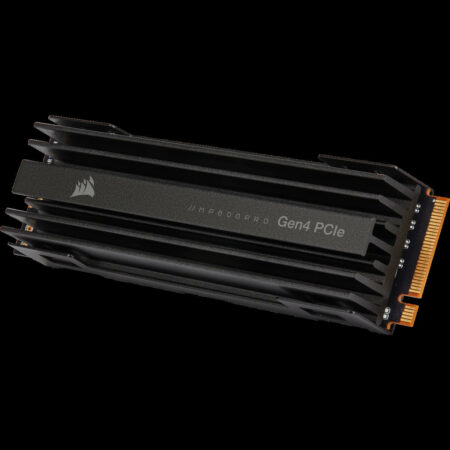 Corsair's MP600 Pro is a Gen4 PCIe x4 NVMe equipped drive that comes in 1TB, 2TB, and 4TB variants. Corsair is still a little green in the NVMe market, but they've been producing high-quality PC components with a heavy gaming focus for years now, and are one of the premier manufacturers when it comes to high-end RGB-laden gaming rigs. So suffice it to say they know their way around hardware. The MP600 comes with a whopping aluminum heatsink that should keep you running cool under load, and Corsair also offers a water-cooled version of the MP600. Water cooling an SSD might be a bit overkill, but you certainly won't have to worry about heat issues.
Western Digital is legendary in the realm of hard drives. They've been cranking out high quality drives for decades at this point, and also supply data centers all over the world. In other words, they know hard drives. Their WD_BLACK SN850 is equipped with PCIe Gen4, and they offer an optional RGB heatsink if you're going to be running the drive at that Gen4 speed. Capacities are 500GB, 1TB, and 2TB, and the heatsink they offer is suprisingly low-profile. So if you're looking to cram a PCIe Gen4 NVMe into a smaller build with less vertical clearance for the M.2 slot, then it's well worth considering.
One of the biggest considerations with NVMe SSDs is heat. Being so tightly packed means that they generate significantly more heat than their SATA SSD counterparts. So if you're going to be running an NVMe at full Gen4 speeds then we would highly recommend a heatsink of some kind, whether the manufacturer recommends one or not. High heat can damage performance and transfer speeds, and under load that can cause all sorts of issues. Speeds across all the drives listed here today (assuming adequate cooling) should be pretty similar thanks to standardized PCIe technology, so exactly which drive you end up with often boils down to price, brand loyalty, and included benefits.
For more hardware recommendations check out 2021's Best Cube PC Cases | Best Cube Computer Cases and The Lightest Gaming Mouse: 5 of the Lightest Gaming Mice on Pro Game Guides.