There are several compelling reasons to utilize an open air case in your PC build. For starters, airflow will never be an issue. It also gives you more open access to components, which is great if you're the type to be regularly changing components such as hard drives or RGB strips. And let's be honest, open air designs just look really cool. There's just something very sci-fi about having all your very delicate components out in the open like that.
As a note: you may notice with these open air designs is that they often feature the ability to mount more hardware than anyone would feasibly want for something like a standard gaming PC. Open designs like this are very useful for people who test hardware and need to change it out frequently, those running mining rigs, and home servers. So they usually are built to fit as much hardware as possible. It's not uncommon to see, for example, mounting brackets for multiple GPUs, dual PSU support, or even the ability to fit three or more simultaneous radiators in an open air case. More space is almost always a good thing, but if you're planning something like a mini-ITX build you might want to be prepared for your open air case to look a bit sparse. So maybe plan for an extra radiator or some RGB fans to fill things out a bit.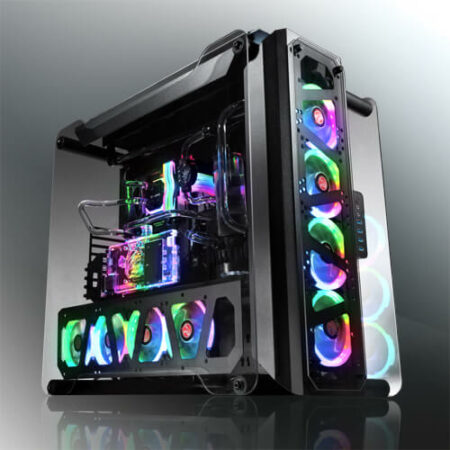 First up we have the Enyo from Raijintek, which sports a really nice dual chamber design adapted to an open air case. With support for just about every motherboard format from mini-ITX through EEB (a form factor commonly used in server motherboards) and tons of space for radiators, fans, and drives you'll be able to pack it with tons of hardware. Under the dual four millimeter tempered glass side panels the metal frame is covered end-to-end with mounting holes and brackets so you'll also have multiple configuration options for whatever hardware you choose. Additionally, it has pass-through fittings for water loop cooling, dual pump mounts, and even dual PSU mounts.
Related: 2021's 5 Best Routers for Gaming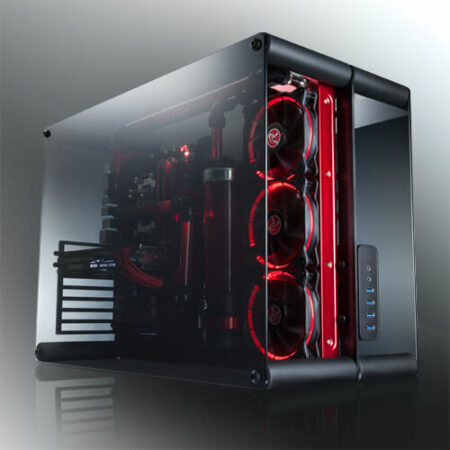 Another offering from Raijintek, the Paean is sort of the little sister to the Enyo. But don't let that designation fool you: it's still a beast of a case. The middle panel is a bit more traditional for this type of design in that it's basically a flat metal panel with mounting spaces and cable grommets. Despite being a bit smaller than the Enyo, it still has the ability to fit up to four 400 millimeter graphics cards, three 3.5" hard drives, three 2.5" hard drives, and motherboards from mini-ITX up to ATX.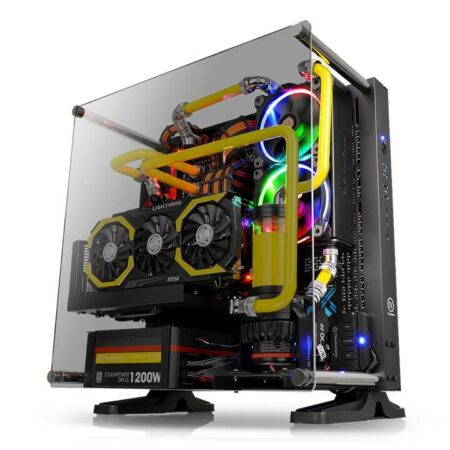 Thermaltake offers a few different open air designs, ranging from the practical with their Core P3 up to the absurd with the Core P90. But we've chosen the Core P3 simply because it's a full open air design that still mostly fits the form factor of a more traditional PC case. The right side of the case is a super slim, vented chamber built to keep your drives, cables, and RGB controllers out of view. The main chamber can fit motherboards from mini-ITX to ATX, and features a 5mm tempered glass panel suspended over the side of the case. So if you're looking to replace a mid-tower case with an open air design but don't want to rearrange to fit a massive case then the Core P3 should do nicely.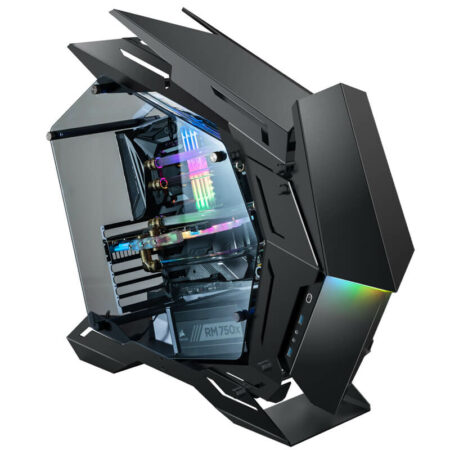 The Mod 3 from Jonsbo is a little hard to quantify at first glance. Is it a little bot over-the-top? Definitely. Does that change how cool it looks? Absolutely not. The entire design looks more like a spaceship than it does an actual PC case, but under all the wings and fins there's a very solid open air PC case design. At its core it has a flat metal panel for mounting your hardware to and suspended tempered glass over both sides, which is great for accessibility. This relatively standard open air design is situated at an angle underneath the front and top panels, and the entire back of the case is fully open. The design might be more form than function, but it's hard to deny how cool it looks decked out with some tasteful RGB strips and a radiator or two. It supports motherboards from mini-ITX up to E-ATX an graphics cards up to 400mm in length so you don't have to hold back when choosing hardware either.
Related: 2021's Best Membrane Gaming Keyboards | 5 Best Membrane Gaming Keyboards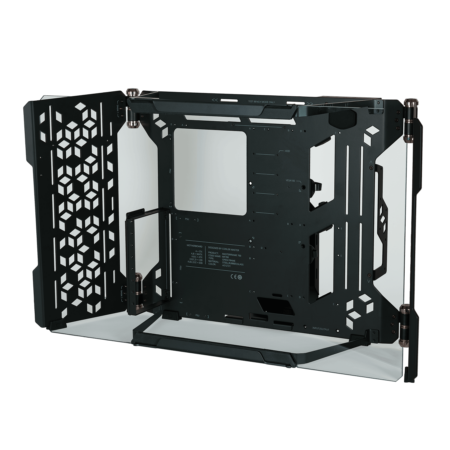 You may have seen test bench frames before. They're usually flat metal panels with no sides or covering built to allow the user to quickly remove and add components without the inhibition of side panels. The Master Frame 700 channels that design into a slightly more consumer friendly aesthetic that still retains the functionality of a test bench frame and adds some really compelling features to boot.
In its default mode the case sits in a flat horizontal orientation and has hinged wings that come up on the left and right sides for mounting radiators or fans. Across the top of the entire facade is a sheet of optional tempered glass to keep fingers out of any fan blades, and the entire thing is VESA mount compatible. Which means that you could easily mount it on the wall or even a monitor arm if you want to get really crazy. It can also flip over entirely and use its tempered glass frame (with the glass removed) as a stand for use as a more traditional test bench setup.
Open air cases are great if you're the type to overclock your hardware. Getting just the right fan setup for proper airflow in a traditional case is hard enough, but when you're pushing your hardware to its limit it can become downright impossible to achieve. Or maybe you're just after something different from that traditional desktop design. In any case, open air cases are a great option for flexibility and cool-factor.
For more hardware recommendations, check out 2021's 6 Best White PC Cases and 2021's 6 Best Z590 Motherboards on Pro Game Guides.