The biggest thing that can add to (or take away from) any gaming experience is audio quality.
For those who work in video production or especially in gaming, audio quality is just as important as the visuals and gameplay themselves. A majority of casual gamers may be okay with the standard audio they get from today's televisions or computer speakers, but most competitive gamers and those looking to find their way into the scene need a good pair of cans on their head to hear the details. In fact, a good gaming headset is almost a must in today's online gaming world, regardless of the genre of the game.
From explosions to footsteps, these five headsets bring quality and comfort to enhance your gaming immersion. They could also help you get a few more wins, maybe.
Related: 2021's 5 Best PC Gaming Controllers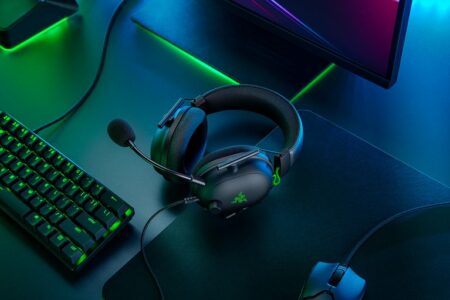 We'll just say this as straightforward as possible: the Razer Blackshark V2 X is the best wired headset on the market right now and it isn't even close for numerous reasons.
First, at just $60 the Blackshark V2 X is incredibly affordable and accessible for a high quality gaming headset, considering the market is usually around $100 or more for headsets of this kind of quality.
Second, its lightweight, comfortable clamp and ear cushions make this as close to wearing pillows on your head, allowing for long game sessions without feeling pressure on the sides of your head over time. The breathable mesh-like ear cushions allow for cool airflow into the earcups so your ears don't get hot and sweaty after a few hours, while also managing to keep the sound from bleeding out of the headset to keep you immersed in your game.
Yet, the most important part of this headset is the surprising incredible sound quality which can also be tweaked within the Razer Synapse software. Its 50mm TriForce Titanium drivers manage to separate your lows, mids and highs, avoiding any interference with one another to allow the headset to deliver near crystal-quality sound, again at just a $60 entry point.
The Razer Blackshark V2 X comes with two other pricier and more premium editions: the $100 V2 which includes a USB soundcard for even higher quality audio, and the $180 V2 Pro wireless, which carries all of the the qualities of its wired cousins, but is fully wireless.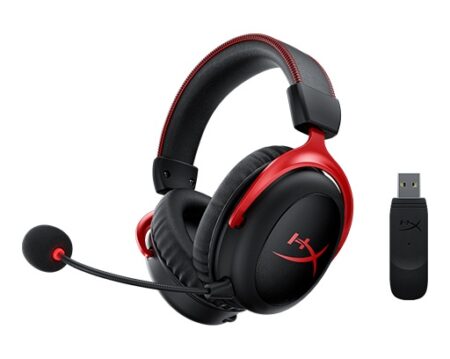 How do you follow up on one of your greatest gaming headsets of all time? Simple, you cut the cord.
That's exactly what HyperX did with the Cloud II Wireless, following up on the classic wired Cloud II with high quality sound via its 53mm drivers. It provides a bit more bass than most other gaming headsets, and you'll feel that on the headset itself whenever you have any explosions in game or any booming type of sound that really emphasizes the lows. However, despite the higher-than-average bass, the sound still comes through as clear as expected out of a HyperX headset.
It fits just as comfortably as its wired predecessor and has the same clamping force, just enough to get you through long play sessions, although it's a bit more secure on your head compared to some other headsets out there.
It is on the pricier side of HyperX's headsets which are usually fairly affordable and accessible, coming in at $150. However, you do get higher quality for the price and given HyperX's standard especially with its headsets, it is still a good buy at the higher price.
The Logitech G Pro X Wireless is a premium wireless headset that sets the standard for wireless gaming headsets, a common trend within Logitech's G Pro lineup of peripherals.
Utilizing its Lightspeed technology, the G Pro X Wireless gives you high-quality, low-latency audio with a strong, premium build quality and incredible, adjustable sound via the Logitech G Hub software. Its 50mm drivers give you just enough bass to keep the sound clear and loud without sounding muddy when you have explosions coming around you in first-person shooters, slightly less bass compared to HyperX headphones that we mentioned above. It comes with faux leather earcups attached out of the box, but also includes a pair of softer, mesh-like earcups within a soft carrying pouch included with the headset.
The microphone isn't bad, but considering the brand's partnership with Blue Microphones and the headset's price at around $200, the microphone on its own holds this headset back from being atop this list and many others.
Related: 2021's 5 Best Mini PCs for Gaming
Razer took on the Steelseries Arctis 1 Wireless with their recently released "budget" wireless headset, and might have barely won despite the fight going to the judges.
The Barracuda X sounds great, featuring 40mm TriForce Titanium drivers, the same drivers that come with the heralded Blacksharks but 10mm smaller, and packs a little more bass than the Arctis 1 Wireless that it will always be compared to. It's not a heavy amount in the way that HyperX does bass in their headsets, but it is a necessary pinch of bass to give that needed punch in its sound.
The Barracuda X's do not use the Razer Synapse software like every other peripheral from Razer, eliminating its software-based EQ. You can adjust the sound levels via Windows Sonic however, although you can do that with any headset anyway.
It makes up for the lack of EQ with its versatility. This can be used virtually anywhere, via PC with either the USB-C dongle or via USB-A adapter or even a 3.5mm wire, Nintendo Switch and PS5 with the USB-C dongle and the 3.5mm wire, PS4 with the USB-A adapter, and Xbox via wired 3.5mm jack into the controller.
At $100 these come in at the average price for a quality "budget" headset. Razer might've copied the Arctis 1's almost completely down to the wires and dongle included, but the added bass courtesy the Triforce Titanium drivers gives this the edge over Steelseries.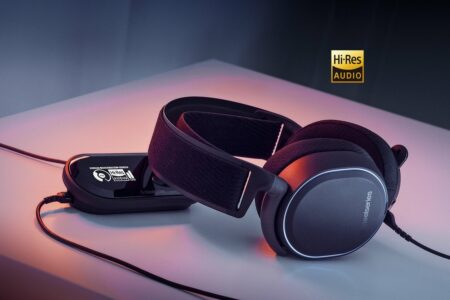 The only other wired headset on this list, the Steelseries Arctis Pro, is an absolutely premium headset that, if you can afford it, shouldn't be passed on.
At $250, it includes immersive surround sound, Steelseries' well-known classy look and comfortable fit via the adjustable ski band atop the headset and its plush, mesh-based ear cushions. Most importantly, it comes with its own DAC (digital to audio converter) giving it audiophile sound quality, the best of any headset among this list. The DAC allows you to customize the audio coming to the headset, acting as an amplifier circuit of sorts, giving it more detail than USB-audio, allowing for high-res audio without the need for any software boosts from outside sources.
It's sleek, it continues Steelseries' legacy of comfort, it sounds fantastic thanks to its DAC, and its spectacular.
For more Hardware Guides check out 2021's 5 Best Esports Keyboards on Pro Game Guides.