You likely spend a lot of time at your desk, so why not choose one that matches your style and color preferences? Bright, vibrant desks used to be the realm of children's furniture. Still, many gaming desk companies have realized that there's no age limit on expressing themselves and have started offering all manner of attractive, colorful desk designs. We'll be taking a look at the best pink gaming desks, so you no longer have to game on that boring hand-me-down woodgrain desk.
Seven Warriors Gaming Desk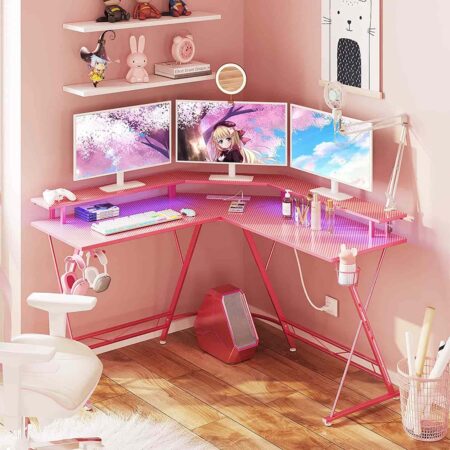 This L-shaped desk has a very long 50.4-inch desktop that will sit nicely in any corner and features a corner design that doesn't sit flush with the corner itself. This way, you can run cables without pinching them. The top is covered in pin carbon fiber vinyl that is spill-resistant for easy cleaning, and the monitor shelf runs the entire desk length. This means that whether you're running dual monitors or even dual computers, you'll be able to situate your hardware wherever is most comfortable along the length of the desk.
It also features a cup holder, a headphone hook, and an LED strip for running along the underside of the stand portion. It's a great option if you're looking for a pink desk that you can really load a lot of hardware onto.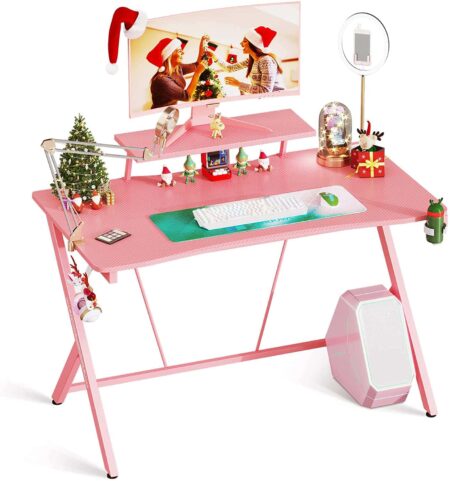 This pink desk from MOTPK is a tried-and-true design that we've seen all over the market. Braced legs, a monitor stand, and accessory hooks across a desktop ranging from 45 inches up to 60 inches. This one features a pink carbon fiber top, cup holder, and adjustable feet, so you should have no trouble getting comfortable. If you're after a solid, basic design to incorporate into your home office, you won't be disappointed.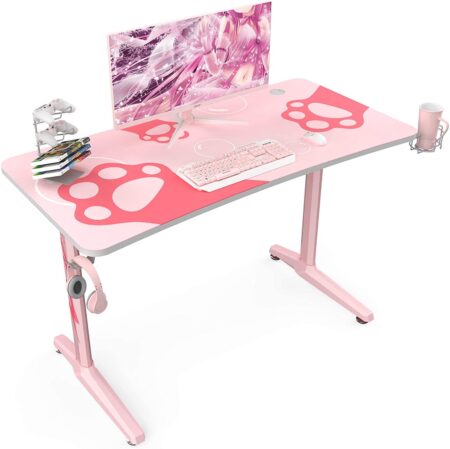 EUREKA ERGONOMIC has opted for a standard backless leg design here, which is useful for those of you who put your feet up against the wall and comes in 45 and 47-inch versions. The desktop is fitted with a pink kitty paw vinyl top, and all the trim is a very light gray. It comes with the standard headphone hook and cup holder and has an impressive maximum weight of 500 pounds. So if you need something ready to withstand some heavy-duty equipment, it will get the job done.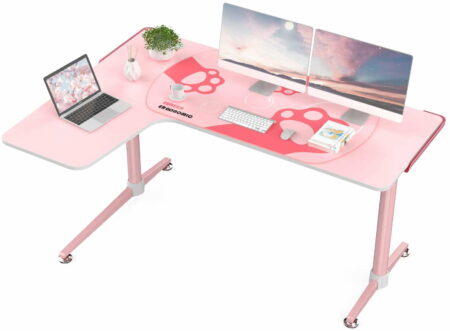 EUREKA ERGONOMIC also offers their gaming desk line in a convenient asymmetric L-shaped desk version. It comes with a pink kitty paw desk pad that accentuates the pink and gray design, similar to their smaller pink desk. The desktop has a small extension off to the side that comes in either left side or right side orientation for use with a laptop, tablet, or other smaller device. The total desk top length here is 61 inches, including the extension.
There are also cable routing holes and a cable compartment attached to the underside of the desktop. It also has the same 500-pound weight capacity as their other desks in this line, so you can really load it up with equipment.
Sedeta Pink Gaming Desk
This desk is ideal if you're looking to express yourself with a unique, pink desk but don't have a lot of space to work with. It features all the bells and whistles that larger gaming desks come with, such as a headphone hook, a cup holder, and cable routing holes, but does it all in a relatively small 44-inch length. The edges are also lined with a unique white plastic trim that adds a bit of flair to an otherwise solid pink design.
If you're trying to tie together a pink gaming PC build, you would be remiss to stick with the same boring black or brown desk. Pink desks aren't just eye candy; they offer the same robust features that we've come to expect from gaming desks market-wide and rarely cost much more.
For more hardware recommendations check out Best Macbook M1 Pro and M1 Max Cases and Best Pre-Built Gaming PCs in 2021 on Pro Game Guides.
This article includes affiliate links, which may provide small compensation to Pro Game Guides.