Most of us spend a lot of time sitting in front of the computer these days, and staring at the same boring brown desk and plain black PC tower can get exhausting. Thankfully, PC component and accessory manufacturers have started to provide fun, exciting new colors and designs for traditionally boring desk accessories. Pink gaming accessories are more available and prevalent now than ever before, which is great for those of you looking for a splash of color in your office space.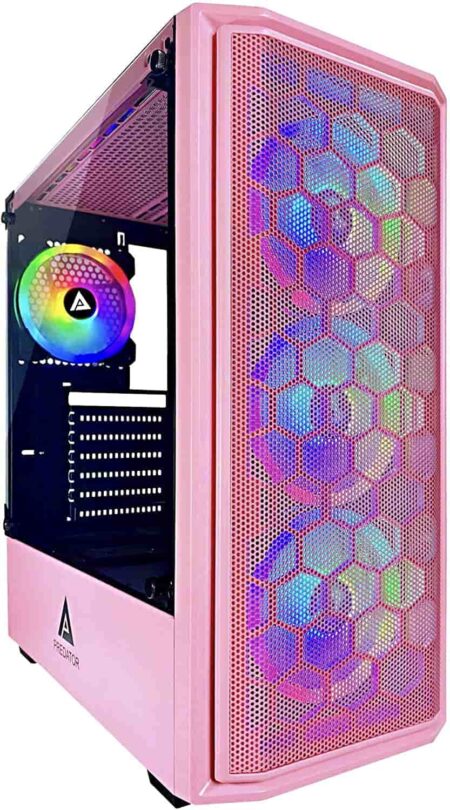 Any good pink gaming setup starts with the heart of your desk: the PC. The Apevia Predator-PK is a solid mid-tower design with support for ATX, Micro ATX, and Mini ITX motherboards. It can accommodate GPUs up to 350mm and includes three front-facing RGB fans with an easily removable dust filter. The top of the case is also fitted with a mesh top for solid airflow when using a top-mounted radiator. It has a built-in RGB controller with a hardware button on the top panel, so you don't have to use an RGB-enabled motherboard to control the lighting effects. Internally, it uses the dual-chamber design that has become standard across many gaming cases, which separates the heat from the PSU completely from the motherboard.
Apevia offers pink versions of many of their cases if the Predator isn't exactly what you're looking for. Their Enzo and Matrix cases are also very solid designs that come in the same pink color.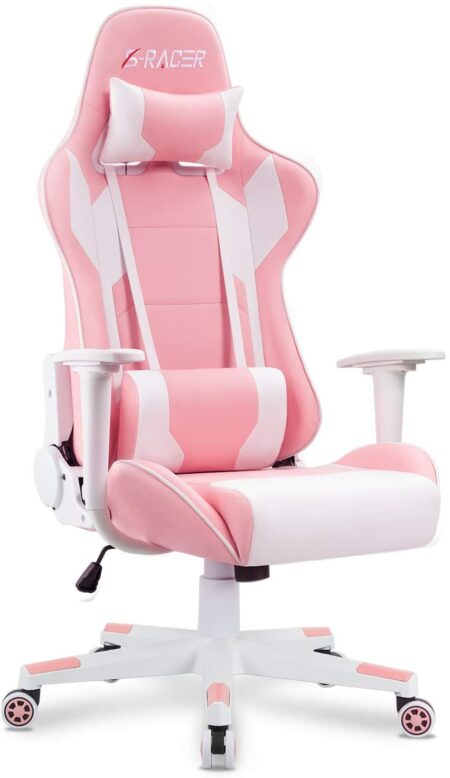 No desk is complete without a chair! The Homall desk chair comes in many different colors, but its pink and white design is of interest to us here today. Its racing chair style design incorporates adjustable lumbar and head pillows for maximum comfort. It has full angle adjustment up to 180 degrees and standard-issue gas spring height and tilt locking mechanisms. Steel-frame construction means that it's built to last and PU leather means that it will remain easy to clean.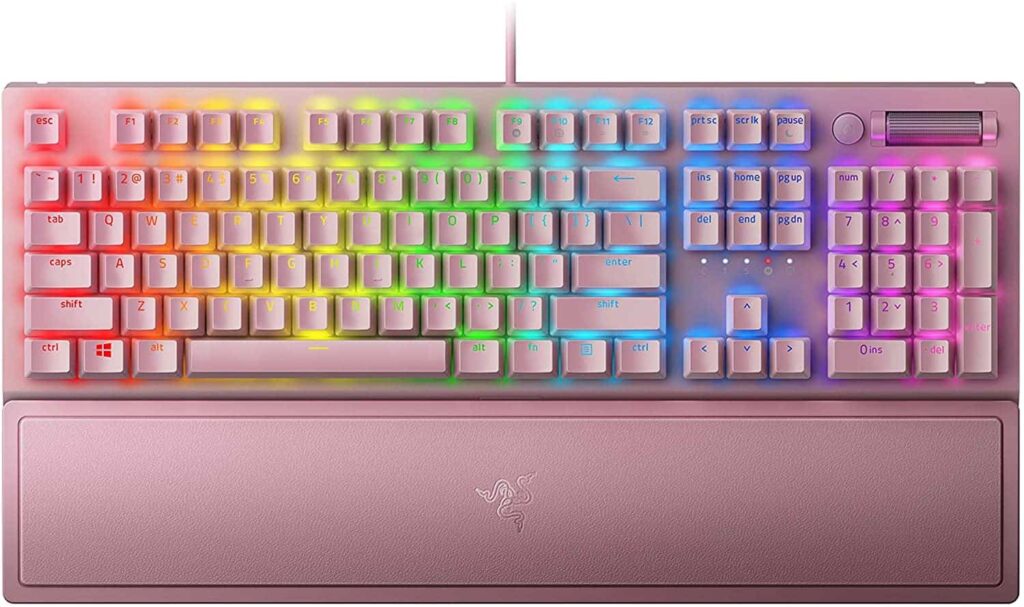 Razer's BlackWidow keyboard was already celebrated in its own right before they added it to their Quartz Pink lineup, so it's nice to see it represented here in pink. Buyers can opt for mechanical green keyswitches that employ a 50g activation force and provide a satisfying and audible click when pressed, or yellow keyswitches that use a 45g actuation and are completely silent and linear. It comes fully RGB equipped and is compatible with their Synapse software for setting custom shortcuts and RGB profiles on the fly. Also featured is a magnetic removable wrist rest with a plush PU leather top, and built-in media controls complete with a programmable dial and scroll wheel.
Razer doesn't just make some of the best PC gaming accessories on the market, they're also one of the few PC accessory companies that make solid ambidextrous and left-handed friendly mice. The Viper is a fully ambidextrous design with a super lightweight 61g body, RGB edge lighting, and Razer's celebrated optical mouse switches. The length is also suitable for multiple mousing styles, syncs with their Synapse software for customization, and comes with a tangle-free braided cable to make desk management easier.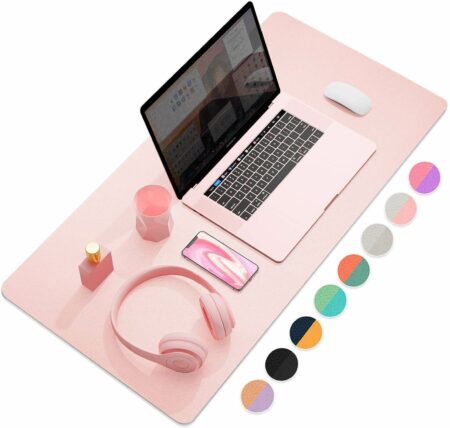 This faux leather desk pad from YSAGi features a faux leather top that's easy to clean, provides a small amount of padding for resting your hands on while typing, and comes with a strap in the event that you need to store or carry your desk mat elsewhere. It would work just as well as a large mouse/keyboard pad as it would an on-the-go laptop working surface while out of the office. It comes in a variety of sizes, with the largest being 35.4 inches by 17 inches, so regardless of what you're using it for you'll have plenty of room to work with. There are actually several pink versions, each with a different color on the reverse side so you can choose the color combination (and particular shade of pink) that fits your personal aesthetic.
Razer makes a different headset that is often touted for those shopping for pink accessories for one simple addition: it has little cat ears built into the headband. But we'll let you in on a secret: Razer also offers a kitty edition for their celebrated Kraken gaming headset. It offers RGB lighting (that extends to the ears), a cardioid microphone, on-ear controls, and gel cushions that will stay cool during long gaming sessions. Sound-wise it uses THX 7.1 surround for a fully immersive listening experience and can be customized in Razer's Synapse and the microphone also offers active noise cancellation to cut out background noise around you while in a Zoom call or gaming.
Pink accessories are becoming more popular than ever these days, so if you're looking to revamp your desk aesthetic then you'll have plenty of options available. With these accessories, you'll be up and gaming top to bottom in your favorite color.
For more hardware guides check out Best Gaming Hardware Holiday Gifts and Best Pre-Built Gaming PCs in 2021 on Pro Game Guides.