When you dive into the PC gaming world for the first time, there's one thing in particular that you notice: it is vast. Like, massively vast. Looking for that first gaming PC can seem like a daunting task from comparing specs and parts, the resolution you want to play at, and what else you want to use the PC for (i.e., streaming and content creation). Toss in trying to find everything at the right price, and again, it can seem like an extremely daunting task.
Those who dive into PC gaming for the first time want just to buy a pre-built PC as they learn more about the scene and all of the parts. The good part about today's pre-builds is that you can upgrade the parts later on and upgrade as you go. When buying a pre-built PC, you may want to consider a few things:
Consider the size of the tower itself, especially since this needs to fit either on top of or under your desk.
Aim for SSD storage if possible.
Don't get anything with less than 8GB RAM and really aim for 16GB RAM.
Research the graphics cards and the minimum system requirements for the games you will play the most.
Make sure there are enough USB ports for your peripherals.
Specs (maxed out options): Intel Core i9-10900K, Nvidia GeForce RTX 3080, 32GB RAM HyperX Fury (4x8GB), 2TB WD_Black PCIe SSD, 2TB Seagate Barracuda HDD
The HP Omen 30L has been a bit of a monster of a gaming PC since its release not too long ago with "lesser" specs. However, the newer, updated version of the 30L isn't just a bigger monster in its own right; it may also just be the best way you can get your hands on an RTX 3080 anytime soon.
The Omen 30L's best quality is within its customization, allowing you to upgrade parts as you see fit, at least for the most part. HP's site offers customization options to get the best pre-build available. In stores, you can get the 30L with a GeForce RTX 3060, an AMD Ryzen 5 or 7, and 16GB RAM, all of which still make this PC incredibly fast and stable to play everything at its fullest, from Halo Infinite to Call of Duty Vanguard and more. The HP Omen 30L also features pretty good lighting options available through its own pre-installed software along with 7 USB 3.0 ports overall and one USB-C port. One of the biggest issues with any generation of the Omen 30L is its lack of cooling, although readers can easily upgrade that. It comes with just two fans, a 120mm intake fan in the front and a 92mm exhaust in the back, all courtesy of Cooler Master. The in-store models come with a Cooler Master air cooler, but you can upgrade that to a liquid cooler as well.
Specs: Intel Core i7-11700K, MSI GeForce 3080 Ventus 3X OC, 16GB Crucial Ballistix DDR4-300 RAM, 1TB XPG Gammix S70 PCIe Gen 4 SSD, 2TB Seagate Barracuda (7,200 RPM) HDD
The MSI Aegis RS 11th Gen pre-build PC is as MSI as an MSI PC can get. Like, REALLY MSI. This Aegis RS already comes with parts that are more than capable of running today's games at their full potential. However, customizing it and using MSI's proprietary software can be a bit of a hassle that could turn you off, especially those who like to upgrade their PC or switch out parts constantly.
Performance-wise, the Aegis RS is solid and also another way to get your hands on a powerful 3080 card. Unlike the HP Omen we just talked about, the Aegis RS features three 120mm intake fans in the front and one on the rear as an exhaust, partnered with an MSI Coreliquid 120 liquid cooler on the CPU keeping the PC cool in all situations. It features a pair of USB 3.2 ports on the top and a USB 3.2 Gen 2 Type-C port, along with four USB 2.0 Type-A ports, two USB 3.2 Gen 1 Type-A ports, two Gen 2 Type-A ports, and another USB 3.2 Gen 2x2 Type-C port all on the back as well, giving you plenty of options for all of your needed peripherals.
Related: Best Gaming Hardware Holiday Gifts
Specs (maxed out): Intel Core i9-11900KF processor, NVidia GeForce RTX 3090, 128GB DDR4-3400 RAM, 2TB M.2 PCIe SSD, 2TB SATA HDD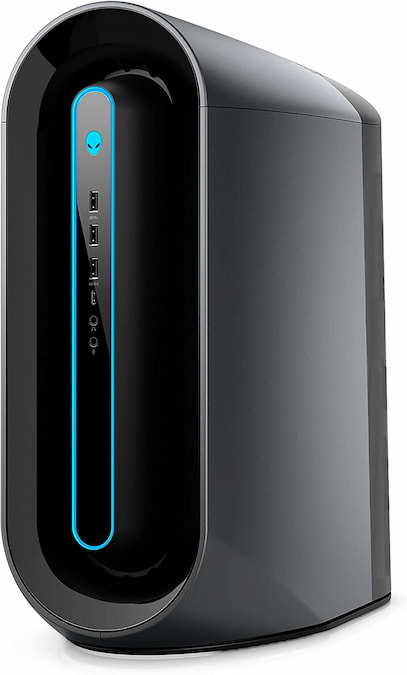 We'll start with the obvious: it's an Alienware PC, so we know it will be an absolute monster… or alien of a desktop. We also know that its final form will have a monster price tag. The R12 features the 11th generation Intel i9-11700KF processor and can easily handle a GeForce RTX 3090 graphics card. Toss in a max 128GB DDR4 RAM, 2TB SSD, and 2TB SATA HDD and the R12 steps up to the plate as the big home run hitter amongst the list of PCs here.
At its entry-level, the R12's features drop a bit (a given), but despite the lower-tier parts, it's still a strong contender. The entry-level version comes with just 8GB memory, enough to play today's mainstream titles online, along with an Intel Core i5-11400F processor that powers gameplay at either 1080p or 1440p. Its biggest downfall is its plain design, especially compared to most gaming PCs today. Alienware PCs don't normally have that glass side that shows off the components (and yes, the R12's interior is accessible and is customizable). Instead of aesthetics, the R12 focuses solely on performance which is definitely a welcome choice.
Specs (maxed out): AMD Ryzen 9 5900X, Liquid-cooled Nvidia GeForce 3080 (10GB GDDR6X), 32GB (2x16GB) Corsair Vengeance LPX DDR4-3200 RAM, 1TB M.2NVMe SSD, 2TB 2.5-inch SATA HDD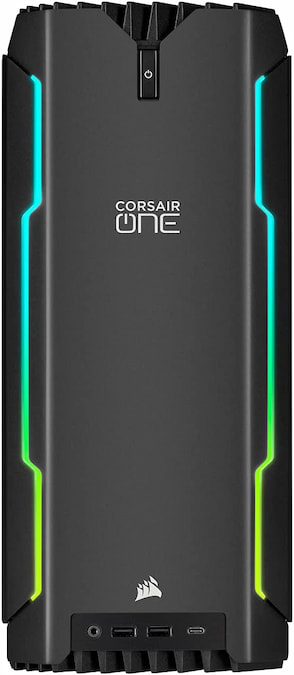 Corsair has been a staple within PC gaming for quite a while now. Although they've been overshadowed by some of today's bigger names in the scene, they are still a strong brand to consider, whether you are looking for peripherals or PCs. The Corsair One a200 is just another example of why Corsair should not be ignored. From top-end performance, a smaller than usual form factor, and liquid cooling everything, the Corsair One a200 is well worth its price tag.
The a200 isn't shy of being that small PC that packs a big punch. The highest-end version features a liquid-cooled AMD Ryzen 9 5900X partnered with a liquid-cooled Nvidia GeForce 3080 to maximize its already top-end performance. Toss in Corsair's 32GB Vengeance RAM, one of the best in the business, and 1TB M.2 SSD with a 2.5TB HDD; you have storage to run just about everything you need to. The biggest downside of the a200 is its big price tag. Coming in at just under $4,000, the a200 might be slightly over the budget of many normal gamers out there. But, if you're willing to pay the big tag, you will grab yourself a big PC… in a small package.
Specs: Intel Core i7-9700, Nvidia GeFroce GTX 1660 (6GB DDR5), 16GB DDR4-2666MHz, 512GB M.2 PCIe NVMe SSD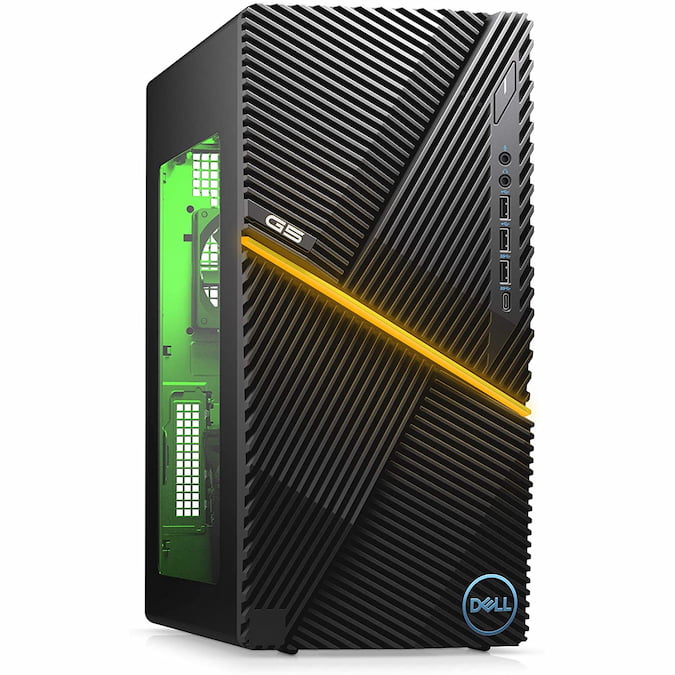 Let's be honest for a second: Not everyone has over $2,000+ to spend on a new gaming PC. Outside of the HP Omen line, the Dell G5 is another budget-friendly like gaming PC that is accessible. However, the lower price tag comes at its own cost. The G5 does have a few things going for it, though. It comes in a smaller-than-normal form factor, especially considering it's labeled as a mid-sized tower and is fully customizable, much like the other four PC's on this list. It also has more USB ports than you will know what to do with.
It doesn't keep up, at least initially, within its specs. The G5 features an Intel Core i7-9700 along with an Nvidia GeForce 1660, allowing you to play today's big titles on medium settings at least, maybe a few on high settings, but don't expect 4K gameplay or 240fps with this rig out of the box. Again, this is where its customization ability comes in. You can easily upgrade this PC as you see fit and as you go, making it a mini beast in time. This is a great choice for those looking to get into PC gaming for the first time.
For more Hardware Guides, check out Best NVIDIA Graphics Cards on Pro Game Guides!