Virtual Reality gaming has taken massive leaps forward since it first hit the scene and there are now numerous options to experience this type of gaming. For console VR, it doesn't get any better than PlayStation VR, and luckily they have multiple options available. The whole process of unboxing and setting it up is quite simple and relatively quick too. PSVR can run games up to 1080p and up to 120hz depending on the game and application. Additionally, you can play the game standing up or if you tend to get motion sickness easy, you can also play in VR while sitting down! Regardless of how you play, PSVR is multiple bundles available to get you right into playing and you can check out the best options below!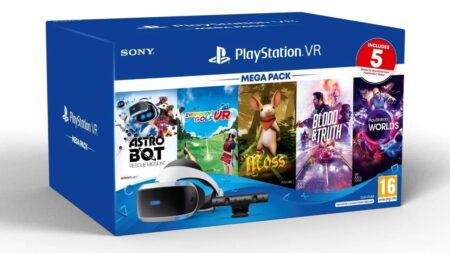 When it comes to getting the most bang for your buck, the PSVR Mega Pack is a fantastic deal. Not only does it come with the PlayStation VR Headset and VR Camera, but it also includes 5 downloadable games. Unfortunately, the games do not come physically, but having them all available digitally allows you to switch games on the fly. The games included in the bundle rotate depending on the model that you purchase but can include Skyrim, Astro Bot Rescue Mission, PlayStation Worlds, Everybody's Golf, Resident Evil Biohazard, Blood and Truth, and Moss. Opting to purchase the Mega Pack will give you plenty to play right out of the box and has a little bit of everything for gamers of all types.
When it comes to racing games, Gran Turismo has always stood out for its realism and depth. With the PSVR Gran Turismo bundle, it becomes even more realistic as you experience it in virtual reality. You will truly feel behind the wheel as you take turns and speed past your rivals. This bundle comes with a physical disk of Gran Turismo, a PSVR Headset as well as a PS4 camera. Racing games always strive for immersion and with VR we can only expect the future of racing games to become even brighter. For now, Gran Turismo VR allows you to hop in the driver's seat and burn rubber to your heart's content.
Related: Is Moss Book 2 Coming to PSVR, Oculus Quest, or HTC Vive?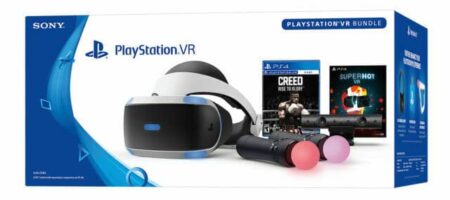 With this bundle, you get two games as well as the PSVR Headset, PS4 Camera, and two PS Move Controllers. With Creed: Rise to Glory you can get behind the boxer using a ghost avatar for tracking and a physical avatar for visuals. With these combined technologies you will be able to feel every punch as if you were there. The second game included is the ever-popular Superhot, a VR FPS game where time only moves as you move. Using a minimalist design and slow motion, new players are able to determine how to beat levels while pros can challenge themselves to set new records. With two games available at purchase, this bundle is a great choice if you prefer action titles.
This is the perfect bundle for those who like to laugh or be on the edge of their seat. Five Nights At Freddie's needs no introduction ever since the series leaped onto the gaming scene in 2014. But now you can experience the terrifying animatronics in VR as you attempt to survive the night. Just remember that the PSVR Headset is wired before you leap out of your skin. In addition to Five Nights At Freddie's, this bundle comes with Trover Saves the Universe which is a hilarious comedy by the co-creator of Rick and Morty. In this game, you can shove babies in your eyes and break the fourth wall while laughing hysterically. The bundle includes these two games as well as the PSVR Headset and PS4 Camera.
Related: How to Play Roblox in VR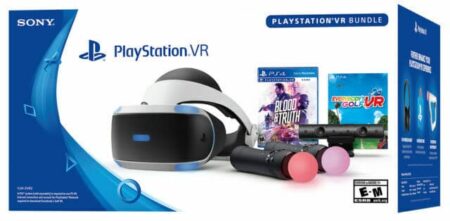 This bundle includes two games that aren't exactly alike. First is Blood and Truth which is an FPS game that allows players to hide behind cover, shoot enemies, and pick up different guns. Movement is simply handled by pointed at the spot and at pressing a button. Switching gears is Everybody's Golf and it has never been better than in VR. This allows you to step on the course and experience all the shenanigans of golf as if you were on the green yourself. This bundle comes with two games, the PSVR Headset, the PS4 Camera, and two PS Move Controllers.
PlayStation VR is an excellent way to experience some of your favorite games in a new way. From games that have VR support added to games that were built from the ground up for VR, you can find plenty to play. The best deal and what we recommend would be the Mega Pack as it comes with some solid options and something for everyone.
For more information on VR and gaming, check out PlayStation VR 2 Specs and System Requirements and Best VR Games (2021) on Pro Game Guides.