While headphones have become the norm for PC gaming, speakers still have their place on computer desks. Speakers come in handy when you have multiple people playing or just want to keep your head free of a bulky headset. Regardless of your reasons, there are plenty of excellent speakers out there for PC gaming. Like most PC gaming accessories, you can even find RGB speakers to brighten up your gaming space. While there are plenty of options, some will shine better than others so we've done our best to narrow down the top choices and why you should pick them.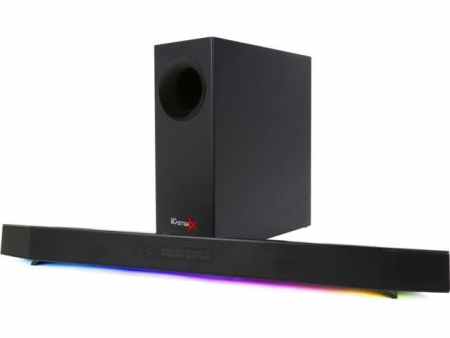 It may seem weird to use a soundbar for your PC gaming needs, but after using the Creative SoundblasterX Katana Soundbar those doubts will disappear. One great perk of choosing this soundbar over traditional speakers is the fact that it doesn't take up nearly as much room. The SoundblasterX Katana is easily able to fit underneath a monitor or behind a keyboard. It also comes with a subwoofer, though the quality is unfortunately not as good as the soundbar and is rather bulky. Both are made from good quality plastic ad aluminum and have a lovely finish to them. The SoundblasterX Katana is compatible with the Creative Connect suite sound software, allowing you to tweak its sound profile to better fit your needs. For those who would rather make quick adjustments, there are also pre-built settings you can use as well. Setting up the SoundblasterX Katana is quite easy so you can get high-quality audio shortly after opening. The RGB lights are subtle, yet enhance the look of this equipment. This 5-driver soundbar and subwoofer is available for $299.99 but goes on sale frequently if you're feeling patient for a discount.
When it comes to being budget-friendly, the Cyber Acoustics Bluetooth Speakers will get along with your wallet marvelously. Boasting a price tag of $49.99 these speakers still manage to stand shoulder-to-shoulder with high-end speakers. The RGB surrounds the speaker cones on both the speakers and the subwoofer and can change colors or remain a solid color depending on your preference. Using the speakers is easy and can be paired via Bluetooth or through a 3.5mm wire. The sound quality of the 2.1 speakers and subwoofer is both clear and crisp, though you may find the bass lacking compared to other sound systems. The controls for the sound system can be found on the subwoofer and allow you to change the volume, treble, bass, and color patterns.
This stylish sound system is sure to brighten and enhance any gaming setup and only for $60 to $70 depending on which color you prefer. Unfortunately, the low price means that the speakers aren't technically RGB, but they do have LED lights built into them. For those who have a favorite color of red, blue, or green these are a great deal. They can also be set to have a continuous glow or set to a pulsing mode which can match the beat of your music. The 10-watt subwoofer will put out fantastic and booming bass. The speakers are 2.1 and put out clear and crisp audio that will immerse you into your game. Controlling the audio and finding the perfect balance can be done via the controls found on the front of the subwoofer. This sound system is built using plastic and acrylic to give the GOGroove BassPulse 2.1 sound system a sturdy build.
Related: 2021's 5 Best PC Gaming Headsets
JBL Quantum Duo
The JBL Quantum Duo is a nice set of speakers that come somewhere in the middle for a price of $159.95. Even with their relatively low price tag, these speakers can match high-end sound systems as they were specifically designed for gaming. Despite their small size the JBL Quantum Duo output clear and crisp audio that allows you to hear every footstep with clarity. Boasting 2.5 drivers and RGB lights, these speakers are capable of connecting via Bluetooth or through USB. The RGB lights outline the speaker cone as well as the sides of the speakers and can both change color and sync to your audio. JBL has been in the sound business for quite some time and the JBL Quantum Duo comes with the JBL sound signature and quality you expect from this company.
Logitech is a name that needs no introduction as they have been in the PC gaming industry forever and always produce top-of-the-line products. The Logitech is G560 has a simple but stylish design that will blow you away with its sound quality. The DTS 7.1 virtual surround sound will provide clear and crisp audio with amazing clarity that will fully immerse you in your game. The subwoofer puts off a booming bass that will make every explosion sound as if it's right next to you. If that wasn't enough to sell you then maybe the beautiful RGB will sway you. The customizable lights will sync with your audio and gameplay to provide a dazzling light show. These speakers are compatible with Logitech's Gaming Software where you have complete customization over the sound system and lights, including custom profiles to match with specific games. Logitech has provided multiple ways to connect these speakers to your device including Bluetooth, USB, or a 3.5mm jack. All of these features may have you expecting an astronomical price tag, but the Logitech G560 will only set you back $199.99.
Microlab T10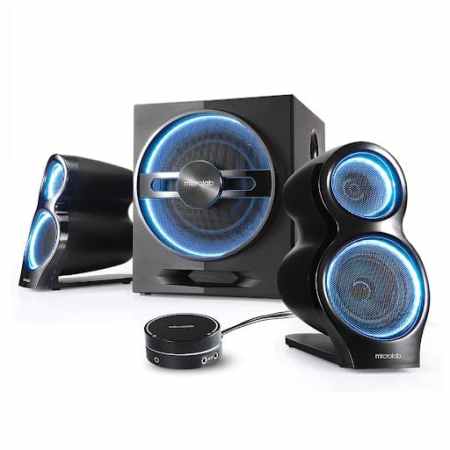 The Microlab T10 is a 2.1 sound system that comes with a 5.25-inch subwoofer and two satellite speakers. Both the satellite speakers and the subwoofer come equipped with Bluetooth as well as LED lighting. Unfortunately, the lights are not RGB and are locked in blue color, but the unique design of the speakers and beautiful LED lights still make this system a great contender. Bass and treble controls are located directly on the subwoofer itself while the other settings can be adjusted via the included remote control. With these designed specifically for gaming, you will get great sound during your favorite games. The LED lights are also controllable via the remote control and can be dimmed or switched off altogether.
Related: 2021's 5 Best PC Gaming Controllers
The Razer Nommo Chroma is a nifty pair of speakers that feature rear-facing bass ports. Razer has always made top-of-the-line products and the Nommo Chroma are no different. They feature custom woven glass fiber 3-inch drivers and a stylish and sleek look. The RGB lights are on the base of the speakers, and while they are small they do accent the hardware quite nicely. The controls for the speakers can be found on the right speaker and the Razer Nommo Chroma are compatible with Razer's signature software. The RGB colors are customizable and come with presets as well for those who just want to get right into gaming. With these speakers being created for gaming you can expect clear and crisp audio with excellent clarity and powerful bass that will enhance your games tremendously. Last but not least, Razer has used great quality materials in the Razer Nomma Chroma to ensure that these speakers are durable and look great.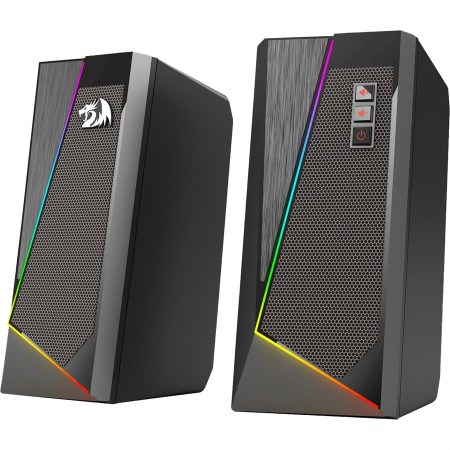 Another fantastic pair of budget speakers are the Redragon GS520, coming in only at $39.79 but still maintaining high-quality features. You can expect a full range of enhanced audio due to the 2.0 channel, clear base, and RGB lights to accent the classic looks of these speakers. The RGB lights are capable of 6 different lighting modes that are controlled by a touchpad. The speakers have a power button as well as volume buttons on the front and are connected via USB. It also has 3.5mm and mic cables so it can be used for multiple devices. The material and design are both minimalistic and sleek while remaining durable for long-term use. With this sound system's solid audio quality and low price, it is a perfect choice for gamers on a budget or those just starting.
Audio is a crucial aspect of gaming and you want to make sure that you have the absolute best. It also doesn't hurt to have some attractive speakers on your desk to enhance the look of your gaming setup. For that reason, we recommend either the Razer Nomma Chroma or the Logitech G560 as they offer a fantastic sound while looking amazing doing it.
For more information on hardware, check out 2021's 5 Best Mini PCs for Gaming and The 5 Best SFX Power Supplies in 2021 on Pro Game Guides.
This article includes affiliate links, which may provide small compensation to Pro Game Guides.