Gaming and RGB lights go hand-in-hand and there is no better way to add RGB than light strips. These strips of light allow you to add RGB light virtually anywhere. They can be added to devices for dynamic highlights or added behind TVs and monitors for ambiance. In addition, they are a fairly inexpensive way to customize your gaming desk and equipment. There are a lot of options out there for light strips and it can become muddled when comparing them all. You can check out some of the best options below.
Corsair has long been in the gaming hardware business and includes RGB with a lot of its products. In this case, the Corsair iCUE Lighting Node are separate RGB lights that you can install yourself with multiple mounting options. These RGB lights come in four strips each with 10 individually addressable LED lights. The four strips can be combined to create a single long strip as well. The Corsair iCUE Lighting Node can sync with other components such as fans and connects via USB. You can use Corsair's powerful iCUE software which gives you extreme freedom with customization. You can purchase additional sets and they will work injunction together. These RGB light strips are available for $64.99.
For lights that look great and aren't expensive, the Govee RGBIC WiFi LED Strip Lights are one of the best options. These light strips come in a 16-foot length and a 32-foot length and cannot be cut to change those lengths. They feature a vast amount of control through the Govee Home app, Amazon Alexa, and Google Home. You can control these lights with your voice or the app. You can customize the color with various options and modes as well as sync the lights up with music. The Govee RGBIC WiFi LED Strip Lights are easy to install with double-sided adhesive and come with five support clips for a more secure fit. The 16-foot length is available for $28.89 and the 32-foot length is available for $42.49.
Related: 2021's 8 Best Keycap Pullers | Best Keycap Removers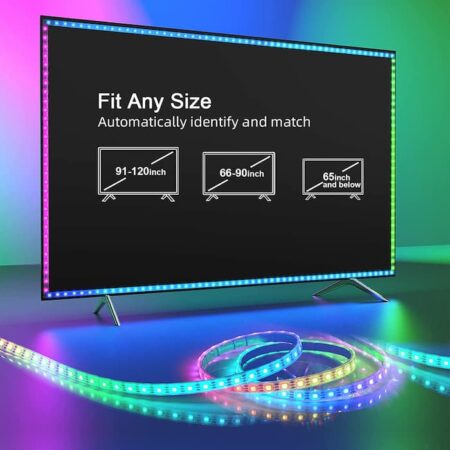 The Light Mi NEO Immersion TV LED Backlights with Sync Box were designed to be used and paired with a TV but can also be used elsewhere. One of its primary perks is being able to sync up with whatever is on your TV. It works with a wide range of devices through HDMI. This includes streaming devices such as the Apple TV or Amazon Fire Stick as well as gaming consoles. It can be controlled via voice or an app that allows you to adjust the brightness, effects, and color. The Light Mi NEO Immersion TV LED Backlights with Sync Box are easily installed and be synced with other smart lights in your home as well. Prices for these RGB lights range depending on what size you purchase but start at $149.99 and go up to $229.99. You can find them on sale frequently.
Nanoleaf Shapes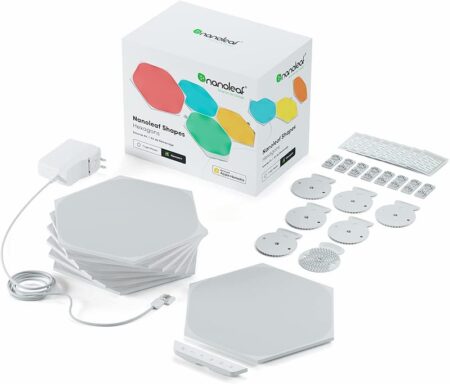 While not technically strips, the Nanoleaf Shapes are still an excellent choice. These unique and stylish lights will add a lot of character and ambiance to your setup. These lights are attached to your wall so you have less flexibility with where you can place them than other lights. Opposite of that, since each panel is an individual piece you can create whatever design you want. These lights can be interacted with just by touching the panels or through the app. Nanoleaf Shapes is capable of screen mirroring so it reflects your gameplay for maximum immersion. They can also be synced with other devices such as any Razer product featuring RGB. Your price will vary depending on which shapes you purchase and how many come with it but you will likely be paying at least $100.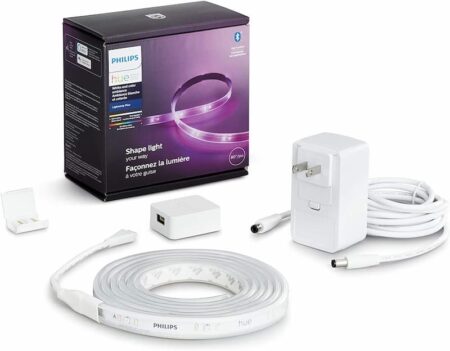 Phillips has been in the lights industry for a long time and it's clear to see why. The LED light strips are Bluetooth compatible and work with any smart device such as the Amazon Alexa or Google Home. To use them, you will need a Phillips Hub which can control up to 50 lights. They can be controlled via voice or through Phillip's app. Each Philips Hue Bluetooth Smart Lightstrip can be cut to whatever size you need using the included cut marks. They are easy to install and be installed practically anywhere with the included adhesive tape. Using the Hue Sync app, you can sync these lights to your games, music, and TV. These lights come in RGB and non-RGB and your price will reflect which option you select. The non-RGB are available for $79.99 while the RGB is available for $149.99
Picking which light strip is right for you can be confusing as they have many similarities and looks. When deciding, you should consider what spaces you intend to light up as well as how many lights you will need. Budget should also be a factor especially if you need a lot of lights. We recommend the Govee RGBIC WiFi LED Strip Lights because of their incredible price and fantastic look.
For more information on hardware, check out 2021's 5 Best High Refresh Rate Monitors and 2021's 5 Best DSLR Cameras for Streaming on Pro Game Guides.
This article includes affiliate links, which may provide small compensation to Pro Game Guides.