If you've just started streaming, or even just video chatting regularly, then you've probably run into a pretty universal truth: lighting is hard. That difficulty is exacerbated by the fact that desks and office areas are rarely well-lit to avoid things like screen glare. So if you're looking to start (or enhance) your streaming journey, then quit piling lamps next to your desk and get a ring light instead. Ring lights create an immediate brightening and softening of your face, which will give your image a more professional look.
MACTREM 10" Ring Light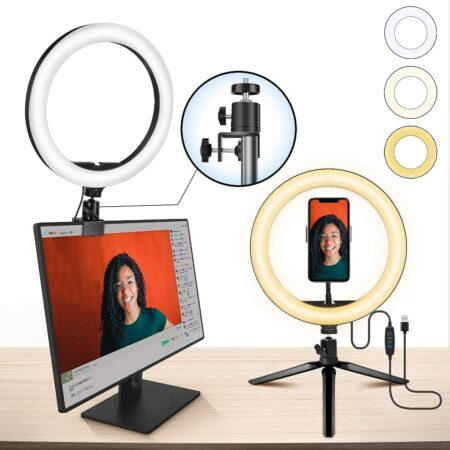 This clip-on style 10-inch ring light will sit nicely on top of your monitor or laptop screen using an adjustable screw clamp style connection. The screw clamp is useful if you're installing it long-term since the regular clamp-style ring lights are prone to popping off of their mounted surface if bumped or jostled. It uses an in-line remote for brightness and warmth adjustment and includes a desk tripod in the box. There is also a handy phone clip that mounts inside the ring so you can stream or chat on your phone.
Bekada LED Desk Light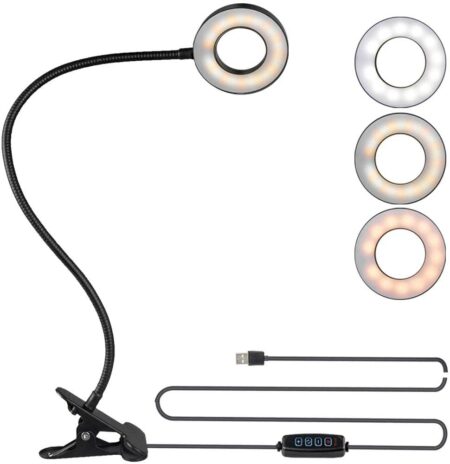 This small style ring light is billed as a desk lamp but can serve just as well as a low-footprint ring light for those with limited space. It uses a regular spring clamp to attach that's easy to install or remove as needed if you don't keep your streaming setup permanently in place. It has an in-line remote with three warmth settings and variable brightness. The ring itself is just small enough to situate behind a webcam, so it takes up very little space.
ACMEZING Ring Light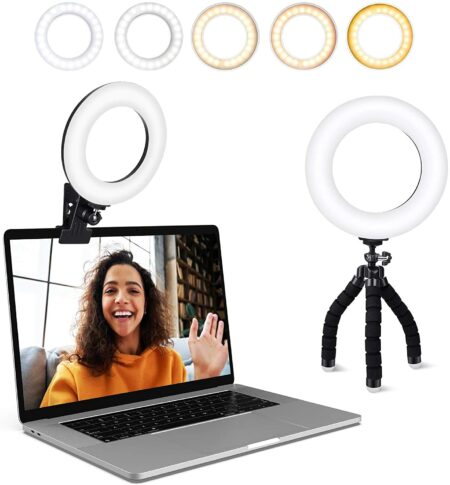 This spring clamp-style ring light combines a simple attachment mechanism with a large-style ring light for those who don't want to compromise on lighting power in your smaller streaming setup. It includes five different warmth levels and five brightness levels and comes with an adjustable leg grip stand for mounting on boom arms or other non-standard equipment. The whole thing is situated on a convenient ball joint, which is super useful for small positioning adjustments.
Welisi 10" Ring Light
This is a full-color capable ring light with 39 RGB modes and three regular warmth settings. It employs scroll wheels for adjustment, so changing lighting in real-time will create a smooth transition, which is useful if you need to change it mid-stream. It includes an in-line remote, multiple phone clamps, and a fully adjustable tripod stand with a maximum height of 62 inches. A Bluetooth camera shutter remote is also included to double as a solid piece of photography equipment.
SENSYNE 10" Ring Light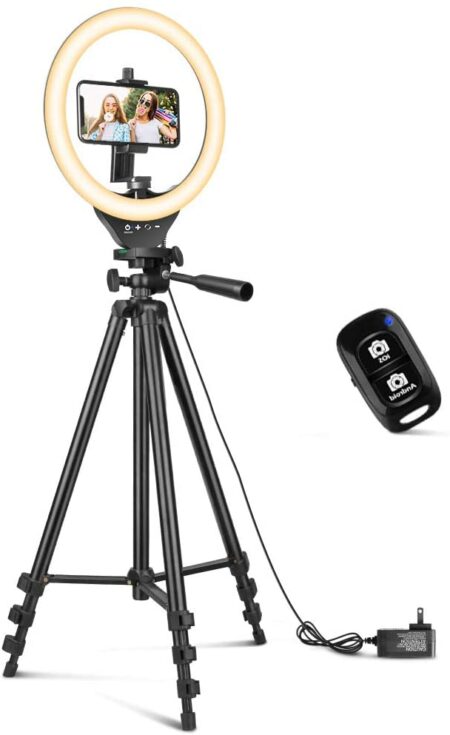 This ring light has three warmth settings, 10 brightness settings, and a fully adjustable tripod stand. Controls are on the bottom edge of the light itself, and in the box, you'll also find a remote shutter. Other than being just a solid ring light, the real selling point is the standard AC adapter. Most ring lights are USB powered, which can be frustrating for those wanting just a standard, reliable AC adapter to avoid issues of USB wall adapter wattage or powered PC USB ports.
Elgato Ring Light

If you demand only the best for your streaming setup, then Elgato is here to deliver. In addition to their celebrated capture cards, stream decks, and other various streaming accessories, they also make one of the higher-end streaming ring lights. It uses a simple, no-frills desk clamp, and at over 17 inches wide, even the largest DSLR should fit easily on the inner mounting bracket.
It features an eye-blistering 2500 lumen maximum output, warmth settings from 2900K up to 7000K, and is fitted with a telescopic pole for easy height adjustment. The settings are fully adjustable within Elgato's Control Center software, from either your PC or smartphone, and it easily integrates into a Stream Deck for fast access.
A ring light is an easy inclusion if you're looking to up your streaming setup. Going from no lighting to a decent ring light provides a massive, noticeable difference in your scene. Before purchasing, decide on the location and method for mounting your ring light, and make sure you get one that will properly fit within your setup.
For more hardware guides check out 2021's 5 Best Budget Microphones for Streaming | Budget Streaming Mics and 2021's 5 Best Microphones for Streaming | Best Streaming Mics on Pro Game Guides.