Building a PC is tough work. Getting the right components, double-checking compatibility, and making sure that it all fits neatly into your case. But building a small form-factor PC? The difficulty is cranked up to 11. It's hard enough making sure that your GPU has just enough clearance and that you'll be able to get a decent cooling solution in place for your CPU. The last thing you want to worry about is outfitting your new ITX or other small form-factor build with a decent or subpar power supply. So take a look below at our recommendations for the five best SFX power supplies for your small computer build and rest easy. In the interest of reliability and keeping things small form-factor friendly, we've chosen only power supply units that are all fully modular and at a minimum 80 Plus Gold certified. Always remember to check your power and connection requirements first before choosing a power supply, because without those it won't work in your setup.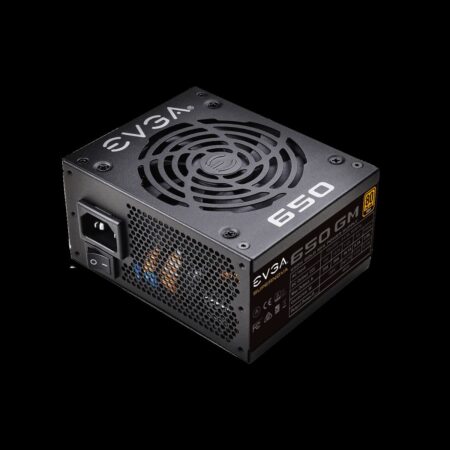 The EVGA SuperNOVA 650 GM has an 80 Plus Gold certification for 90% power efficiency under 50% load, which translates to reliability. At 650 watts the SuperNOVA should be plenty even for gaming focused builds. Adding to that reliability are fully Japanese capacitors, which in general are held to a higher manufacturing standard. EVGA backs this build quality up with a three year warranty.
EVGA includes an SFX to ATX adapter in the box and has outfitted the SuperNOVA 650 GM with a 92mm double-ball bearing fan to ensure cool, quiet operation when paired with the device's automatic ECO mode. Best of all is the full modularity, meaning you can keep your SFX compatible case free from cable clutter, which is important at this form factor.
For connections the EVGA SuperNOVA 650 GM has a 24+4 pin main connector, one 8 pin 4+4 EPS connector, four 8 pin (6+2) PCIe connectors, six SATA connectors, and four standard peripheral connectors.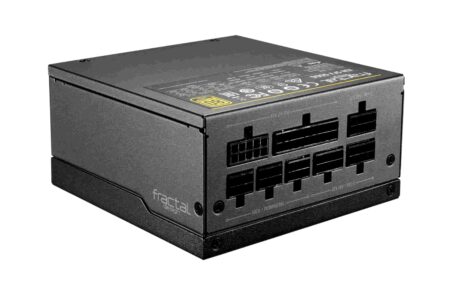 The Fractal Design Ion SFX 500G clocks in at 500 watts, which should be enough for mid-tier gaming builds (and possibly higher as long as you're efficient with your components). It also has an 80 Plus Gold certification to ensure high power efficiency. And Fractal Design backs up their work with a 10 year warranty to ensure that any issues you might have during the life of the device will be worked out.
Its modular design means less cable management and the 120mm slim FDB bearing fan should keep things cool and quiet, and it even boasts a passive fan-free zero RPM mode for when the PSU doesn't require active cooling. This means that when you're taking it easy it should operate in complete silence. Fitted with 105°C Japanese capacitors for a long life and a very confident 10 year warranty, this PSU should last you quite a while.
The Ion SFX has a 20+4 pin ATX connector, one 4+4 pin EPS/ATX12V connector, two 6+2 pin PCIe connectors, four SATA connectors, and two peripheral connectors.
Related: 2021's 5 Best Mini PCs for Gaming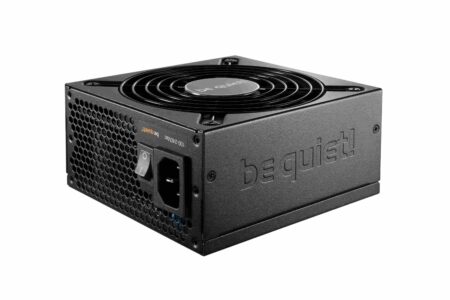 This fully modular 600 watt 80 Plus Gold PSU should be enough power and efficiency to power your latest gaming build. Like others on the list it has high quality Japanese capacitors, and includes an SFX to ATX bracket and a respectable 3-year warranty. Topped with a 120mm fan the classic "be quiet!" emblem that the brand is known for, this PSU should do the trick in your latest ITX or similar build.
It comes with a 20+4 ATX connector, one 4+4 pin EPS/ATX12V, four 6+2 pin PCIe connectors, six SATA connectors, and three peripheral connectors.
For the efficiency minded and power hungry among you we have the Corsair SF750 power supply. This PSU come equipped with an 80 Plus Platinum rating for maximum efficiency and cranks out a respectable 750 watts, which is quite a bit of juice for an SFX power supply. It might not be quite up to the level of a full sized ATX power supply, which can often range over 1000 watts, but for this form factor it's nothing to scoff at.
Whether you're gaming or just tremendously efficiency-focused, it should fit the bill just fine. As the others on this list it also uses Japanese capacitors and comes with an SFX to ATX bracket. Boasting a zero RPM fan mode and a 92mm cooling fan, it should stay near silent under light workloads. As expected, it also comes with Corsair's 7 year warranty.
The Corsair SF750 has a 24 pin ATX connector, two 8 (4+4) pin EPS/ATX12V connectors, two 8 (6+2) pin PCIe connectors, eight SATA connectors, and three peripheral connectors.
Last but certainly not least we have the SilverStone SX700-LPT, which is another 80 Plus Platinum rated PSU. Fully modular and rocking a 120mm fan and a 700 watt capacity, this PSU should do everything you need (and probably then some). SilverStone has also hung its hat on its 58.4A 12V rail, which will theoretically "future proof" the PSU against more power hungry peripherals that pop up later on down the line. So plan to be running it for many years to come, which shouldn't be an issue since it has been rated for 24/7 continuous operation by SilverStone. They even advertise a 750 watt peak power output, so if you're pushing up against your power draw limit the occasional spike won't leave you in the dark.
It comes with a 20+4 pin ATX connector, one 4+4 pin EPS/ATX12V connector, four 6+2 pin PCIe connectors, nine SATA connectors, three 4 pin peripheral connectors, and one 4 pin floppy connector.
There's nothing worse that sitting down for that first gaming session at your brand new small form-factor gaming rig only to realize that when graphics cards start spinning up your PSU can't keep up with that task at hand. These modular SFX power supplies should be more than enough to keep your case clean, efficient, and, perhaps most importantly, working long into the night. The most important considerations when choosing a PSU are obviously power output and connectors, so always use that as your guiding statistic. But it also pays to think about things like long-term reliability, warranty, and efficiency when making your choice.
For more hardware information, check out Which Steam Deck Should I Get? Deciding Which Steam Deck is Right For You and 2021's 5 Best Pink Gaming Headsets.