Speakers and audio in general are touchy subjects for most people. We all have our minimum quality, maximum price, and preferred connections. This means that choosing a set of speakers requires hitting all your requirements ahead of time, which may be easier than you think given the wide array of great compact PC speakers out there.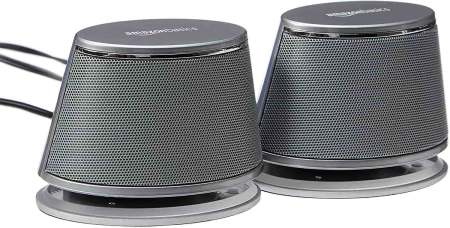 While these speakers probably won't impress your friends, they put out a decent amount of sound for a 20-dollar bill. They use 5V USB for power and feature a passive radiator on the bottom for bass. Each speaker has a frequency range of 80 Hz to 20 kHz and an RMS of 1.2 watts and has a blue power indicator ring along the base. The cord features in-line volume control and they connect via traditional 3.5mm jack. If you're just looking some something cheap with some bass, they're a great choice.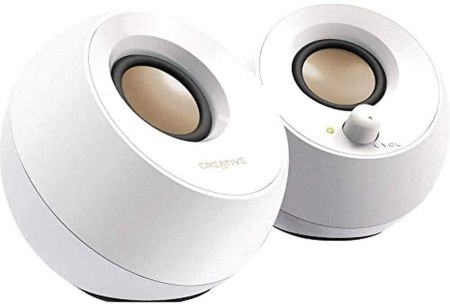 Creative has been in the audio game for a while now and puts out some great products. The Pebble 2.0 speakers use USB power and feature a prominent volume knob, power indicator, and passive radiators. Their slightly angled design is a welcome addition for anyone using them flat on a desktop, and each speaker has an RMS of 2.2 watts for a combined 4.4 watts. They connect via 3.5mm audio, and Creative also offers a version with a full-sized subwoofer for those of you after a richer experience.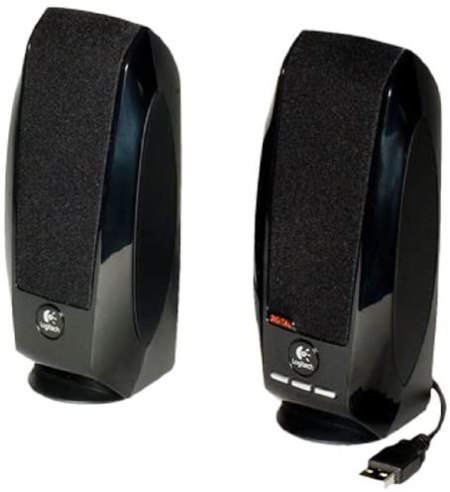 The Logitech S150 speakers are best described as adequate sounding. They're a decent sounding set of speakers with easily accessible controls, 1.2 watts per speaker, a power indicator, and a frequency response of 90Hz to 20 kHz. The real draw here is the rock bottom price and the single USB connection for both power and audio. If you're after a set of small speakers that travel well and don't use 3.5mm for audio then they can frequently be had for less than $15.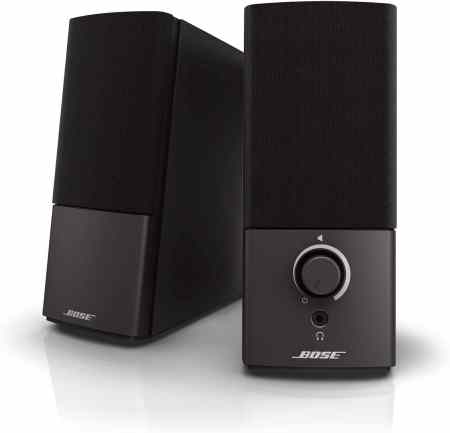 Bose has the magical ability to cram an obscene amount of sound into a very small package, and the Companion 2 speakers are a perfect demonstration of that. They're small, out-of-the-way speakers that pack 22 watts between them. This means that they'll easily fill your office with high-quality sound. They also feature a front-facing volume knob, headphone jack, and even AUX port for plugging in a phone or other device. They're USB powered and connect via 3.5mm audio jack. They'll set you back around $150, but your ears will definitely thank you.
Edifier might not be as well known as some of their competitors, but they've been putting out great audio equipment at even better prices for years now. Their bookshelf speakers constantly top sales charts, and their G2000 PC speakers continue that legacy of price and performance. These speakers feature Bluetooth, 3.5mm audio, USB audio, RGB (with a dozen different effects), and a whopping 32 watts peak power. This means they'll put out a huge amount of sound for their relatively minuscule size. They also feature a slightly elevated design and a convenient control panel for connecting devices and changing lighting effects. They're stylish, versatile, and come in at a lower price point compared to similar speakers from competing brands.
Related: Best Waterproof Bluetooth Speakers
Redragon has made a name for itself as a great budget brand for PC peripherals. The GS550 is a set of 3-watt speakers with a volume knob, USB power, 3.5mm audio, and a red power indicator light. They also feature a mic port on the front of the right speaker for plugging in a microphone and can be laid down on their sides and connected with a top hooking mechanism to switch them into a speaker bar design.
Speakers are one of the most neglected components for any would-be PC builder. After finding all your parts, tracking down a keyboard and mouse, finding a decent monitor, and getting everything assembled the last thing on your mind is likely which speakers you plan to use. This means that many shiny new gaming PCs are stuck with whatever old set of banged-up speakers you have sitting around your home. But good speakers can come in small, relatively affordable packages these days.
For more hardware guides check out Best Keyboards for Steam Deck and Best Controller for the Steam Deck on Pro Game Guides.
This article includes affiliate links, which may provide small compensation to Pro Game Guides.