Desk space is at a premium for a lot of people these days. New games consoles are larger than ever and more and more people are spending increased time at the computer, either for work or for pleasure. It can be hard to keep everything free from clutter while still keeping your gaming desk outfitted with a decently powerful desktop. Maybe you don't want to go full space-saving with a NUC or mini-ITX build, which can often cost more money for hardware that's cheaper in a larger form factor. But maybe you also don't have room for a full-on RGB kitted out ATX desktop behemoth hogging up two square feet of your space. Thankfully there are many reasonable middle-ground options between those two. Take a look below at our best small gaming PCs to find one that's right for you.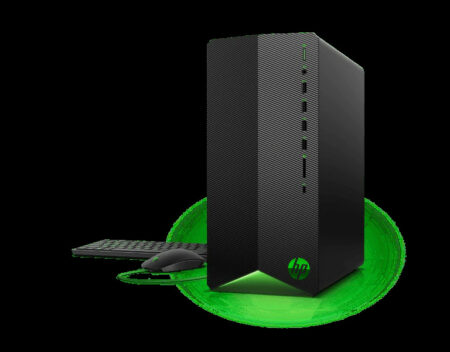 When you think "gaming PC" you probably don't think about HP, but it has been in the gaming space for a number of years now with its OMEN line of computers. And that DNA has leaked into its other product lines as well with the HP Pavilion Gaming Desktop. The black-on-green design doesn't exactly scream "hardcore gamer" either, so it could easily double as a respectable-looking workstation. While HP offers an entire range of products in this line (with multiple configuration options), we've chosen the TG01-2176z, which is outfitted with an AMD Ryzen 7 5700G running at 3.8GHz with a 4.6GHz boost, 16 GB DDR4 RAM, a 512 GB M.2 SSD, a 1 TB SATA drive, and an NVIDIA GeForce GTX 3060 graphics card.
This machine should get you up and gaming in no time, as the GTX 3060 comes with support for DLSS and RTX. It will also work well with VR setups. So most modern gaming amenities will be supported and 4k gaming is also a viable option as long as you're shooting for 60 FPS and reasonable settings. All within a chassis that is 6.12" x 11.97" x 13.28".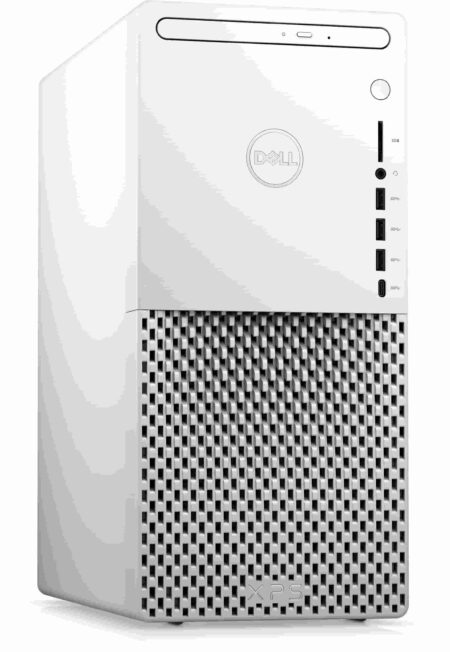 Dell is in a similar boat as HP in that it has been in the gaming space for quite a while despite being mostly know as a business and workstation manufacturer. With its unassuming white finish and workhorse exterior you'd be excused for thinking this was yet another home office PC. It even includes an optical drive, which gives it a very 2010 kind of look. But under the hood this is a real-deal gaming machine.
The XPS Desktop is setup with an 11th Gen Intel Core i7-11700 processor running at 2.5Ghz with a 4.9GHz boost, 16 GB of DDR4 RAM, a 512 GB M.2 SSD, a 1 TB SATA SSD, and a NVIDIA GeForce 3060 Ti graphics card. If these specs sound awful familiar to the HP Pavilion Gaming Desktop we mentioned previously then that's because, other than being an Intel processor, they're pretty darn close. As with that machine this one also supports DLSS, RTX, and VR headsets. The Dell is even similarly sized at 6.65" x 12.13" x 14.45". Both machines are a solid choice for the discerning PC gamer, so your decision will likely come down to your AMD vs Intel preference.
Related: 2021's 5 Best PC Gaming Headsets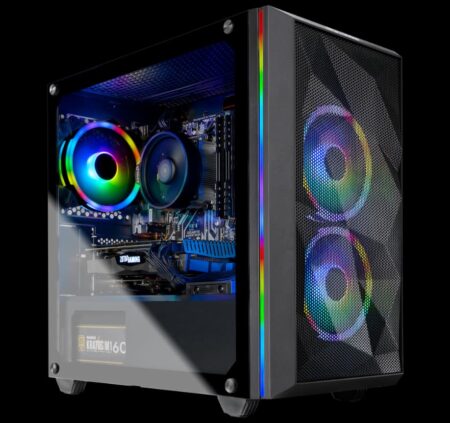 The Skytech Chronos Mini from Skytech Gaming looks an awful lot like most larger RGB-laden gaming desktops except for one important factor: it's a heck of a lot smaller. Coming in at 8.5" x 16.25" x 15" it's barely larger than the HP and Dell we listed previously. But it does have that rainbow RGB gaming aesthetic for those of you who have no reservations about lighting up your desk and proudly displaying your gaming hardware in all its glory. It also has a very open, standard design for upgradeability as well as a glass side panel to properly show off your hardware.
The Chronos Mini comes with an AMD Ryzen 5 2600X running at 3.6GHz with a 4.2 GHz boost, 16 GB of DDR4 RAM, a 500GB SSD, and an AMD Radeon RX 5700XT graphics card. That 5700XT should net you very usable 4k framerates (with reasonable settings) and high-level performance at 1080p. It's not the newest from AMD as far as GPUs go, but it's a solid performer from last generation with lots of life left in it.
Acer has come a very, very long way in the last several years. From budget workhorse machine darling to budget gaming computer heavyweight, Acer has become well-known for those wanting a gaming computer without breaking the bank. The Nitro 50 is no exception, and comes equipped with an Intel Core i5-10400 at 2.9GHz with a 4.3GHz boost, 8-64 GB of RAM (as configured by the buyer), up to 512 GB storage (also buyer configured), and an NVIDIA GeForce GTX 1650 graphics card. And at 6.9" x 15.4" x 15.2" it does it all under budget and in a compact space.
No, the 1650 wasn't the biggest and best card even when it came out, and the newer 3000 series cards are what you should be after for 4k gaming or VR connectivity. But what it lacks in power it makes up for in value, much like the Nitro 50 in general. The 1650 will net you solid 1080p gaming performance, and the Nitro 50 starts many hundreds of dollars cheaper than any other machine on this list. For esports enthusiasts the 1650 will be plenty of power, and for a lot of gamers that's enough. Maybe you don't need to be running Cyberpunk at 4k 120 FPS because all you're after is solid Rocket League or Fortnite performance.
Related: 2021's 10 Best Gaming Chairs with LEDs | Best RGB Gaming Chairs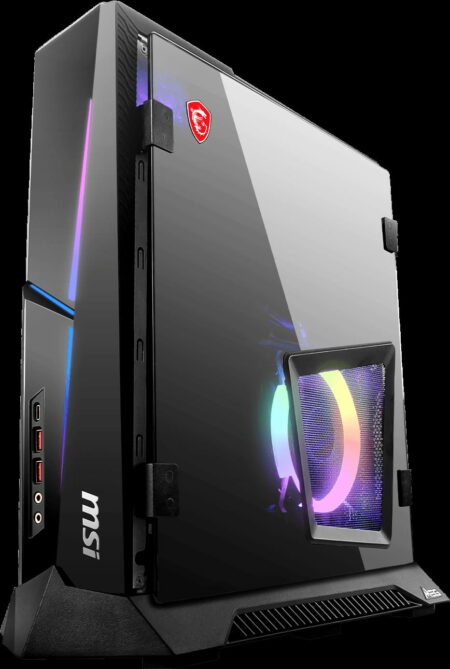 So far we've covered computers that look, well, like computers. Your standard box. But the MSI MEG Trident X 10th bucks that trend with a more radical design. Yes, technically, it's still a box, but it's a box with some real style. Its super slim design clocks in at 5.1" x 15.06" x 15.6", making it the slimmest machine we've looked at here. With an extruded side panel, RGB, a wide-base stand, and accessible internals for future upgrades the Trident makes a compelling case in a very slim package. The GPU and M.2 slot are accessible from one side with the HDD/SDD bays, RAM, and CPU fully accessible from the opposite side, which means keeping this machine long-term and changing out components shouldn't be a problem in the future.
It comes equipped with an Intel Core i9-10900K running at 3.7GHz with a 5.3GHz boost, 64 GB of RAM, a 1 TB M.2 SSD, a 1 TB SATA SSD, and a NVIDIA GeForce RTX 2080 Ti graphics card. That means you're going to have RTX support, respectable 4k performance with reasonable settings, and rock-solid 1440p and 1080p performance. And the aforementioned upgradeability means that when 3000 series cards become more available down the line it should be very easy to upgrade this machine.
Like so many other things in life the best small gaming PC boils down to what you're personally after. From the budget-conscious to the hardcore gaming with rapidly-shrinking desk real estate, there are plenty of options to choose from. Just because you want to get your game on in 2021 doesn't mean you need to sacrifice comfort and convenience to do so. Smaller form factor PCs like those we listed above don't mean you have to sacrifice on full-size gaming comforts or power.
For more gaming hardware recommendations, check out 2021's 5 Best PC Gaming Controllers and 2021's 5 Best Mini PCs for Gaming on Pro Game Guides.