Standing desks aren't all massive, motorized affairs that eat up your office space. Whether you're after a converter to convert your existing desk or a completely new solution, there are many options available. For our purpose we're considering any desk under the semi-standard width of 48 inches to be small, but we'll notate individual widths so you can choose which desk is right for you.
Ergotech Adjustable Electric Standing Desk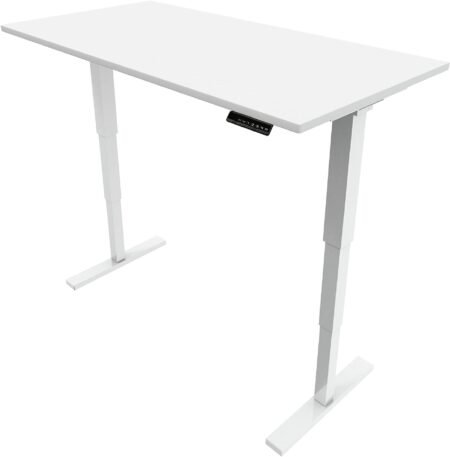 This electric standing desk from Ergotech is just barely within the small size category with its 45-inch width, but it maintains a small enough footprint to fit into tight office areas. The top is a single piece of cut and finished wood, no particle board, and adjusts to a maximum height of 50 inches. With a 400-pound weight limit and a 1.5-inch-per-second motor, it's convenient, compact, and versatile. And Ergotech provides a five-year warranty to ensure that any issues will be swiftly taken care of.
Related: 2021's 6 Best White Gaming Desks
ErGear Standing Desk Converter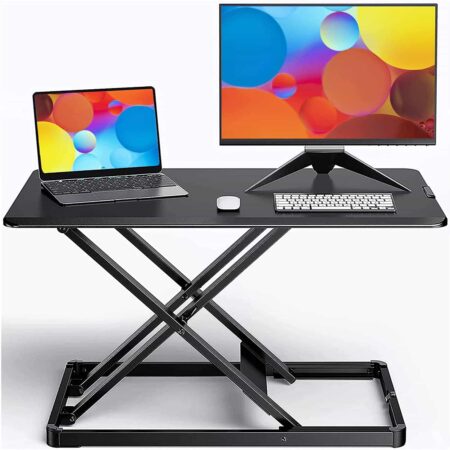 This converter has a 28-inch desktop set on a scissor arm for height adjustment. It has a 22-pound weight limit and actually lowers to be nearly completely flat on whatever surface it's sitting on. This is nice feature for those of you who want to go back and forth between sitting and standing without having to move bulky desk toppers around.
VIVO Black Height Adjustable Converter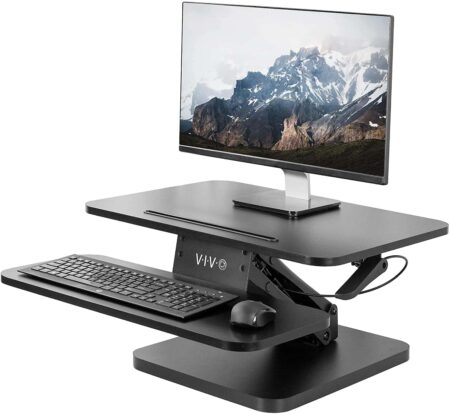 This is a robust, heavy-duty converter from VIVO that provides a nice 25-inch width on both its main platform and keyboard tray. The whole thing sits on a spring arm with a phone tray and a wide, sturdy base. The keyboard tray is fixed in place, but being a permanent fixture means that it will be less susceptible to wobble when you're typing. If you want a converter that isn't going to shift around on your desk then this one will do nicely.
Safco Muv Stand-Up Desk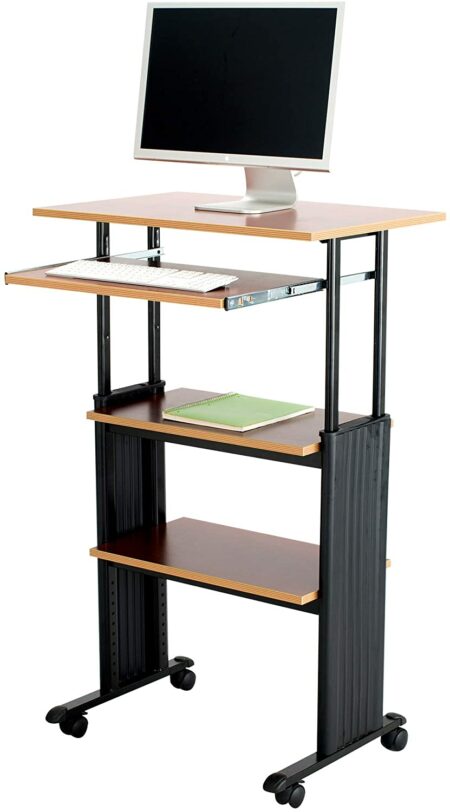 This cart-style adjustable standing desk fits a lot of functionality in very little space. It has a 30-inch desktop, 49-inch maximum height, and two shelves. The shelves come in very hand in such a compact desk for holding your PC or other desk accessories without adding to the desk's overall size. The whole thing is on caster wheels for easy relocation, and the keyboard tray is fitted on a slider so it can be as compact as possible when not in use.
SIDUCAL Mobile Stand Up Desk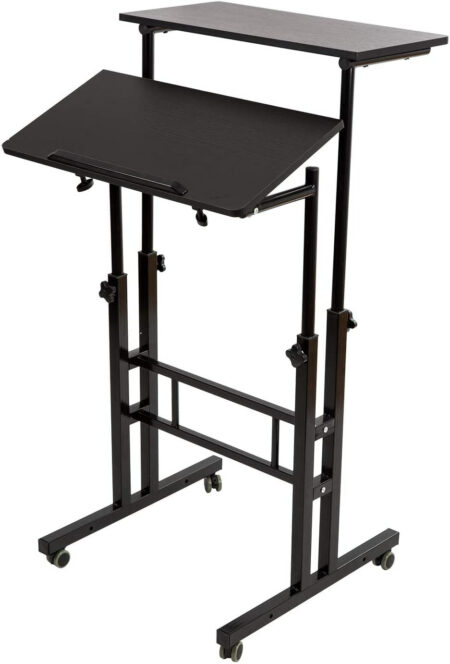 This standing desk from SIDUCAL features 22-inch wide casters for movement, an angle-adjustable keyboard tray, and multiple colorways to suit your preference. The whole thing is made of metal and MDF, so it's sturdy enough to last you for years to come. The keyboard tray and desktop are separately adjustable for maximum ergonomics, and they can even be set to the same height for one continuous desk top. The mouse section of the keyboard tray is also equipped with its own independent angle adjustment so your mouse doesn't slide off when the tray is to a steep incline.
Harmoni Standing Desk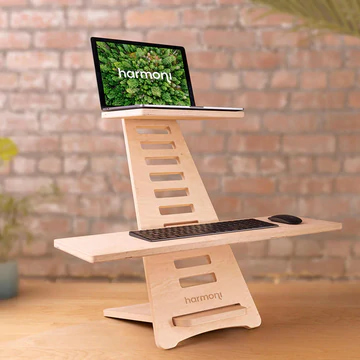 This 31-inch-wide converter from Harmoni eschews the standard metal body design for something more natural looking that doesn't sacrifice anything in the way of functionality. It uses sustainable wood in a few different finishes and is easy to set up and break down thanks to its super simple construction. It breaks down into just a few different pieces that will all lay flat stacked on top of one another. It's a little bit different, but it's a great pick if you're after something convenient, portable, and easy-to-use.
Everything from repetitive stress injuries to back pain can potentially be mitigated with a standing desk, but changing your entire office setup to accommodate new furniture can be a hassle. Smaller standing desks and converters give you the flexibility to make the transition to something a bit healthier without having to fully commit to a completely new productivity setup.
For more hardware guides check out Best Pink Gaming Desks and 2021's 7 Best Gaming Desk Accessories on Pro Game Guides.