Depending on where you live, power flashes or even full-on outages may be pretty commonplace. Even a momentary flash of power loss can shut down your PC and related equipment, causing a loss in whatever game you're playing and potentially general data loss. Uninterruptible power supplies can remedy intermittent power issues and give you time to wrap up what you're working on before shutting down in the event of a full blackout.
Let's get some terminology out of the way first: you'll generally see UPS units rates in both maximum volt-ampere (VA) and maximum watt (W) ratings. These are slightly different measurements meant to inform a buyer of exactly how much power can be drawn from them. For the most part, the important thing to remember is that higher will be better, but most modern electronics are built to draw power based on their current usage.
This means that anything over the 1000 VA or 500 W range should be more than enough to give you ample time on multiple attached devices to save your work or game and shut down your computer. Almost all UPS units also offer surge protection, so there's no need to double up. It's also worth noting that the exact amount of time the battery in each UPS will run is entirely dependent on how much power you're drawing from it, so if you need exact time limits it pays to consider a unit with a time remaining readout.
Amazon Basics Line-Interactive UPS
Amazon just seems to make everything these days, so it's no surprise to see them dipping into the UPS market as well. This 10 outlet UPS offers 1500VA/900W ratings using a simulated sine wave, but outside of that is a pretty basic offering. The back offers five battery backup outlets and five surge-protected outlets, with LED indicators for its various functions. It's basic but very functional and affordable in the UPS space. Amazon also offers a larger 12 outlet version with a slightly lower 800 VA rating. It's not pretty like so many other Amazon Basics items, but it will get the job done.
Schneider Electric and its APC line is one of the premiere UPS brands on the market today and offers a wide array of styles and capacities. Their APC BE600M1 is more basic but offers solid functionality and protection in the sub $100 range. It features 600VA/330W ratings, four battery outlets, two surge-protected outlets, and a 1.5A USB charging port. The internal battery is also replaceable, so you don't have to replace the entire unit when it gets worn down over a few years of use. The limits here are pretty low but should be enough for a workstation and monitor. That said, so as long as you're not hooking up high-end gaming gear, it should be more than enough to get you by in the event of a power loss.
Looking at the more robust side of the UPS market, we have another offering from Schneider Electric with their APC BR1500MS2, which has a 1500VA/900W rating. This is their newest UPS in this particular line, and in addition to six battery outlets and three surge-protected outlets, it also provides front-facing USB and USB Type-C 5V/3A outlets for device charging. It comes equipped with an LED screen to check the status and battery levels, complete with active remaining battery time estimation and load readouts, in addition to a very handy mute button for those of you who suffer from frequent power outages and don't need a constant reminder.
Related: Fully Modular vs. Semi-Modular PSUs: What's the Difference?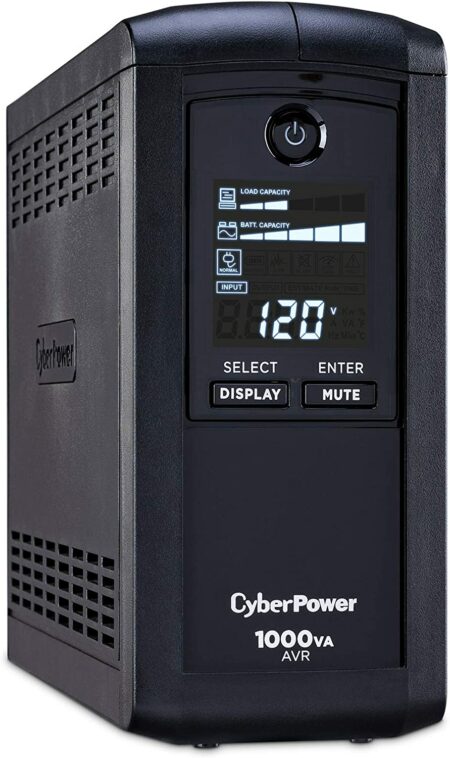 CyperPower, the perpetual competitor to Schneider Electric, has their CP1000AVRLCD if you don't quite need that 1500VA and want to save a good chunk of cash over the APC BR1500MS2. With 1000VA/600W ratings, it will still offer a good battery buffer for multiple devices. It also offers five battery outlets and four surge-protected outlets, along with RJ45, coaxial, and serial surge protection. The front sports an LCD panel with all the same readout options as its APC competitor as well as a similarly placed mute button. CyberPower also boasts an impressive three-year warranty (including the battery) and a $350,000 device protection guarantee, so you can expect a decent amount of support and peace of mind after your initial purchase.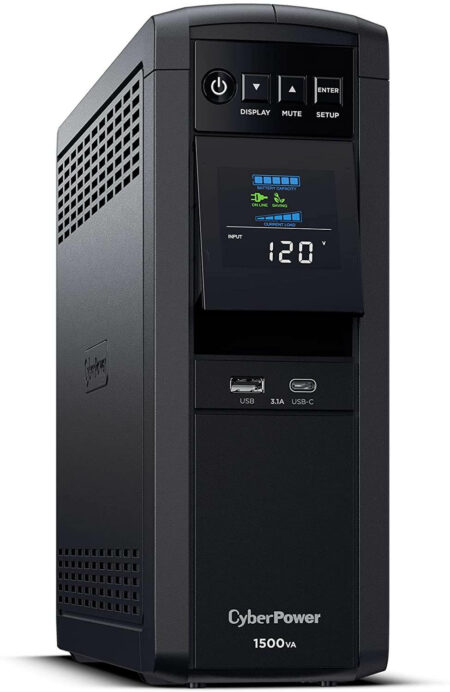 In more direct competition with Schneider Electric and their APC BR1500MS2 is the CyperPower CP1500PCFLCD, with an ever-so-slightly higher 1500VA/1000W rating. It offers six battery outlets, six surge-protected outlets, RJ45 protection, and serial protection. The front panel offers 3.1A USB and USB Type-C charging along with a color LCD panel for displaying readouts and changing various settings. The screen itself even tilts upward, so you don't have to completely crawl under your desk to check various settings or activate the handy mute button. Like the previous offering from CyberPower, it offers a similar warranty but bumps up the connected equipment guarantee to $500,000. Finally, it features what's referred to as a PFC sine wave, which effectively means that it will create cleaner, more efficient power when operating from the battery (as compared to a simulated sine wave). So you should notice absolutely no differences between regular wall power and battery power.
Shopping for a UPS can be a little nerve-wracking since it's difficult to figure out exactly how much power you need for what you're going to be plugging into it. For those of you with very high power needs, you might consider picking up an electricity usage monitor to plug into your current surge protector to determine your exact needs, which you can usually find for around $15. It might seem like an annoying additional step. Still, it's likely preferable to spend hundreds of dollars on a UPS without knowing exactly the limits you're going to be bumping up against.
For more hardware information, check out Xbox Series X/S shortage may last to 2022 according to Phil Spencer and How to preorder the Apple Watch Series 7 on Pro Game Guides.
This article includes affiliate links, which may provide small compensation to Pro Game Guides.