Video conferencing software has gone from an occasional necessity of the business world to what almost feels like a social requirement in recent times. With more and more people using video as their primary means of communication to keep in touch, it's more important than ever to have the hardware you need to chat with your loved ones. Streamers and other content creators are also expected to have decent cameras, even if their face isn't the focal point of the content being created. And if you're looking for convenience, it also doesn't hurt to have amenities like a built-in microphone for your more casual video calls.
So if the webcam built-in to your laptop just isn't cutting it, or maybe you don't have one at all, then take a look below to see our picks for webcams with built-in microphones!
It always pays to start with a sensible choice. Logitech has been making webcams for a long time now, and they range from the very basic to the elaborate. Their C920s is a bit of a middle-of-the-road offering but still manages to deliver a full 1080p video at 30 FPS, a 78° field of view, and autofocus. This particular variant also includes a privacy shutter for those long evenings where you forget to log off of your video call and start picking your nose. It features dual omni-directional noise-canceling microphones and Logitech's light correction software to make sure you can use it in various environments. It's certainly not the most elaborate or high-quality camera on the market, but it's a solid baseline for a reasonable price. Check it out if you don't want to go broke, just prepping for a Zoom call.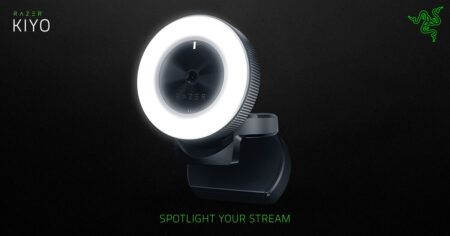 Razer, a long-time gaming-focused peripheral manufacturer, has recently stepped into the webcam market with the Kiyo. Packed with features and options, the Kiyo does 1080p at 30 FPS and 720 at 60 FPS with an 81.6° field of view. It also features an omni-directional microphone, and Razer has done a lot of work upgrading the firmware to improve performance and image quality with software tweaks. However, the big selling point of the Kiyo is the built-in ring light. Webcams generally struggle with lighting due to the restrictive limitations of their small size. Having a built-in light can remove a lot of headaches when trying to get your video chatting space properly set up. So if you need lighting and a webcam, the Kiyou could be a desirable two-for-one.
Another offering from Logitech, but this time with a different market in mind. The Streamcam is explicitly aimed at streamers and content creators and has the hardware to back it up. It shoots 1080p at 60 FPS at a 78° field of view. That solid performance is paired with a glass camera lens, autofocus, and dual omni-directional microphones. Other nice to have features include:
A live indicator light.
USB Type-C connectivity.
A tripod mount.
The ability to adjust the frame to keep you centered.
If you want something a bit more high-end than Logitech's other offerings, then the Streamcam is an easy choice.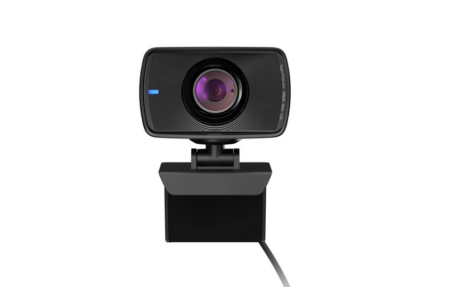 Elgato has become one of the premier manufacturers of streaming hardware, from capture cards to their Stream Deck line of products. A webcam just kind of makes sense for them, and they went all out with the Facecam. It includes an all-glass lens with f/2.4 aperture, a Sony STARVIS CMOS sensor at its core, and shoots 1080p at 60 FPS at an 82° field of view. It also has a privacy filter, a microphone (of course), and a removable cable, which is a rarity for webcams in general. If you're looking for a real-deal high-end, the Elgato Facecam should work great for chatting or streaming.
If you're after a solid webcam to get through some Zoom calls, then any of the cameras listed here will do the trick, and their built-in microphones should work great. However, it is important not to forget that if you're looking to stream or create content for YouTube, you'll probably want to invest in an external microphone.
For more hardware recommendations check out 2021's 5 Best Budget Webcams for Streaming and 2021's 5 Best RGB LED Strips | Best RGB Lighting Kits on Pro Game Guides.
This article includes affiliate links, which may provide small compensation to Pro Game Guides.