Color coordination is the name of the game when it comes to building a PC these days. From custom cable colors and RGB lighting to peripherals in every color of the rainbow, it has become almost expected that—when constructing your next gaming rig, you'll give some consideration to the color scheme. And that all starts with the core of any gaming PC setup: the case. White cases are more common now than they were in the past, but it can still be hard to find one that meets both your color requirements and has the features you're after.
If you're after a really, really white case, then our first pick is going to be pretty exciting. Many white cases are mostly white, which is to say that their large surfaces are white while many of the smaller details and back plates are still black. That's not the case with the O11DMini Show White Edition from Lian Li, which might be the whitest case we've ever seen.
It's also one of the more functional cases on the market when it comes to building a PC. All of the panels easily pop off to reveal the underlying frame, which makes cable management concerns a thing of the past. And don't let the name fool you—this is a compact case, but it's able to accommodate motherboards from the minuscule mini-ITX size all the way up to real-deal E-ATX boards. On top of that, Lian Li offers different back plates depending on how many fans and back panel slots you need, so there won't be any wasted space regardless of which size motherboard you use.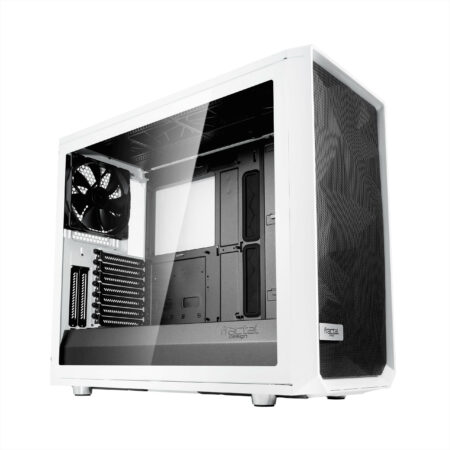 Fractal Design is a relative newcomer in the PC hardware game, having opened their doors in 2007. But in that short time, they've become one of the more well-known case designers out there, and their Meshify line has been a constant source of great design with its iconic diamond-style front mesh panel. The Meshify C TG is a high-airflow case with a great mostly-white aesthetic that will work well for setups with both black and white components. Because—let's be honest—sometimes you just can't find a white graphics card or motherboard in your price range for the all-white PC build you're working on.
Fractal Design offers the Meshify C TG in two varieties: with and without a tempered glass side panel. It's a mid-tower design that can accommodate motherboards from mini-ITX to E-ATX and has a fully ventilated PSU shroud. They also offer a PCIe riser separately for those of you who want to mount your GPU vertically to show it off.
Cooler Master has earned its stripes as a premier case manufacturer with a focus on affordability and functionality. They don't always have the most cutting edge features, but they almost always offer a functional case for a heck of a lot less money than their competition. The TD500 Mesh White is a mid tower case that sports a very nearly all-white aesthetic. The cable grommets, expansion slot covers, front panel cables, and screws remain black, but everything is a clean, snow white. Even the front mesh and front facing RGB fans (that come included) are white.
In the box, you'll find an ARGB controller, and the TD500 Mesh White will comfortably fit Mini ITX to ATX motherboards. E-ATX will fit as well but, depending on the dimensions, might limit your cable management options.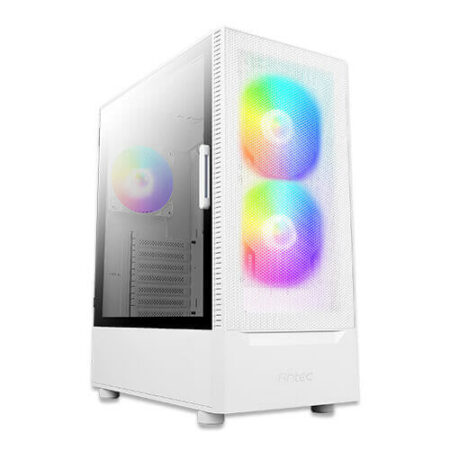 The Antec NX410 is a very clean-white mid-tower design. The frame around the tempered glass side panel is black, but the screws have been strategically placed such that the white aesthetic is maintained internally. The no-frills front panel features a fine mesh and two RGB fans, which is a plus for those of you who don't like the over-stylized designs on the front panel of the Cooler Master TD500 or Fractal Design Meshify cases.
The internal compartment is a tad smaller on the Antec. It's able to accommodate mini-ITX to ATX motherboards, so those of you with E-ATX boards will want to look for something a bit roomier. But that smaller design also means a slightly more shallow, compact profile for the NX410. Despite that compact size, it's still able to fit radiators on the top, front, and back of varying sizes.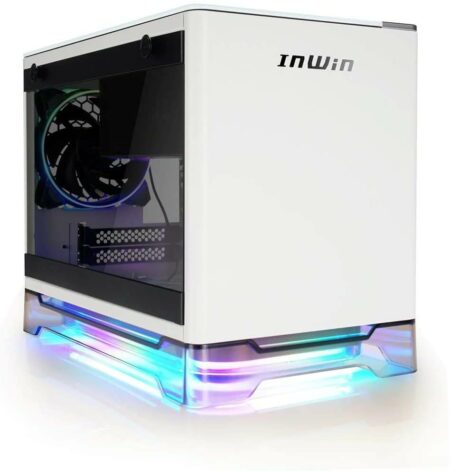 Alright, yes, the InWin A1 Plus white is mostly black on the interior, and that's pretty visible through the tempered glass side panel. But being a mini-ITX design means that it's going to be so jam-packed with components that you're likely going to have a hard time seeing much of the internal panels once you've completed your build.
It also comes jam-packed with other features such as RGB feet, a wireless Qi charger built in to the top panel, a built-in 650 watt PSU, and the ability to still fit up to 320mm GPUs. So if you're looking for a white case that's just packed to the brim with features for your mini-ITX build, then InWin has you covered.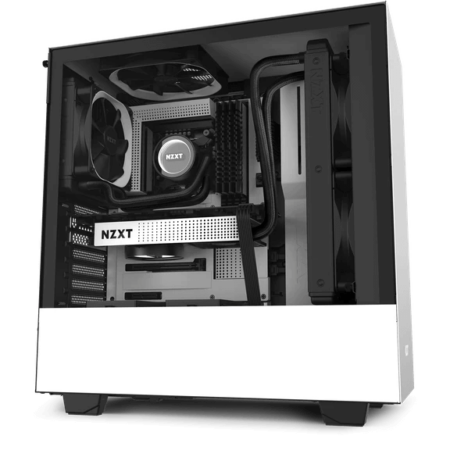 If you've built a computer in the last five to ten years, then you've probably seen an NZXT case. They've become an enthusiast favorite with their extremely clean aesthetics. The H510 is a mid-tower case that features a black-and-white aesthetic (or other color combinations, if you so choose) paired with NZXT's highly-praised cable management bar and full-width side panel. NXZT also embraces the black-and-white design with dual color fans that match the dual-color aesthetic nicely.
A big upside to choosing an NZXT case is that they offer accessories built to match this exact case, from PSUs to CPU radiators, that fit exactly for an extremely clean-looking build. So if you're a stickler for perfectly matching components, then NZXT is an easy choice.
If you work or game at a desk, then chances are you spend a lot of time looking at your PC, so it might as well be something you enjoy looking at. And while you're at it, it might as well fit the color scheme of the area you're putting it into. After all, we color-coordinate everything from phone cases to kitchen appliances. Why not our PCs, too?