Speakers are a lot of different things to a lot of different people. While some may value convenience and versatility, others may value sound quality above all else. We're going to be taking a look at a few different categories of speakers that should fit your needs, regardless of exactly what you consider the best type of speaker to be.
As a note: these speakers are not wireless in the sense that they have zero wires. They are wireless in the sense that your computer can connect to them via Bluetooth. True wireless speakers require batteries, which is are not ideal in the realm of computer speakers.
The Z207 from Logitech is a relatively simple set of speakers with a nice level of versatility. It offers dual Bluetooth connectivity for connecting two devices simultaneously and supports audio input via a 3.5mm audio jack if you need to add a third source. The speakers themselves are desktop-style, 10-watt speakers with powered drivers and a simple interface.
They also have a convenient headphone jack on the face next to the volume knob, so you don't have to switch audio devices on the PC side to use headphones. They're not the most powerful speakers out there by a long shot, but they provide decent stereo sound with a high amount of versatility.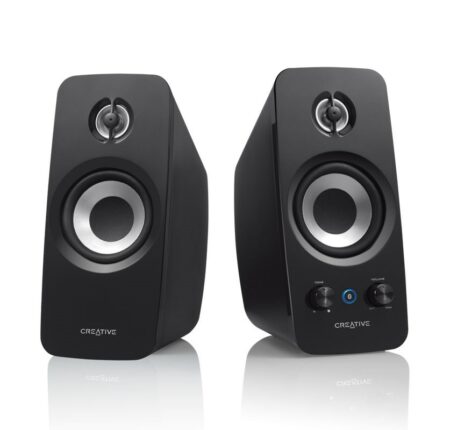 Creative has been pumping out decent, affordable audio equipment since the 80s; old-school PC gaming fans will remember their Sound Blaster line of products quite fondly. The T15 Bluetooth speaker set continues that legacy of quality and affordability with a simple design that features enough depth to provide decent richness for the size. It features 3.5mm audio input, a bass port, and a treble/bass balance knob for dialing in the sound you're after. It's a decent-sounding, minimal set of speakers that won't set you back a ton.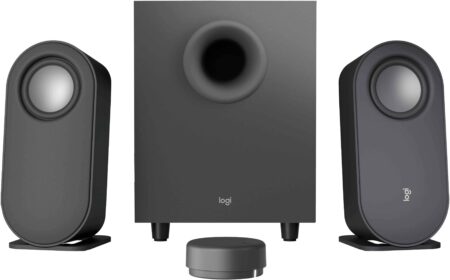 The Logitech Z407 system is a bit on the higher end side as far as Logitech audio equipment goes, but it boasts an impressive 80-watt output to match the price tag. It comes with two satellite speakers that have multiple mounting positions, as well as a full subwoofer. It also includes an independent wireless remote for adjustment and a 3.5mm auxiliary input for additional sound sources. The remote also allows for switching of sources and entering pairing mode, so you never have to reach behind your desk to get your audio adjusted properly.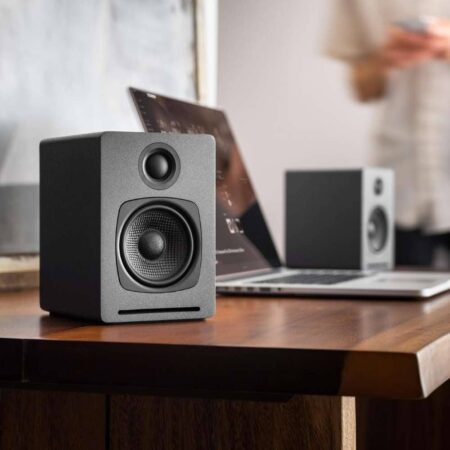 Audioengine is a newer company based out of Austin that has been pumping out some solid speaker solutions for a few years now. Billed as a full home music system, this set of speakers clocks in at 60 watts total and can put out some serious sound. It features an RCA subwoofer output if you have an independent sub to connect, 3.5mm input, Bluetooth, and a back-mounted volume knob.
Whether playing games or listening to music, these will produce high-quality sound in a relatively small amount of space. They also use aptX Bluetooth, which is designed for high-quality audio over Bluetooth. This means that you will mitigate the normal amount of Bluetooth audio degradation so the A1 can deliver more precise, better-sounding audio.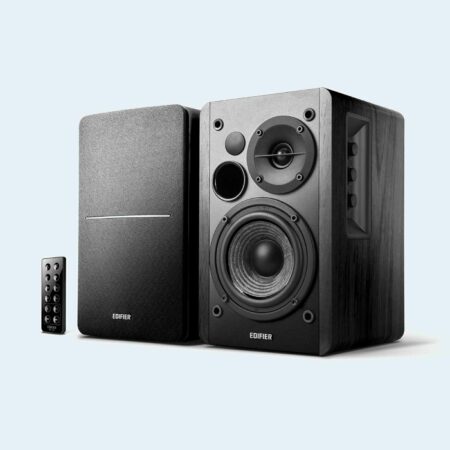 The Edifier R1280DB pops up frequently when discussing budget-focused home speaker systems. These powered 42-watt speakers will crank out a very rich, full-body sound thanks to their MDF consutrciton. It also features a boatload of connectivity options on the backside. Bluetooth, optical, coaxial, and dual RCA inputs mean that in addition to working great as computer speakers, they'll also integrate easily into just about any other sound setup you have in your home. The side-mounted controls feature volume, bass, and treble adjustment, and they come in both black and wood grain color options.
Sometimes a small speaker with decent sound is all you need while you fire off a game or two in the evenings with friends, but for those dedicated gaming spaces having a full-range speaker solution can really elevate the experience. Just because you don't want wires dragging down your laptop or gaming rig doesn't mean you can't experience great audio.
For more hardware guides check out 2021's 8 Best RGB Computer Speakers for Gaming and 2021's 5 Best Curved Gaming Monitors on Pro Game Guides.
This article includes affiliate links, which may provide small compensation to Pro Game Guides.