Intel launched the Z590 chipset in January of 2021, and with it came an increase in PCI lanes, more support for USB 3.2 2x2, native WiFi 6, and support for their LGA 1200 CPU socket type. The LGA 1200 socket is the follow up to the very successful LGA 1151 socket type and supports their Comet Lake and Rocket Lake CPUs. It has also further solidified PCIe 4 support, with most major manufacturers including it on their motherboards with Z590 chipsets. So if you're after the very best, top-of-the-line motherboard for your new Intel CPU then look no further than the Z590 chipset.
It's worth noting that to take advantage of the PCIe 4.0 speeds on M.2 slots you're going to need to be running at least an 11th gen Core Intel CPU, and some motherboards will actually disable one of the M.2 slots if using a 10th gen processor, so if you're planning on using one then be sure to do your research.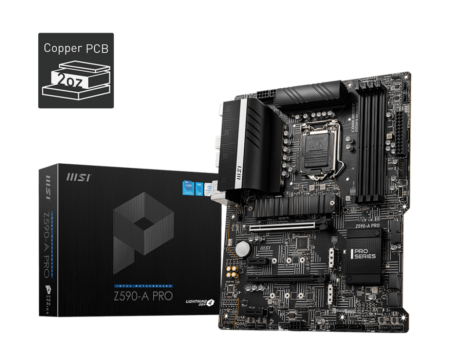 | | |
| --- | --- |
| Highest RAM Supported | 5333 MHz (OC) |
| WiFi/Bluetooth | WiFi 6E AX210, Bluetooth 5.2 |
| M.2 Slots | 1x Gen 4.0, 2x Gen3 |
It's always nice to start with a sensible choice. For the majority of you out there the Z590-A Pro from MSI is going to get the job done admirably and with little issue. It's not the most extravagant, heatsink-laden board out there but it has support for all of the creature comforts that the Z590 chipset provides without breaking the bank. It comes with their Frozr branded M.2 heatsinks, pump fan support, and the same high-quality components that you would expect from a veteran company such as MSI.
Related: 2021's 5 Best GSync Monitors
| | |
| --- | --- |
| Highest RAM Supported | DDR4 4800 MHz (OC) |
| WiFi/Bluetooth | WiFi6 AX200, Bluetooth 5.1 |
| M.2 Slots | 1x Gen 4, 2x Gen 3 |
The Z590 Vision D is quite a sight to behold with its white shrouds stoically plated across the face of the board. It would be an easy fit in any white-hardware focused build, which has become an increasingly common aesthetic choice for prospective PC builders. It also features their VisionLINK interface, which lets you connect a pen display (such as a Wacom tablet) with a single USB Type-C cable instead of using the multitude of cables and adapter boxes that they generally require. This alone warranted a place on our list, since a lot of people building desktop PCs these days are creatives who need the horsepower and connectivity required to do their job properly.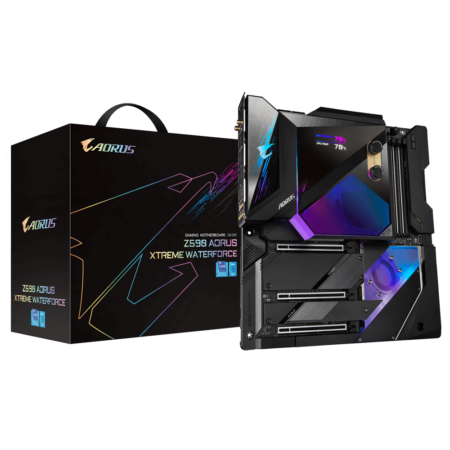 | | |
| --- | --- |
| Highest RAM Supported | DDR4 5400 MHz (OC) |
| WiFi/Bluetooth | WiFi 6E AX210/Bluetooth 5.2 |
| M.2 Slots | 1x Gen 4, 2x Gen 3 |
Another unique design from GIGABYTE, this time in their gaming focused Aorus line. The Aorus Xtreme Waterforce focuses entirely on a water-cooled design, with a built-in water block ready for your custom loop cooled build. The block itself features a display that shows water and CPU temps, which is nice to have when troubleshooting potential cooling issues. It also features dual PCIe 4 16x slots, with the ability to run them in dual x8 mode to strengthen the signal. That second PCIe 4 slot will be put to good use with the included AIC adapter that houses dual M.2 Gen 4 slots, and the chipset is also actively cooled to help improve stability and performance. And as if all that wasn't enough in the box you'll also get a USB Type-C audio DAC to improve your audio experience.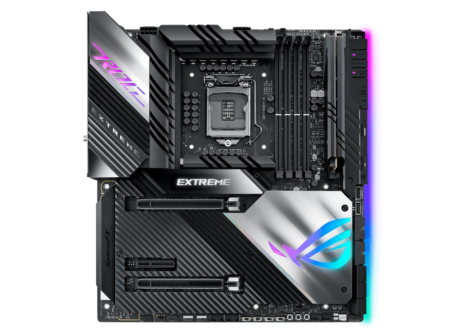 | | |
| --- | --- |
| Highest RAM Supported | 5333 MHz (OC) |
| WiFi/Bluetooth | WiFi 6E, Bluetooth 5.2 |
| M.2 Slots | 5x Gen 4 |
ASUS, ever willing to go blow-for-blow with the likes of MSI and Gigabyte, has its ROG Maximus XIII line. This is the Extreme edition, and features ASUS AI overclocking profiles, AI networking performance improvements, and AI cooling. Which is all just a really high-tech way of saying that it does its best to keep things running fast and cool while you're gaming. It also includes RGB compatible with Aura SYNC and a small display on the board itself that you can set to display a litany of different hardware information.
Related: 2021's 5 Best Routers for Gaming
| | |
| --- | --- |
| Highest RAM Supported | DDR4 5333 MHz (OC) |
| WiFi/Bluetooth | WiFi 6E AX210 |
| M.2 Slots | 5x Gen 4 |
If it seems like you're seeing double then that's because you are, this is yet another Maximus XIII board. The Extreme Glacial edition of the Maximus XIII line from ASUS isn't just about the silvery white aesthetic though, it also includes a full-coverage water block. So in addition to looking cool you'll be able to keep things running cool with a block that cools the VRM, CPU, and PCH. Like its sibling it also features a built-in display for displaying hardware information.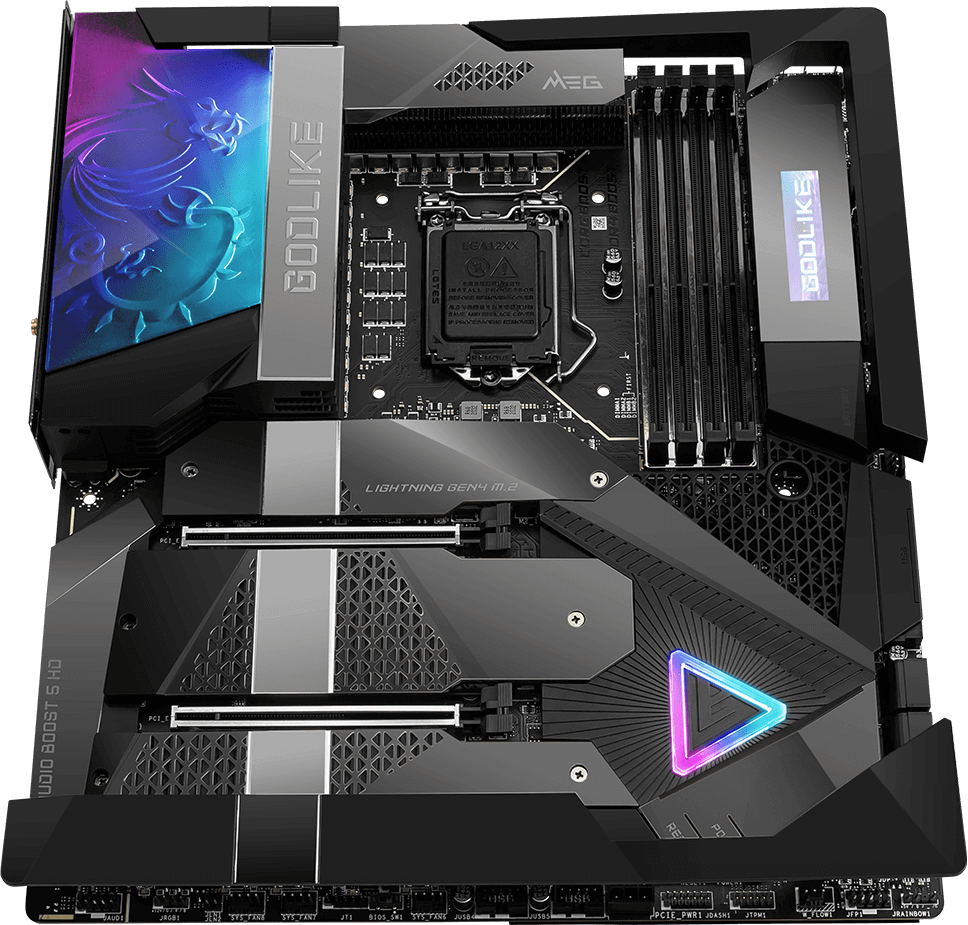 | | |
| --- | --- |
| Highest RAM Supported | DDR4 5600MHz (OC) |
| WiFi/Bluetooth | WiFi 6E AX120, Bluetooth 5.2 |
| M.2 Slots | 1x Gen 4, 3x Gen 3 |
The Meg Z590 Godlike, in addition to having a ridiculous name, may also be the most over-the-top motherboard that MSI has produced to date. It comes with a 20 phase VRM design that should keep things running steady even when pushing the limits of CPU overclocking, dual Thunderbolt 4 ports, an M.2 expansion card, actively cooled heatsinks, an aluminum backplate, and a built-in display for motherboard information. Oh, and it also has a rainbow RGB dragon etched into it.
Motherboard recommendations may seem like a foregone conclusion to some. After all, if it has the socket type you want and the ports available for the accessories you want to plug in then what else is there? Turns out, quite a bit. The ever-evolving state of storage means that M.2 technology is in constant flux, the ability to overclock more hardware more conveniently makes cooling more important than ever, and the open-window design of most PC cases means that now more than anytime in the past most people actually care what their motherboards look like. So take some time and decide which features are important to you.
For more hardware recommendations check out 2021's 5 Best External Graphics Cards and 2021's Best Membrane Gaming Keyboards | 5 Best Membrane Gaming Keyboards on Pro Game Guides.