There is a famous scene from the movie X-Men: Apocalypse where Quicksilver, who can move at the speed of light, saves just about everyone at Xavier's School as it is blowing up. As viewers, we get to see everything in slow motion, much like Quicksilver does. But in real-time, he's moving, again, at the speed of light. This is what 8K polling rate is supposed to be on mouse and keyboard: response time so instantaneous that it feels as if you are reacting at the speed of light.
The Razer Viper 8K mouse and Huntsman V2 TKL keyboard, along with Corsair's K65 RGB Mini and their line of Sabre Pro mice all feature 8K polling rate (the Sabre Pro RGB Wireless is the lone exception only featuring a max 2K polling rate). But is "8K polling rate" a real thing and game-changer, or is it just a selling point to sell more products. The answer, both excitingly and unfortunately, is both.
What is 8K Polling Rate?
Polling rate for keyboards is the time it takes for the keyboard to register the key press back to the PC. For gaming mice, polling rate is how often the mouse reports its position back to the computer. More frequent reporting means that your mouse moves much, much smoother.
Every gaming keyboard and mouse in the market today comes with the standard 1,000Hz polling rate, equivalent to a response time of one millisecond. Meaning, it takes a millisecond from the time you press your keys for whichever command to show up, and a millisecond for your mouse to report where it is located on your mousepad.
Related: Best NVIDIA Graphics Cards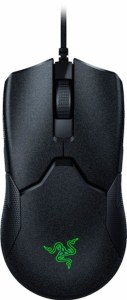 In theory, if you can move and react faster than your opponents, you should come out on top at least eight out of every 10 times.
8K Polling Rate Equipment
The Razer Viper 8K is the updated version of the original Razer Viper and also the first mainstream gaming mouse to feature an 8,000Hz polling rate that can be accessed through Razer's Synapse software. The Viper 8K features the same ambidextrous shape as the original Viper and the much-beloved Viper Ultimate. It also features Razer's 20,000 DPI Focus+ Optical Sensor that reads up to 650 inches per second (IPS). The Viper 8K also features Razer's second-generation optical switches, supposedly the fastest switches in the market that avoids debounce delay.
On paper, the Viper 8K is the fastest mainstream mouse in the market when you combine all of its features.
The Corsair Sabre Pro line of mice (specifically the wired models) is the first gaming mouse line by Corsair to dive into the 8K race and gives the Viper 8K a sense of competition. The Sabre Pro comes in an all-black Champion Series edition, an RGB version and a wireless RGB version that only polls up to 2,000Hz.
The Sabre Pro (wired) features the same 8,000 Hz polling rate as the Viper 8K. But it features mechanical switches that are just a step behind Razer's second-gen optical switches. The Sabre Pro does, however, feature one of the best sensors in the market with its 18,000 DPI Pixart PMW3392 sensor, allowing it to keep up with its Razer rival.
The Sabre Pro features a bit of a bigger, more ergonomic shape compared to its Viper 8K rival, which may feel better for those with larger hands. Coming in at a lower price compared to the Razer Viper 8K, and with a wireless option, this may seem like the better deal for those on a tighter budget.
Does 8K Polling Rate Work?
But the selling point with both mice is their 8K polling rate feature. Does it work? Yes and no.
The 8K feature works on both mice, through their respective software apps. For most casual gamers the difference between 1,000Hz, 2,000Hz, and even 8,000Hz may not be as noticeable to the casual, average gamer. Some competitive gamers may feel a difference, but the difference comes with the smoothness of the mouse movement, not entirely the speed of it. At best, it may be a hair quicker, but not by much.
Then there's the software angle, the most important part. Both mice are dependent on extra CPU usage to power the mice past the standard 1,000Hz polling rate. More CPU usage behind the scenes can lead to lag in-game if your PC is not as powerful compared to some others. At the same time, most popular FPS titles today aren't prepped for raw mouse input that powerful, despite having a settings option that allows for "raw mouse input." Instead of getting faster and smoother movement at 8K, you lose frames as the PC tries to keep up with the mouse movement (yes, there can be instances where the mouse is faster than the PC).
When looking for a faster gaming mouse, look for faster sensors and optical switches that avoid debounce delays compared to mechanical. Also, consider the shape of the mouse you are planning to get. If the mouse doesn't feel right in your hand, it doesn't matter how high-end it is on paper, you won't perform as well as you would think.
Gaming mice with 8K polling rate and PCs that can handle it is the future. It's one that gamers will flock to in time. While there's no harm in futureproofing, there also isn't a need to rush to the future just yet.
For more Hardware Guides, check out Best Pre-Built Gaming PCs in 2021 on Pro Game Guides!
This article includes affiliate links, which may provide small compensation to Pro Game Guides.