Gaming keyboards come in all shapes and sizes, all with different functionalities and performance capabilities. Not all keyboards are the same, just as not all mice and other peripherals are the same as one another.
However, finding the right keyboard and keyboard size could be quite the challenge. There are three main sizes that are out in the wild these days: Full Size, Ten Key Less, and 60 Percent, each one smaller than the other with less keys.
Do you just go for the standard full size keyboard, or do you go after a Ten Key Less keyboard? Or is the tiny 60 percent perfect? Let's help you decide.
Related: 2021's 5 Best Esports Keyboards
Full Size Keyboards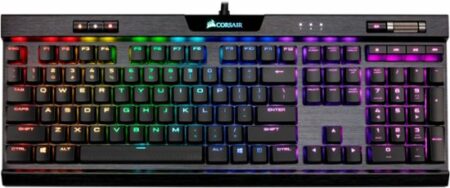 Full size keyboards are the original and the standard. They are what we all grew up with. There is a 99 percent chance that your first gaming keyboard was a full size keyboard for one reason and one reason only: familiarity.
While tenkeyless (TKL) and 60-percent keyboards have all but recently taken over the market, especially for gamers, the full size keyboard seems to be that one reliable keyboard that will never go out of style.
Full sized keyboards bring the perfect balance between gaming, functionality, and productivity. With a full number pad for data entry, all of the function keys that you've grown up with and more space for extra functionality like a volume wheel, status screen and media keys—full size keyboards literally have it all. From a gamer's point of view there isn't a need for something like a number pad in most games, but it isn't bad to have as an option.
The lone downfall is its size. It goes without saying that full size keyboards take up a lot of desk space. While its good for gaming, and many full size gaming keyboards perform very well as expected, they don't leave a lot of room for mouse movement unless you're one of those PC gaming players who normally slants their keyboard diagonally to give yourself more mouse room.
Unlike other smaller keyboards, full size keyboards usually also come with a wrist rest, which is actually pretty useful. Most full size keyboards also only come with an attached cable, sometimes one that features two USB-A plugs to support a passthrough port on the keyboard itself. Passthrough ports really come in handy with wired mice.
Full sized keyboards perfectly balance functionality with performance and productivity. Despite their larger footprint, if you're looking for that one type of keyboard that you can use everyday and to use for every reason, full sized keyboards are the way to go.
Recommended full size keyboards: HyperX Alloy Origins, Steelseries Apex Pro
Tenkeyless (TKL)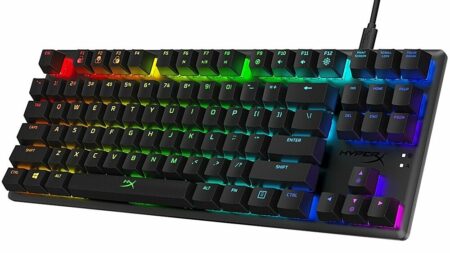 The next two keyboards on this list are directed more toward pure gamers. The first one we will talk about is the Ten Key Less or TKL sized keyboards.
TKL keyboards practically bring all of the functionality of a full size keyboard minus the number pad, allowing it to take up a smaller footprint on the desk thus giving more room for mouse movement. The smaller size and sometimes better performance of a TKL keyboard makes up for the slight lack of daily functionality.
TKL keyboards are easily the most popular keyboards among the three types of keyboards listed here for several reasons. On the everyday functionality side they bring almost all of the same daily functionality as that of a full size keyboard minus the number pad. Not to mention being easy to type with (I'm typing this piece up on my Logitech G Pro TKL as we go). On the gaming side, not only do they feature high-quality/high-speed performance, they take up a much smaller footprint on the desk, allowing for a wider range of mouse movement—crucial for players who use lower mouse sensitivity.
TKL keyboards are also very easy to travel with due to their smaller size and detachable USB cable, allowing for players to bring their own equipment to LAN tournaments.
Ten Key Less keyboards have become sort of a PC gaming standard mostly due to its smaller footprint. Where it lacks in numbers (literally), it usually makes up for in performance and size, especially if you use a lower sensitivity on your mouse. However, be warned: TKL's are usually more expensive than their full-sized big brothers.
Recommended: Logitech G Pro X, HyperX Alloy Origins TKL, Razer Huntsman Tournament Edition
Related: 2021's 5 Best TKL keyboards
Sixty Percent (60)
60 percent keyboards like the Razer Huntsman Mini, the Ducky One 2 and the HyperX Alloy Origins 60 have really sparked a resurgence of sort for the smaller-sized keyboard trend.
60 percent keyboards feature the standard keyboard layout that we've all come to know and love, however, they do not include a number pad, arrows or any function keys, which allow for the much smaller form factor. While those physical keys are missing, 60's do not ignore those bare necessities. The function key, or "fn" key on the keyboard, allows for those necessary keys to have secondary functionality. For example, the function keys are usually programmed and labeled through the number keys on the top of the board, while the other functions are scattered throughout as well.
These keyboards are built with gamers in mind and primarily for gamers. This isn't a board I would use for productivity purposes though if you can adjust to the lack of physical functionality, you could get it to be productive at least to a point.
The smaller form factor takes up a tiny footprint on a desk, allowing for maximum mouse movement as you would need if you play with the lowest sensitivity available. Mouse space is vital especially if you play first-person shooters. These are also incredibly easy to travel with due to their small form factor and easy connectivity making them perfect for LAN tournaments and, simply just traveling. Sixty's are also convenient for the typical college student who may be gaming on a laptop type of setup but also wants a full PC kind of feel, especially if you include a wireless mouse.
Recommended: HyperX Alloy Origins 60, Razer Huntsman Mini, Redragon K530 Draconic Wireless
For more Hardware Guides, check out 2021's 5 Best PC Gaming Headsets on Pro Game Guides!