Style is such a difficult and subjective thing to quantify. What might seem stylish to one person could be an insult to the very word for the next, so let's establish a baseline. We're going to define a stylish PC case as one that deviates from the industry-standard look of heavily RGB infused designs with rainbow lights pouring out of every corner of tempered glass. Those kinds of cases are a dime a dozen, and they all look pretty similar.
Instead, we will be looking at cases that look a bit different without devolving into the realm of looking like a rejected jet engine design, which is another concern. Cases that are visually interesting without being garish, something that you might feasibly fit into a very well-maintained office aesthetic. So, take a look below to see our picks!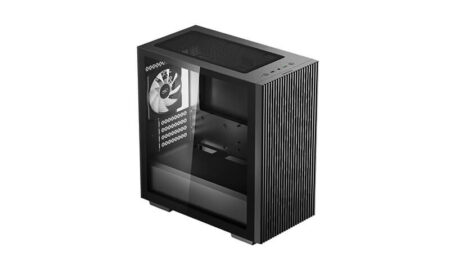 Deep Cool has a knack for very clean, interesting-looking case designs. They're able to add visual flair without over-designing their products, and the Matrexx 40 3FS is a great example. At its core, it's a standard micro-ATX design with a tempered glass side panel, but the front features a sort of post-modern ridged design that draws the eye without looking out of place. Peppered at odd intervals throughout the ridged design are the fan vents, which create a really great looking offset pattern across the face of the case. It wouldn't look out of place sitting on your nice wooden desk or next to a bookshelf.
Related: 2021's 6 Best White PC Cases

NZXT has been a one-stop shop for a lot of prospective PC builders. They offer a wide range of components and even sell pre-built machines for people who want the minimal look of NZXT products without the effort of assembling them. Their H710 series case, like most of their cases, is an extremely minimal design that comes in a few different color combinations. And the ample cable routing kit aligned under the back plate of the case makes maintaining that minimal aesthetic a complete breeze, whether you choose to use other NZXT products in your case or not. If you're the type to pair some tasteful RGB with your case, you'll probably want to go for the H710i variant, which includes an RGB hub.
Lian Li Q58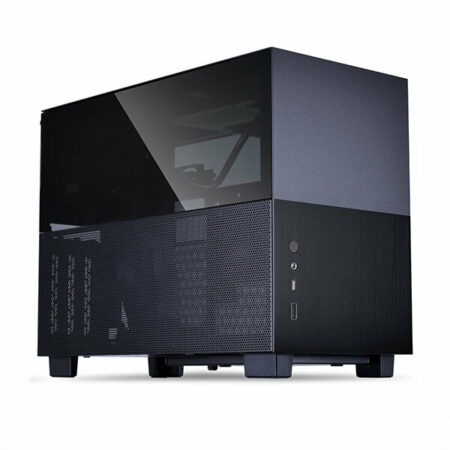 Lian Li has a history of taking relatively normal case designs and elevating them with some light visual tweaks. The Q58 is among their most stylish looking cases, with a dual-tone side panel that pairs tempered glass with mesh to maintain proper cooling and airflow while also adding a unique visual design. That design wraps around to the front of the case, where sandblasted anodized aluminum is fixed above a brushed aluminum finish, completing the split design. The Q58 also comes in a white variant with some small differences. While it lacks the dual-finish front panel of the black version, it does sport an almost entirely white interior, which gives it its own distinct visual identity. It's built to handle mini-ITX boards and either ATX or SFX power supplies, so shop for parts accordingly.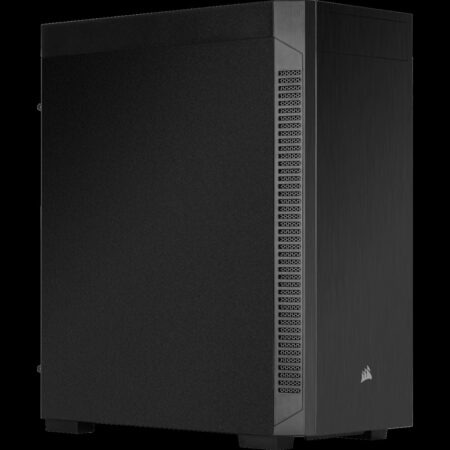 On the more traditional side of things, we have the 110Q from Corsair, a very stoic and formal looking monolith of a mid-tower. The 110Q doesn't feature any glass panels, has only one visible cutout on the front, and the only branding is a small Corsair badge embedded on the front of the case. Aside from the few IO ports on the top edge, the front-facing panels are almost completely blank save for some discreet fan vents. So if you want a nice-looking case that will blend into the background, then it will do nicely. As a bonus for those wanting a case that is easy to incorporate into your living space, Corsair has fitted the interior panels with a sound-deadening material to make it quiet even when your hardware is ramping up.
Related: 2021's 7 Most Unique PC Cases
The Meshify 2 is a stylish mid-tower design from Fractal Design that, at first glance, looks pretty bog-standard. Tempered glass side panel, feet to raise the case off the floor, and a raised back panel for cable management. All the modern case amenities you've come to expect. But the front panel is where this design comes together, with Fractal Design's signature diamond-faceted mesh. It's a subtle flair added to an otherwise solid but predictable case design, but it really does make a world of difference when viewing the case as a whole. The vent designs on the case's back are also worth noting, with each section sporting a different pattern. It gives the back panel an equally impressive visual presentation, so if you're placing your PC in an area where the unsightly back panel is going to be in full-view, then the Meshify 2 might be worth extra consideration.
Cooler Master Elite 500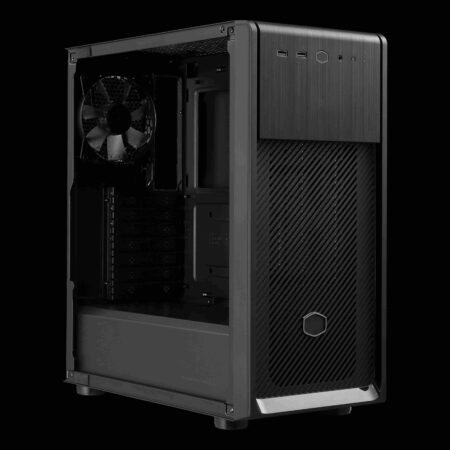 The Elite 500 from Cooler Master is another mid-tower design with a tempered glass side panel, but it sports an almost brutalist aesthetic. With a large brushed aluminum front panel overhanging a very long, utilitarian fan vent, it very much favors form over function. But in that, there's an elegance and no-nonsense style that makes the Elite 500 stand out from the pack. It will be a nice fit for anyone pining for the days of older business-class desktops with their design-by-function front panels. They do offer a variant with a 5.25" drive bay, but it does kind of break the flow of the front panel quite a bit and make it look a little too much like an old business-class desktop.
Everyone has their own style, and maybe yours dictates that your case has a dozen RGB fans pulsating across every outside panel of your PC case at all times. There's nothing wrong with embracing that, and there are tons of cases on the market that meet that criteria. But for those of you, after more elegant, stylish design options are often limited. This is especially true if you're after something that might look nice in a home office or shared living space.
For more hardware recommendations, check out 2021's 5 Best Budget Microphones for Streaming | Budget Streaming Mics and 2021's 5 Best Gaming TV's for Playstation 5 on Pro Game Guides.
This article includes affiliate links, which may provide small compensation to Pro Game Guides.