Our Roccat Sova Lapboard Review will walk you through the details of this gaming lapboard. If you are unfamiliar with the concept of a lapboard, it is meant as an option for us gamers who just can't let go of the keyboard and mouse but still want to play on our couch! Roccat's Sova model provides an option for people like me, and features a version that has a quality mouse pad with a mechanical keyboard.
Roccat Sova Lapboard First Impressions
On my first look at the Roccat Sova Lapboard in person I was impressed by the look of it. It's pretty sleek/stylish for what it is, and although I thought it would be fairly large, it seemed even bigger than I was expecting when it arrived. Don't let that deter you though, it kind of needs to be large to accommodate all of its features. Hooking it up was very simple, it was merely plug and play with my PlayStation 4 and it hooked up very easily with the Steam Link. The keys lit up in a nice blue color, but the default animation of the keys is a pulse that got kind of annoying (personal preference). You can't customize this with key combinations, you need to use the app to change it.
While I didn't mind the overall look, it does fall into a bit of that too gamer-y style for me. The logos are huge (particularly on the mouse pad) and I would've liked to have seen them a bit more understated.
Roccat Sova Lapboard Mechanical Keyboard
So, this is where we are going to start to come into some issues with this lapboard. The mechanical keyboard it comes with does not feel high quality. The keys are kind of mushy and the space bar feels kind of loose. If you've never used a mechanical keyboard before, this might not be as obvious, but to someone who has used a variety of them... It does seem a bit lacking in quality. The mechanical keyboard is to the point where if your are considering the board as an option, I would just go with the membrane version and save yourself 40+ bucks.
The keycaps are serviceable, I don't mind the look of them and they show the light nicely. The blue color that comes with the board is currently the only option and can't be changed. I would have liked to see an RGB board for this price, but that wouldn't make or break my purchase.
The layout of the board could take you a bit to get used to. For gaming, you aren't really going to notice much of a difference because largely you are occupying only a small part of the board (depending on the game). If you want to use it for heavier typing, I did find that it took me a short time to get used to some of the key placements (delete key in particular). This would largely depend on what you are used to though, I was overall pleased with the layout and used it for writing and some Photoshop work with no issues.
One note about the board layout, some of the promotion shots show a tall enter key. My version of the board has the more horizontal style, which I'm guessing is the actual version you will receive if you purchase it.
Mouse Pad, Mouse Bungee, Cable Channel + Using a Mouse
I really like the mouse pad, but it could be a bit too fast for some people. I used a similar Roccat mouse pad in the past, which could explain why I got used to it so quickly. The cable channel is deep, and that is a very good thing. Most mice come with a long cord, and having that dangling around is annoying. I didn't initially take advantage of this, and it was quite aggravating. Once I took the time to feed all of the extra cord into the rail it eliminated any issue. The mouse bungee that comes with it does attach easily, but the center cord slot area is a bit on the thin side. The mouse cord for the Logitech G500 I'm using doesn't fit down the center. I fed it through the side of the bungee, and it functions perfectly, so it didn't end up being an issue. You can also slide this around pretty easily to position it in a manner that works best for you.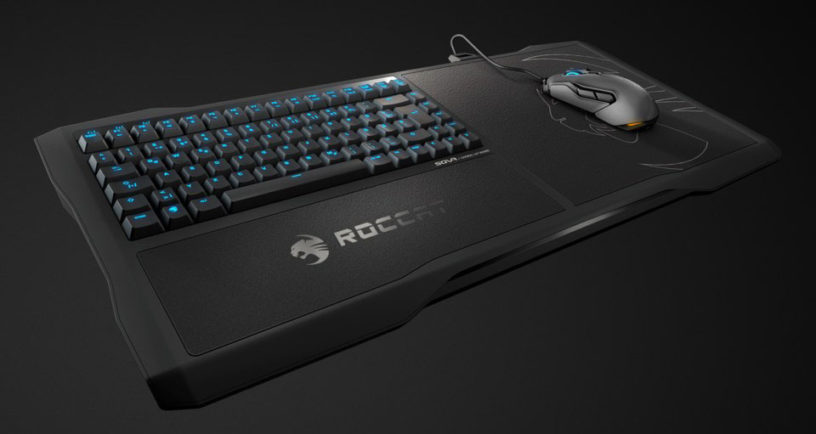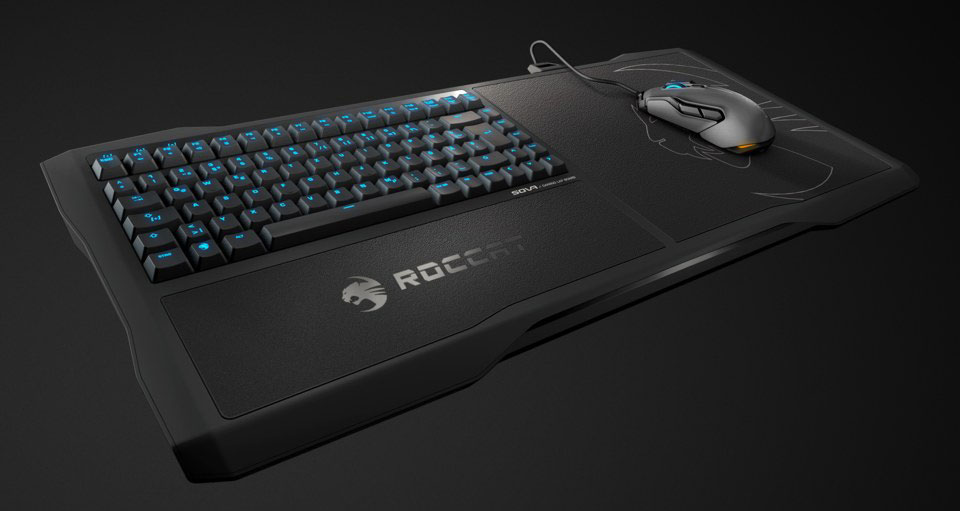 As for using the mouse itself, this is where things get a bit dodgy. The pad is perfectly fine and accurate, but if you are on any sort of incline then anytime you let go of the mouse it's going to slide around. You don't just get to rest the mouse down and go to typing without it moving. If the board is completely flat, then this wouldn't be as much of an issue. However, I'm guessing most people will be leaning in some way or another and the mouse will always slide around a bit if you remove your hand. To combat this, make sure you only have enough cord from your mouse to reach all points on the pad. If you have too much cord then it's just going to slide off the lapboard. This is going to be an issue with just about every lapboard, so it's more of a problem across all items of this nature.
While the mouse sliding around is an issue, I would say that I wouldn't really consider buying this if you are looking to be an ultra competitive gamer. It's just not stable enough to allow for the kind of accuracy required for that kind of gameplay. You can manage single-player FPS games just fine, but if you are looking to head into multiplayer against PC players then you are going to struggle. However, if you jump in against some console players, then you might find yourself on an even playing field again if you are bad with a controller. I really like the board for just about anything else other than hardcore shooters. I had a great time with games like What Remains of Edith Finch, Subnautica, DOOM, Stonehearth, Diablo 3, and Grim Dawn. It still works fine for multiplayer shooters, you just won't be as good as you would be sitting at your PC. If you are into competitive games that don't require the precision mouse work of a shooter, then you should be able to use this just fine.
Roccat Sova Lapboard Features
Other than the keyboard and the mouse pad, there's a generous wrist pad that gives you a lot of support. The break-away (good if you have small kids or pets) cable that comes with the board is quite long (4 meters or about 12 feet), and should reach most consoles from your couch.
The board has two USB slots in the front. One is going to be occupied by your mouse most likely, so you can plug in a headset to the other or even a USB cord to charge your phone! The cable it comes with has two USB plugs on the end, you only need one of these to power the keyboard and mouse, but if you want to use the slot for a headset or to charge something you might need to plug in the other. This could be an issue if you have a PS4, because it only has two USB slots in the front. I personally have an extended hard drive for my PS4 which occupies one of those slots, so I wouldn't be able to plug both in which could be a problem.
The build is very solid, I feel like it can take a beating without breaking a sweat. The pads underneath are very nice, and I honestly barely noticed the weight of the board. I will say initially I did get some soreness in my shoulder while using it. It could have been due to me kind of having an awkward setup, but after a day or two this pain went away. I can now use this for hours without issue, and it's honestly far more comfortable than sitting at my PC.
Roccat Sova Lapboard Software
The software required to change your keyboard's illumination is called Swarm. It is pretty easy to install and use, but I will say I wasn't super impressed by the presets when it came to different illuminations you can use with the board.
I did like that you could customize each one in terms of speed and brightness. In the future, I'd like to see some better presets and the ability to change things like the brightness of the board without having to open up the software.
Swarm also provides you with the ability to customize what each key does, so if you want to change the shortcuts of your F keys or whatever. You can go very detailed with the profiles, you can have macros set up for specific games. You can set it to auto change to a profile when you open a game, and swap back when you go to desktop again.
I haven't used the app that you can download on your phone, but it doesn't seem great based on things I've read about it online.
You can download the Swarm Application right here.
Roccat Sova Lapboard Pros & Cons
Pros
Mechanical keyboard option available.
Quality mouse pad.
Comfortable lap pads.
Break-away cable.
Deep mouse cable channel.
Highly customizable software.
Super durable.
Cons
Mechanical keyboard feels a bit cheap.
Mouse pad might be too fast for some.
Wired.
No customizable keyboard lighting, only blue option available.
Can't change the key lighting system without the app.
Doesn't come with a mouse.
Expensive.
Final Thoughts
Overall, I'm quite happy with the Roccat Sova Lapboard. I think the board itself is well made and I can see using it for a long time. At first, I wasn't sold on it, but once I played a few games and used it for work I became quite enamored with it. I found myself logging a lot more hours on my couch due to how much more comfortable I was being away from my desk. If I could have dual-monitors in my living room, I'd probably be doing a whole lot more work out there.
Should you get it? I would recommend it to anyone who is looking for a very close to desktop PC experience for the couch. It's not a perfect 1-to-1, and you might struggle a bit with competitive multiplayer shooters, but it's as close as you can get! I would also consider saving some money and skipping the mechanical version if you can live without it.
You can purchase the Roccat Sova Gaming Lapboard on Amazon (Affiliate Link)!
This article includes affiliate links, which may provide small compensation to Pro Game Guides.