The glory days of gaming involved you, your friends, copious amounts of junk food and soda, and of course a couch. Sitting side by side with your friends playing local multiplayer is one of the best ways to play together. While online multiplayer has taken over, local multiplayer matches are still a blast and with the proper gaming couch, your friends will be begging to come over and play. Additionally, these couches are great for those who play alone as their comfort can be enjoyed solo. Choosing which couch is the right fit can be challenging, but we've narrowed down some of the best choices out there. So just take a seat, relax, and give this list a read.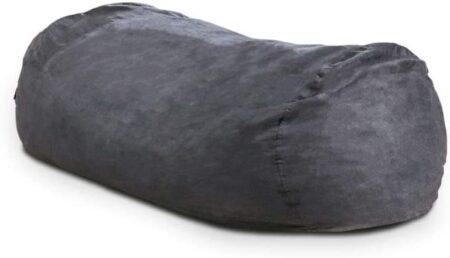 The bean bag has long been the starter couch many used in college and dorm rooms, and for those who grew attached to their first bean bag, this is the perfect option. The Christopher Knight Home CKH Suede Bean Bag is the bean bag of all bean bags. It comes in various colors and sizes, including an 8' option which allows multiple people to rest comfortably on it. It is made from a mixture of suede and foam and features Eco-friendly material. A major perk of this bean bag is that no assembly is required as it comes as it is pictured in all its bean bag glory. Once it has arrived, it can take up to three days for the foam to completely expand so you will need to give this couch some time. Once filled out, anyone who sits on it will find a surprising amount of comfort. The 8' bean bag is quite budget-friendly too at only $150.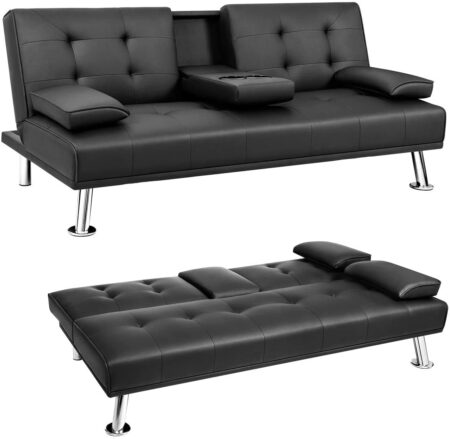 The futon is a right of passage when it comes to gaming. We've all been over to a friend's house for all-night gaming sessions and then crash on the futon in their bedroom. With the JUMMICO Faux Leather Gaming Couch, you can take this memory to the next level. This futon has a stylish and modern look full of functionality. The backrest can lay down when you are done with gaming and ready to sleep. Including being laid down for sleeping, this futon has two additional angles it can be folded to. Both armrests can be moved and turned into pillows when needed for extra comfort. Additionally, the centerpiece in the backrest can be folded down to reveal cup holders. For comfort, the JUMMICO Faux Leather Gaming Couch has been crafted with quality leather which is quite durable. Underneath is a breathable elastic sponge pad to provide comfortable seating. The best part of this couch is its price tag of $169.99 making it super budget-friendly.
Related: How to preload the Ascent
The Merax Pu Leather Foldable Modern Leisure Video Gaming Sofa is a great option for those on a budget and for those who have already shelled out for an expensive gaming couch. The most obvious perk of this couch is that it can be folded and put away until needed. This makes it an excellent option to break out when you have multiple people over rather than resorting to dining chairs or the floor. The bottom of this couch can be folded out to extend its length and the backrest can be set to 5 different positions for any preference of comfort. The Merax Pu Leather Foldable Modern Leisure Video Gaming Sofa is priced at $299.99 but typically goes on sale for $199.99 if you are patient. This isn't the most luxurious of couches and likely won't be your dominant seat, but it is a great option for additional seating or traveling to a friend's house. Additionally, you can create a king of the hill environment where whoever does the worst is relegated to this seat.
When it comes to gaming couches, the industry-standard seems to be designed with two seats in mind which means you and your best pal can play in true comfort. The Octane Turbo XL700 Curved Row of Two Seats takes that idea and runs with it. You will find excellent comfort including gel-infused memory foam in the seat and full lumbar support. This couch is capable of reclining through a button-operated control system so you can find the perfect angle to game to. Each armrest comes with an extra deep storage compartment where you can put controllers, wires, and headphones to have them in easy reach. Sold separately are accessories that can be fixed to the armrest such as a phone/tablet holder, wine glass holder, and a removable table tray. Set within the armrests are cup holders that feature an LED light to make it easy to spot your drink in the dark and just look awesome. The LED lights also light up the base of the couch to give an ambient glow. You can also find USB ports alongside the button controls on the armrest to keep your devices fully charged. All this is available in black or brown leather and costs $1,858.00.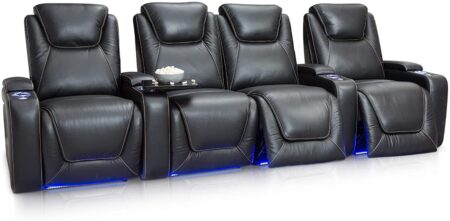 There is nothing finer than gathering three of your best friends and having chaotic 4-player local multiplayer sessions and this couch will take those moments to the next level. The Seatcraft Equinox Home Theater Seating Chairs feature 4 seats for large gaming sessions. Each chair is crafted with genuine leather for maximum comfort. For further comfort, each seat is equipped with a powered headrest and powered recline so you can find the perfect angle. More features include USB charging capabilities, hidden storage in the armrests, and a table tray for each seat. Additionally, the cup holders located in the armrest have LED lights to light up your drink in the dark. These LED lights are also located on the base of the couch for a soothing ambiance and to help you find your seat in the dark. For an enhanced audio experience, you can add a Soundshaker transducer to each seat. Obviously, with four seats this couch will require a good bit of space. It also has quite a high price tag of $5,321.00 but if you dig in your current couch cushions for the change you'll eventually have enough to purchase this baby.
Related: 2021's 10 Best Gaming Chairs with LEDs | Best RGB Gaming Chairs
With a name like Seatcraft, you would expect that these guys know how to build a chair. The good news is that they do. The Seatcraft Omega Home Gaming Couch is a work of art when it comes to couches. The breathable leather is both durable and elegant as well as extremely comfortable. For more comfort, this couch comes with the ability to recline and leg rests that can be raised or lowered all through an easy-to-use button. The back of the middle seat can be folded down when you only have one friend to game with. Doing so reveals a stylish wood desk with two built-in cup holders, two 110 AC outlets, and a USB docking station. This means you can keep your controllers plugged in and charging for all-day gaming. On the sides of the couch is the armrests that can flip open to reveal a storage compartment as well as a tray that can be attached to the armrest. There are additional cup holders that feature LED lights in them and additional USB outlets as well. The Seatcraft Omega Home Gaming Couch is one of the best and most feature-packed couches out there and can be used for gaming or everyday use. The only downsides of this couch are that it requires a large space, as it is quite big, and its price tag of $1,999.99, though it goes on sale frequently. It is available in a sleek black and brown color.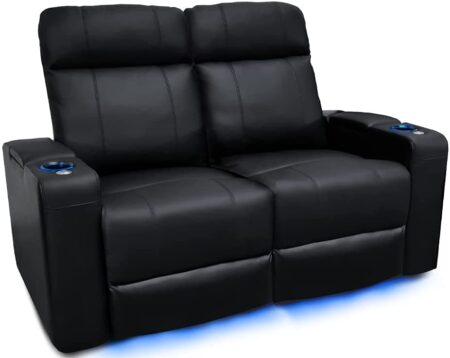 When it comes to options, the Valencia Piacenza Gaming Couch is unbeatable. With options from single seats up to a row of 5 seats and multiple color options, this couch has something for everyone. With premium Italian leather, you'll find yourself sinking into the comfort of each seat. To further expand that comfort, the Valencia Piacenza Gaming Couch has a powered recline with lumbar support, powered, headrest, and powered footrest. All of this is controlled via a discreet control panel on the armrests. On this panel is also a USB port and a button to control the LED functions which are located in the cup holders and at the base of the couch. Additionally, the armrests come with optional accessories such as a tray table to hold food and drinks that wouldn't fit in the cup holders. The Valencia Piacenza Gaming Couch's price ranges depending on how many seats you select, but you can expect to pay between $1,200 and $5,400 from the smallest number of seats to the highest number of seats respectively.
Gaming couches are unfortunately a bit more expensive than gaming chairs, but their luxury and ability to seat multiple people make up for the extra cost. Additionally, many are available in payment plans meaning you don't have to fork out an arm and a leg. If you are still undecided as to which gaming couch is best for you, we have to recommend the Valencia Piacenza Gaming Couch just for the sheer number of options in regards to seating arrangements and colors while still being reasonable in price.
For more information on hardware, check out 2021's 5 Best Low Input Lag Projectors for Gaming and The 7 Best Gaming Ethernet Cables in 2021 on Pro Game Guides.