For a long time, gamers had to deal with the choice of black or grey when it comes to gaming chairs. Long gone are those days, instead, gamers can choose from a plethora of colors. One color, in particular, has been gaining a lot of popularity and that is pink. Many companies have seen that pink is rising in popularity and thus have created pink gaming chairs. Thankfully, pink chairs are no longer just aimed at girls as many companies have put out big and tall chairs for those guys who aren't afraid to show a softer side. With pink on the rise, it can be difficult to decide which of these pink chairs is the right one for you. Not to worry though, we've combed through the sea of pink and have put together a list of some of the best choices out there.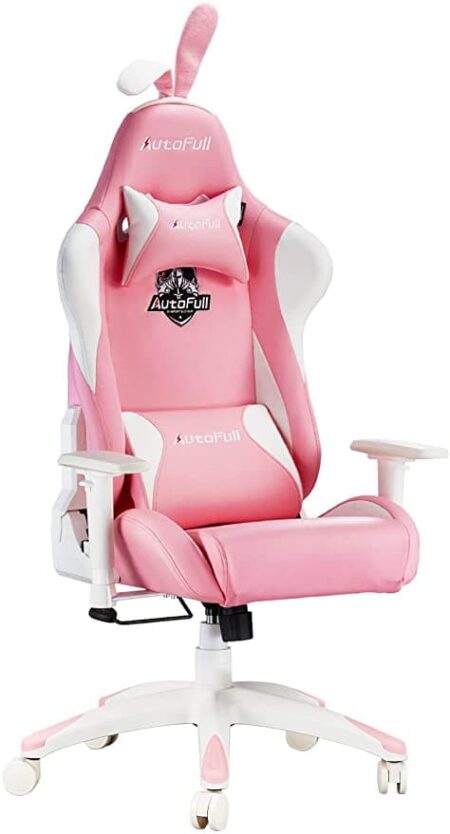 As if being pink wasn't enough of a reason to purchase this, it also has bunny ears! In addition to that, there is a fluffy bunny tail on the back as well as the same fluffy fabric on the armrests so you can feel it as you game. You'd be hopping mad not to consider this chair, especially after seeing all the features it comes with. It has an ergonomic design with a 360-degree swivel so you can easily hop in and out of this chair. The backrest can also be angled and locked at any position between 90 and 155 degrees. The seats height and armrest are also both adjustable for maximum comfort. The AutoFull Pink Gaming Chair comes with a removable lumbar pillow and headrest pillow. The actual material for the chair retains its comfort and adorable look while still being made from high quality and durable material too. All of this is available for $309.99 but regularly goes on sale for those waiting to jump on a discounted price.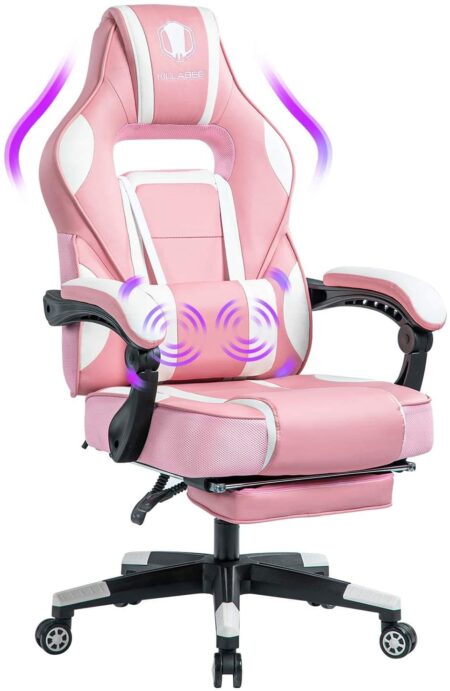 This pink chair comes with a feature you never knew you needed: massaging lumbar support. No matter how comfortable a chair is, having the ability to massage means you can have even longer gaming sessions. This isn't the only feature that makes this chair worthwhile though. In addition to being able to massage you, the lumbar support is adjustable as well as being able to fully recline. While the armrests are not adjustable, they come with a thickened pad. The Killabee Massage Pink Gaming Chair even has a footrest so you can kick back and relax. The chair itself is made from high-density foam and premium leather for maximum comfort and easy cleaning. It is built with a durable frame and features a lovely pink and white color scheme. This racing-style chair is available for $135.00 and is available in other colors if you happen to not like pink.
Related: 2021's 5 Best Pink Gaming Headsets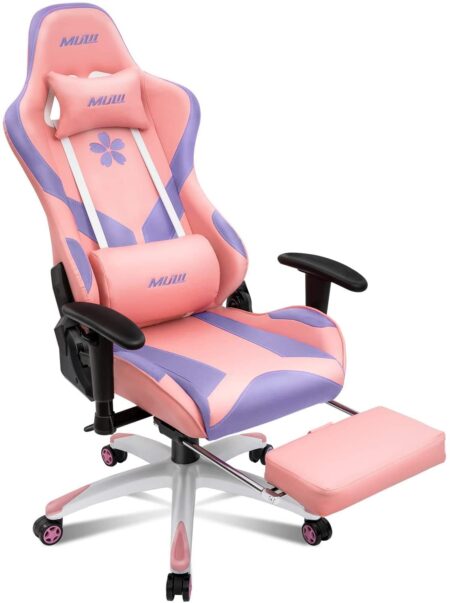 The Muzii Pink and Purple Gaming Chair combines the best of both worlds when it comes to cute colors. The pink and purple aesthetic really makes this chair stand out and is perfect for those who have a sweet side and a dark side. This chair features an ergonomic design and reclining backrest. It even has a rocking function for when you don't want to recline. The armrests and seat height are also adjustable so you can position this chair to your complete preference. Additionally, the Muzii Pink and Purple Gaming Chair has a foldable footrest that allows you to relax after long gaming sessions. This chair is crafted with comfortable leather, cold-cure memory foam, and a durable steel frame with an anti-corrosive coating. This beauty also comes in a variant that features two different pinks if purple isn't your thing and is available for $139.99. Last but not least, Muzii has put its full focus into pink by even putting it on the wheels and the legs of the chair for maximum color.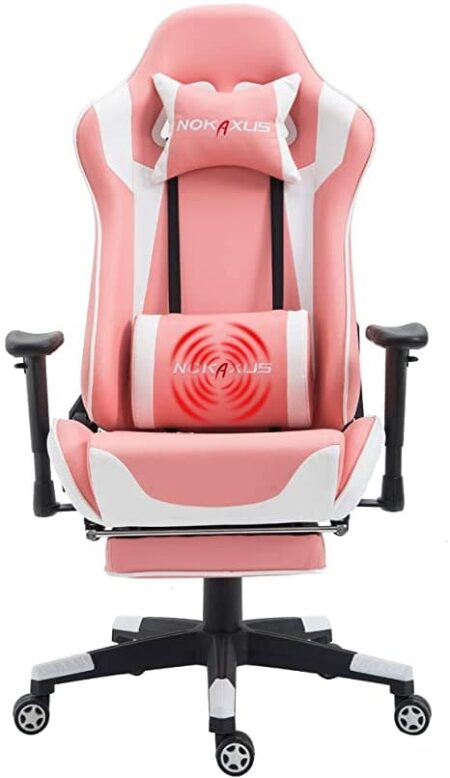 The Nokaxus Pink Gaming Chair truly aims to offer the most amount of comfort and does a fantastic job. It is crafted with high-quality leather and a thick high-density sponge for a comfortable cushion. The backrest is capable of reclining at 4 different positions including gaming, sleeping, rest mode, and movie mode. If that wasn't enough, this chair is also capable of giving you a massage to rejuvenate you during play. Rounding out this comfortable package is a footrest that can be folded down when not needed. The Nokaxus Pink Gaming Chair isn't just comfortable, it is also durable. It is built with a thickened steel frame that will last quite some time. This chair is available in a larger size for gamers who need it, and also in a smaller size for the petite gamer. The Nokaxus Pink Gaming Chair is available for $209.99 and can be purchased in different colors should you not like pink.
Related: Keyboard Sizes: Finding the Right Size Keyboard for You
The Ohaho 501 Series is another excellent pink chair that provides great functionality and comfort. Featuring an ergonomic design with a reclining backrest, this chair allows you to play games or relax. It is built with premium quality leather and has a thick high-density sponge for maximum cushion and support. The armrests are adjustable vertically for various preferences and this chair features a footrest that can be folded out of the way. The lumbar cushion and head pillow are both removable when they are not needed. The Ohaho 501 Series is crafted with a superb and stable metal frame that offers durability and longevity. This chair comes in multiple colors and the pink variant of the Ohaho 501 series is available for $129.99 making it more budget-friendly than other chairs.
With so much pink to choose from it can be easy to get lost in the prettiness of the color while forgetting about features. When it comes to gaming, everyone has their style and preference but some things can generally be agreed upon. Overall, gamers want something that looks unique to their brand and offers comfort so they can play their favorite games for longer. For that reason, we recommend the Nokaxus Pink Gaming Chair because it offers a hefty dose of features all while keeping you comfortable.
For more information on hardware, The 5 Best Cute Gamer Headsets of 2021 and 2021's 6 Best Micro-ATX Cases check out on Pro Game Guides.