The farming sim and JRPG genres combine in Square Enix's Harvestella. On paper, the blending of the two seems like a fantastic idea—but it always had the potential to deliver a half-baked experience on both fronts, as there are numerous mechanics to balance between the two. Unfortunately, while Harvestella does shine in certain areas, its strengths just aren't bright enough to outshine the handful of shortcomings.
Customization
Customization isn't exactly a necessary feature, but compared to similar titles in the genre—such as Stardew Valley, Coral Island, and Dinkum—Harvestella's come out lacking. Including non-binary as a choice is a breath of fresh air, but it is a short breath as the customization options seemingly stop there. There is no option to change facial features or hairstyle, just the color of your skin and hair. While having interchangeable outfits would fill in some of the gaps in customization, outfits are only tied to the job you equip.
Many players, including myself, like to roleplay in this genre, so having limited customization options hinders this approach to Harvestella, making it almost impossible to play as anything other than the voiceless protagonist of a JRPG.
Score: 3/5 Stars
World
Harvestella's world is simply beautiful. I often found myself getting lost and immersed while exploring the world's many biomes and environments. While the story is nothing to get excited about, it does provide ample excuse to travel the world and meet its residents across the sprawling towns. Each town has its own theme and is affected by the four Seaslights, which are giant crystals that govern the seasons.
These Seaslights and Quietus, the season of death, primarily make up the story. So, in typical JRPG fashion, this leaves your amnesiac character and their amnesiac companion on a quest to save the world, stopping to farm along the way. Fortunately, the story serves as nothing more than a framing element that lets the world of Harvestella truly shine and invite you in.
Score: 4/5 Stars
Related: All elemental attributes and weaknesses in Harvestella
Farming
Farming is one of Harvestella's main pillars, but it doesn't go further than the surface mechanics. This makes what could have been an exciting activity feel like little more than busy work meant to extend the gameplay loop and support the JRPG elements. The familiar 30-day cycle and constantly ticking clock are present, but Harvestella doesn't hold your hand past that. Much is left for the player to figure out through trial and error, leaving me with the opinion that some quality-of-life changes, such as seeing selling prices and upgrade paths being less obtuse, would be welcome.
As you progress, you unlock the ability to maintain livestock on your farm and upgrades that make farming easier. As you might expect, farming takes time out of your day and stamina, which is offset by its benefits in other aspects of the game. This ties in nicely with Harvestella's combat, providing bonuses, buffs, and healing. Overall, farming is enjoyable, but it lacks the depth that one would hope to see in a farming title, especially when considering Square Enix's pedigree and scope.
Score: 3/5 Stars
Combat
Harvestella's JRPG heritage is largely reflected in its combat—real-time hack-and-slash. You learn various jobs throughout the story, each with unique skills. You can equip up to three at once, and you can even switch between these on the fly. While most boil down to button mashing and simply striking the enemy, the variety in classes, along with the elemental system, make the combat generally fun and engaging.
However, one major drawback of Harvestella's combat is the lack of defensive and evasive abilities. You can dash and dodge—and that's about it. Combat often comes down to defeating enemies before they can hit you and then healing yourself when they strike you. Party members do provide some help and depth in combat, acting as backups while you do most of the work, but like the farming aspect, Harvestella's combat just feels like it's missing something. I want to love it, but it teeters too closely on the verge of being shallow.
Score: 3.5/5 Stars
Verdict – A decent JRPG with light farming elements
Harvestella is by no means a bad game, in fact, it is quite enjoyable, but the $60 price tag is high considering the so-so blend of farming and combat. Its highest points are the world you can explore, but even this is held back by a lackluster story and NPCs that deserve to be properly fleshed out. Ultimately, Harvestella is a grand idea, and perhaps given more time, a bigger budget, or a better execution, it could have really shaken up the farming and JRPG genres. But instead, it lands with a satisfying, if shallow, experience.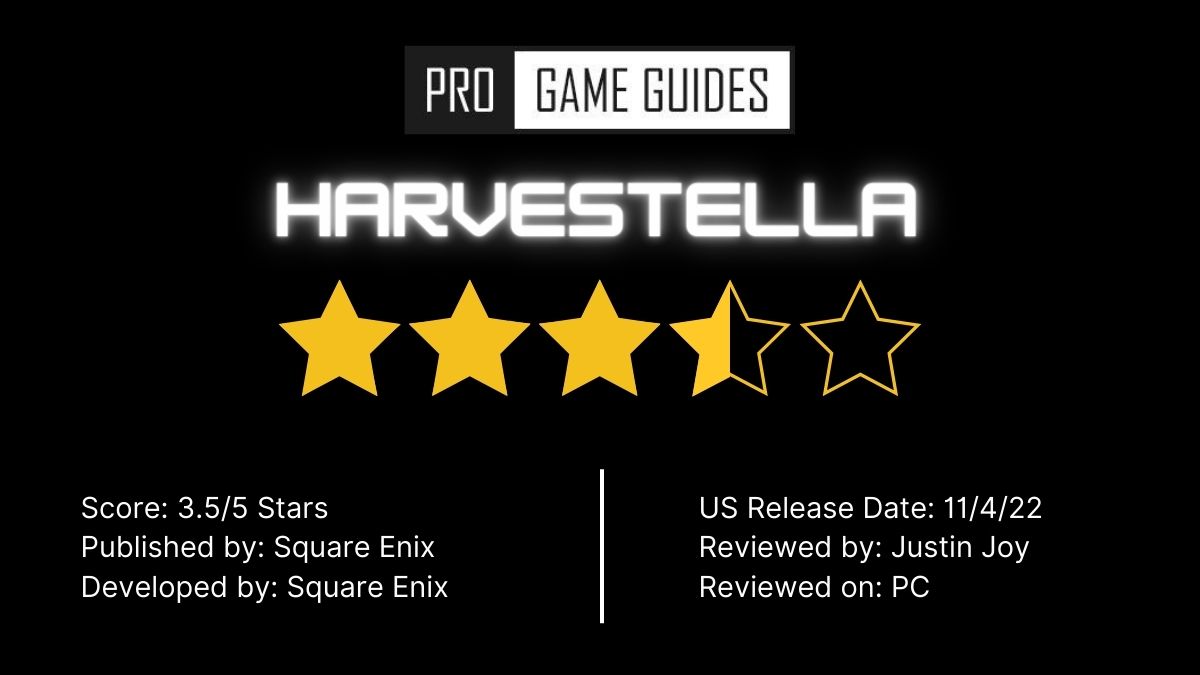 For more information on Harvestella, check out Best Harvestella Combat Tips and Best crops to grow in each season in Harvestella on Pro Game Guides.