Hearthstone is an ever-evolving card game that lets you play in the world of Azeroth. You'll see some well-known faces if you've ever played any Warcraft games (mainly World of Warcraft). Everything revolves around Legendary cards that are difficult to get. If you don't get them via decks, you'll have to craft them with Arcane Dust, a material for creating cards.
That is an expensive route, as you'll need 1600 Dust for one Legendary card. You'll need more than one Legendary to create a great deck, so craft wisely. Of course, your choices will depend on playstyle, favorite class, and what Hearthstone mode you're playing. Here are some of the best Hearthstone Legendaries you need to have in your collection.
How to choose the best Hearthstone Legendaries for your deck
Choosing the best Hearthstone Legendaries is no easy task. It would help if you thought about how much mana they cost, what abilities they have, and whether or not they have a good synergy with the rest of the deck. On top of that, cards are categorized by class, rarity (with Legendary most valuable), card set, and abilities (deathrattle, lifesteal, battlecry...).
There are four types of cards:
Minions—creatures that fight for you
Weapons—you can equip them during battle
Spells—you can easily win with no minions in the deck, just by using spells
Heroes—unique cards that can change the outcome of the battle
What Legendaries you'll take will depend on your class choice.
Related: Best Hearthstone Decks
10 great Legendaries that will make your deck unstoppable
Hearthstone has hundreds of great cards, so picking the best is never an easy task. Most often, the best Hearthstone Legendaries are the ones that have the best synergy with other cards in your deck. The cards from this list are very fun to play and are very powerful. If you have some favorites that we've left behind, let us know!
Queen Azshara (Neutral card)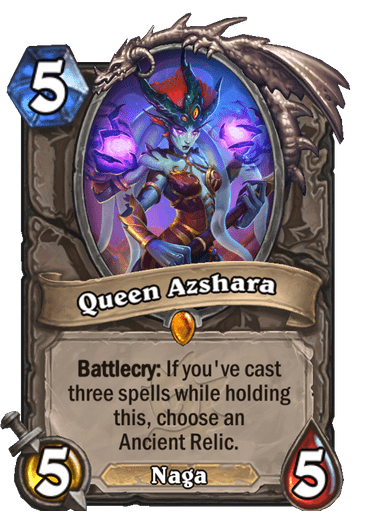 If you want to create a strong deck, Queen Azshara is one of the best choices. You only need to cast three spells to gain some of the powerful Ancient Relic cards. The best way to use her is in a deck with many cheap spells.
Murozond the Infinite (Priest card)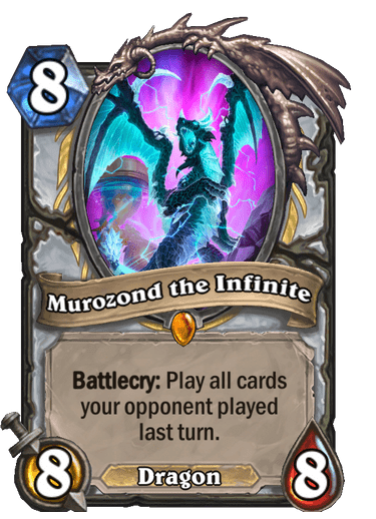 Murozond the Infinite not only has great stats for an 8 mana card (8/8) but can also wreak havoc if played at the right time. Basically, you get all the cards that your opponent has played the last turn, which can negate their endgame strategy.
Zephrys the Great (Neutral card)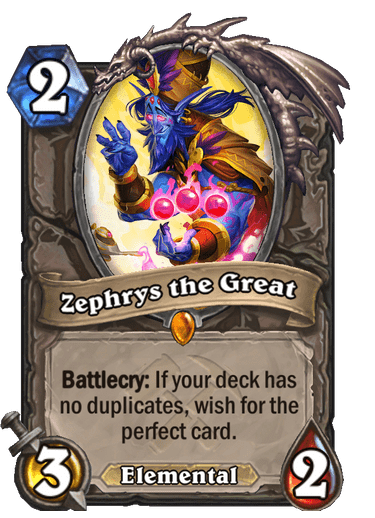 What's not to love about a card that knows what you need better than you do? Zephrys the Great will always give you a solution when you're in a tight spot. Do you need to clear the board? Take a Brawl or Flamestrike! Need to finish opponent? What you need is Pyroblast! Just make a wish.
Bloodreaver Gul'dan (Warlock card)
Do you think Warlock can't be more annoying with all the aggro decks? Well, he can be even worse with raising Demons. Bloodreaver Gul'dan is a hero card with a mighty battlecry that brings all demons you've lost in a game back. He gives you Siphon Life, a hero power that does 3 lifesteal damage, if that's not enough.
Related: Tips for starting or returning to Hearthstone Mercenaries
Leeroy Jenkins (Neutral card)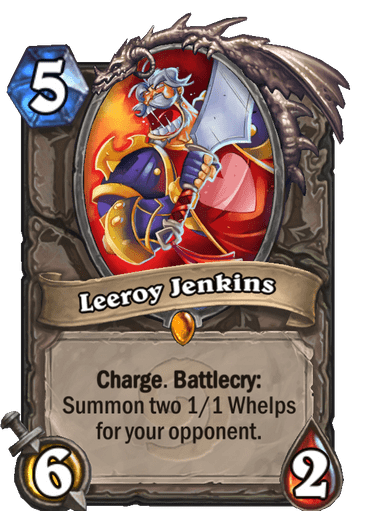 Leeroy is not just a real-life World of Warcraft legend but also one of the best, if not THE best, Hearthstone cards. He's mega potent in face damage, so much so that he could singlehandedly win you a game.
Dr. Boom, Mad Genius (Warrior card)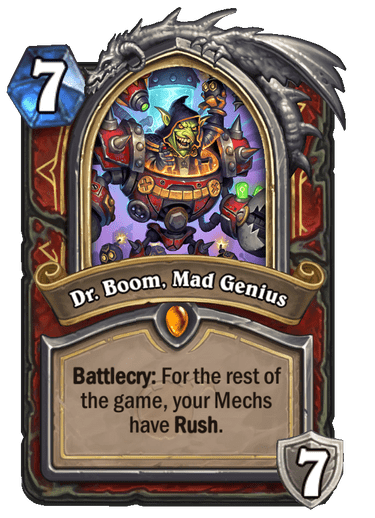 There are many versions of Dr. Boom in Hearthstone, but this hero card variant is the best. If you like tough Mech Warrior decks that take infinite turns to finish the game, you'll love Dr. Boom. He has a great battlecry, but Big Red Button's hero power is even more special. It gives you something different every turn (deal 3 damage, gain 7 armor, deal 1 damage to all enemies, discover a Mach, summon three 1/1 microbots).
Tirion Fordring (Paladin card)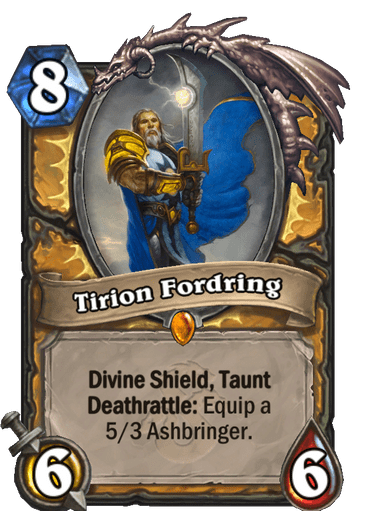 This Paladin card is an absolute classic. You can't go wrong with this guy, as he's hard to kill (6/6, Divine Shield). If not enough, Tirion also gives you a great 5/3 Ashbringer sword (hero weapon). Of course, the thing that'll break Tirion (and you) is a simple use of the Silence card mechanic. Luckily, those cards are not used that often.
Related: Worst Hearthstone Legendaries
Xyrella, the Devout (Priest card)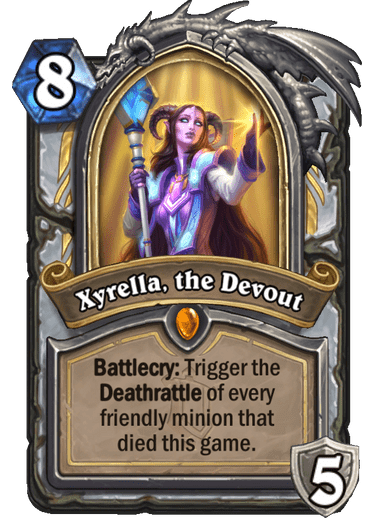 Deathrattle cards are always tough to defeat, as they have that afterburner effect. So, every time you can spam the board with them, you'll have to do it, right? Xyrella, the Devout hero card, does just that, with hero power that switches each turn between restoring 5 health or dealing 5 damage.
Sylvanas Windrunner (Neutral card)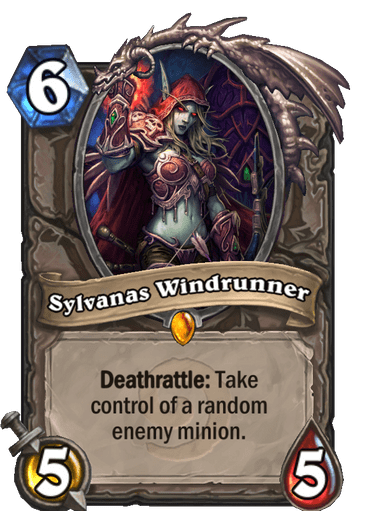 Sylvanas Windrunner is hands-down one of the most popular cards ever in Hearthstone! Her deathrattle is simple but very effective—if you destroy her, she'll take your card. That is very handy in an endgame scenario when your opponent has just played some 10 mana monstrosity. Well, that's yours now.
Yogg-Saron, Hope's End (Neutral card)
Yogg-Saron, Hope's End is king of all Random Number Generators (RNG) Hearthstone cards, for better or worse. Playing Yogg can make you king of the hill or make you rage-quit crying. Say what you want for this underwater dark god, but he's entertaining.
If you're into Blizzard games, we have some excellent guides! Check out How to get Dalaran Hearthstone in WoW, How to import save games in Diablo 2: Resurrected, What is Warcraft Arclight Rumble, and much more!