Hearthstone is bringing back Heroic Brawliseum on May 18, 2022. Original Heroic Brawliseum came into the game in 2016 and had been returning consistently ever since, with this being the fifth time. Basically, it is an incredibly high-stakes event where the prizes match the entry fee where players try to win as many Hearthstone games in a row as possible.
Heroic Brawliseum entry fee
Normally, the entry fees have been 1000 gold or $9.99, so we can assume that will also be the case this time. In exchange, this Brawl offers four rewards: card packs, gold, Arcane Dust, and individual golden legendary cards. Below is a picture of possible rewards, with the best being a 50-card pack, 1100 gold, and 3 golden legendary cards.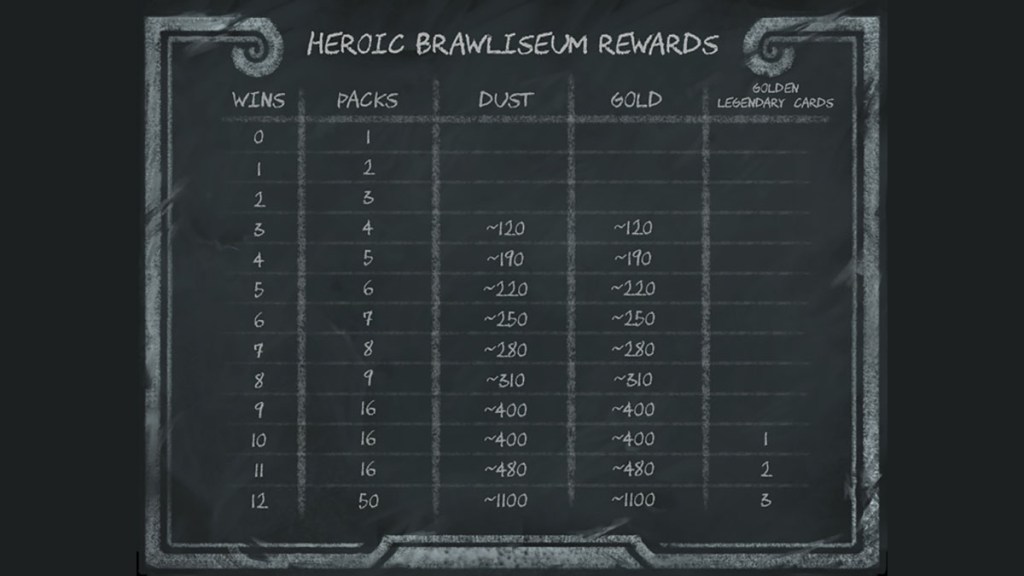 If the player has won 12 games in a row, lost three games, or the player retires their deck, the game ends. If the player has won several games in a row in that run, they may then receive several individual rewards. Multiple players can win the rewards listed above.
Keep in mind that all the packs you get will be from Voyage to Sunken City's expansion. In other words, if you have a full collection, it might not be worth your time to try at all.
For more on Hearthstone, check out How to share a deck code in the chat in Hearthstone or How to upgrade cards to gold in Hearthstone here on Pro Game Guides!