We're getting to that time where Hearthstone will be looking to add its final expansion of the year! Nothing is really known at the moment, but we just got a teaser that points us to the fact that it will involve the Darkmoon Faire. This is a pretty famous event that happens yearly in World of Warcraft. You can go to the zone and participate in games, and gather Darkmoon Prize Tickets to get yourself some pretty sweet rewards. This is the type of thing that fits the personality of Hearthstone quite well, because it's not as serious as some of the other stuff going on in WoW.
It looks like on October 22nd, we'll be getting the announcement of what is going to be coming to the game in the near future. This will likely be the reveal of the next expansion, but could also be a new game mode that has been teased in the past.
Come one, come all! On October 22 at 8:00 a.m. PT, on both Twitch and YouTube, Hearthstone Game Director Benjamin Lee will open our Fall Reveal stream with several major announcements! From there, Game Designers Pat Nagle, John McIntyre, and John Yang will speak to each reveal in-depth with our host, Brian Kibler. We've got some very exciting news in store that you won't want to miss!
As you can see from the roadmap below, it looks like there's a lot of things you can expect in the future. If you check out the end of Phase 2, there's a tantalizing listing called New Game Mode. That's one of the things we can hopefully expect from this announcement.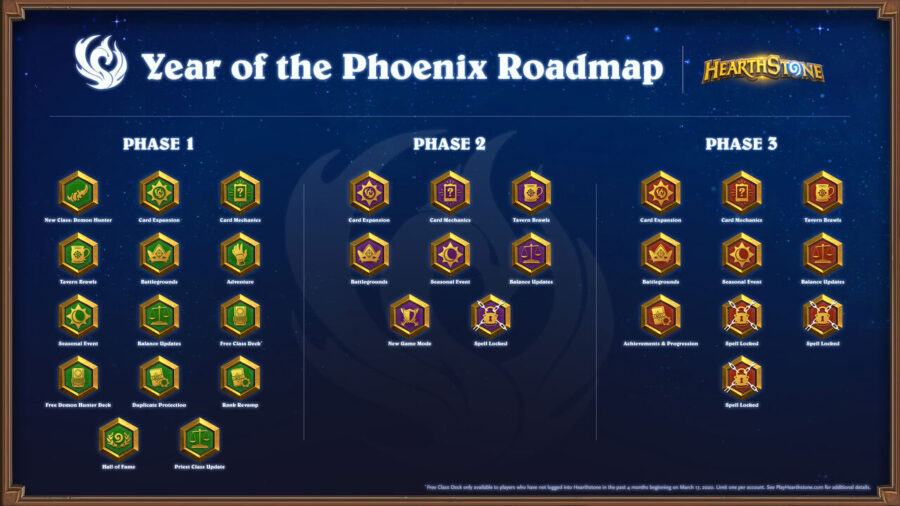 The Darkmoon Faire also involves the Old Gods, which have infiltrated Hearthstone in the past with the Whispers of the Old Gods. This has players speculating that they will somehow be involved in the next expansion, because you can't keep these treacherous gods down for too long. We will just have to wait and see what Blizzard has in store for Hearthstone in the coming months next week!