Our Saviors of Uldum Quest Shaman Deck Guide takes a look at the best deck list for this newly popularized archetype. Quest Shaman didn't get much play in the past, but this new version is one of the more powerful options to take to the ladder in the early stages of the new meta.
Shaman was another class that didn't get to take much advantage of its previous Quest, but this time it looks like it might be one of the front-runners for most powerful. If what's being predicted by some content creators, this deck could be the standout of the early expansion. That remains to be seen, and we'll see if Shudderwock makes a triumphant return to the meta!
Quest Shaman Deck List
This list has been further revised, and has been updated to reflect the currently best version according to HSReplay.
Shaman
Neutral
2x -

Mutate

2x -

EVIL Cable Rat

1x -

Corrupt the Waters

2x -

Novice Engineer

2x -

Sludge Slurper

2x -

Questing Explorer

2x -

EVIL Totem

2x -

Mind Control Tech

2x -

Sandstorm Elemental

2x -

Lifedrinker

2x -

Bog Slosher

1x -

Barista Lynchen

2x -

Weaponized Wasp

1x -

Former Champ

2x -

Mogu Fleshshaper

2x -

Giggling Inventor

1x -

Shudderwock
Deck Code
AAECAaoIBO/3AquMA72ZA+GoAw2cAt4F7/EC4vgCi4UDtJEDtJcDxpkDu6UDz6UD1KUD1aUD+aUDAA==

Copy Code
Quest Shaman Mulligan Guide
Always Keep
Corrupt the Waters

- We want to get this completed as quickly as possible, so we're going to be playing this on our first turn 99% of the time.

Sludge Slurper

- This gives us a Lackey that will help complete the quest, and playing the card itself helps complete the quest. This card is insane in the early game, and should always be kept.

EVIL Cable Rat

- You'll keep this for all the same reasons you'd keep Sludge Slurper!

EVIL Totem

- While it doesn't have a battlecry, it generates us a card with a battlecry, so it's worth keeping with a 1-drop. It's also far more difficult for our opponent to get it off the board in the early game.

Questing Explorer

- This is a very strong turn two play since we're always playing the quest on turn one, and this will contribute to the quest, draws us a card, and gives us board presence.
Situational Keeps
Novice Engineer

- It fits a lot of the criteria we want, but it's best kept with other cheap cards.
General Gameplay Tips
The Corrupt the Waters quest once completed will give you the hero power, Heart of Vir'naal. It costs 2-mana and reads, "Your Battlecries trigger twice this turn."
This deck is part combo with Shudderwock and part just beatdown our opponent with all of our resources via our hero power. Just about every card we have is a Battlecry, so we should be able to complete the quest relatively quickly.
With the hero power to enable the double battlecries of this deck, there's just so much you can do. You can get a ton of extra resources with your Lackey generation cards, but you can also control the board with cards like Weaponized Wasp who can now do six damage from hand on a minion or to the face.
Bog Slosher give us some ability to bring back some of our more combo based minions like Lifedrinker or a powerful Lackey. We can feed our Shudderwock some more damage by using it on the right cards.
You might find the inclusion of Mutate to be odd, but Former Champ pairs with it very well. It's not a good minion when it's on the board, so hitting it with the evolve effect will very likely get you something better. Mogu Fleshshaper also falls into this camp, it's a high cost card that you shouldn't be paying full mana to play. So, when you do play it, you can bop into another minion, and then immediately Mutate it and get an 8-cost minion!
If you're looking to win the game via Shudderwock, you want to be careful which cards you are playing. Lifedrinker is the key to that combination, because it reliably does damage to the opponent. Cards like Wasp and the Kobold Lackey are randomly targeted and can damage your own minions and face! So, if you're looking for lethal with Shudderwock, you'll need to keep in mind that you could possibly lethal yourself! If you think Shudderwock is your win condition and you're on The Coin, you might want to save it for the late game. You can use your hero power and then coin out the Shudderwock.
Keep in mind that Shudderwock can only repeat a total of 30 battlecries and they are played in random order. This means that if you've played a ton of battlecries in a game, you might not end up hitting the lethal you were expecting.
Available Lackeys
As I've mentioned, Lackeys are pretty powerful and only cost 1-mana each. There was originally five of them, but Titanic Lackey was added in Saviors of Uldum.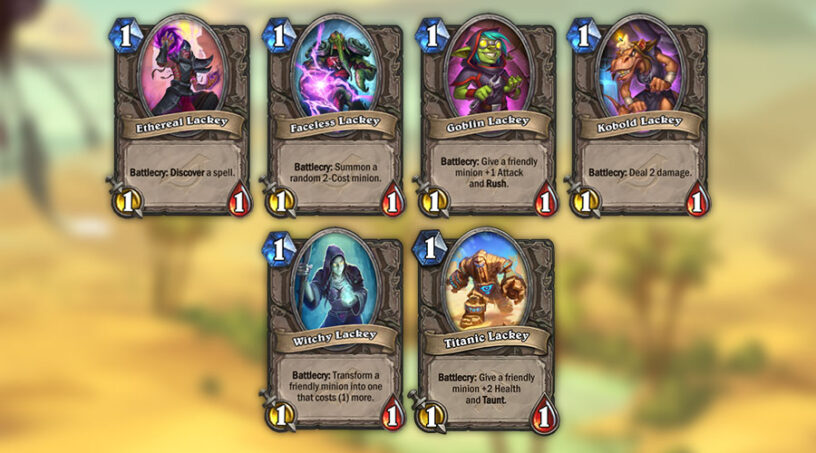 Other Card Choices
Earlier builds ran more of a combo based deck, so you could consider going that route.
Zap!

- Good cheap board control that can allow us to keep tempo.

Siamat

- Potentially powerful Battlecry, but it is a bit on the slow side.

Swampqueen Hagatha

- A lot of shenanigans can be done with this card, especially if you can get two of the Horrors with the hero power.