The Battle Arenas are a great way to test your spell skills and maybe even put some Unforgivable Curses to practice. There are three different Battle Arena locations around the World Map, with one that is particularly for wizards with an interest in the Dark Arts. Defeat several waves of enemies to earn a special achievement. Here is where you can find them all.
Where to find all the Battle Arenas in Hogwarts Legacy
There are three different Battle Arenas around the map. However, one is slightly different from the others because it is a Dark Arts Battle Arena, meaning you will utilize some Unforgivable Curses to defeat your enemies. You can find the Battle Arenas on your World Map, symbolized by the statue with its arms outstretched. This is where they are:
East North Ford Bog Battle Arena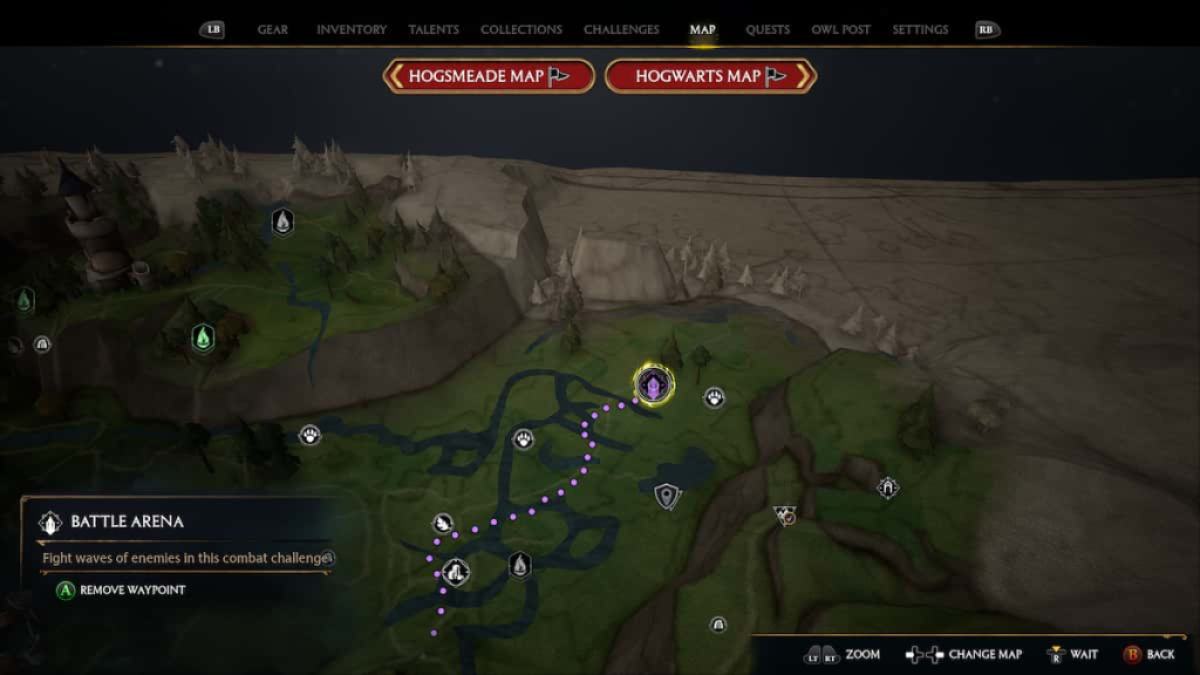 This Battle Arena is in the northern part of the World Map, just northeast of the East North Ford Bog Floo Flame, slightly below San Bakar's Tower.
Feldcroft Region/Irondale Battle Arena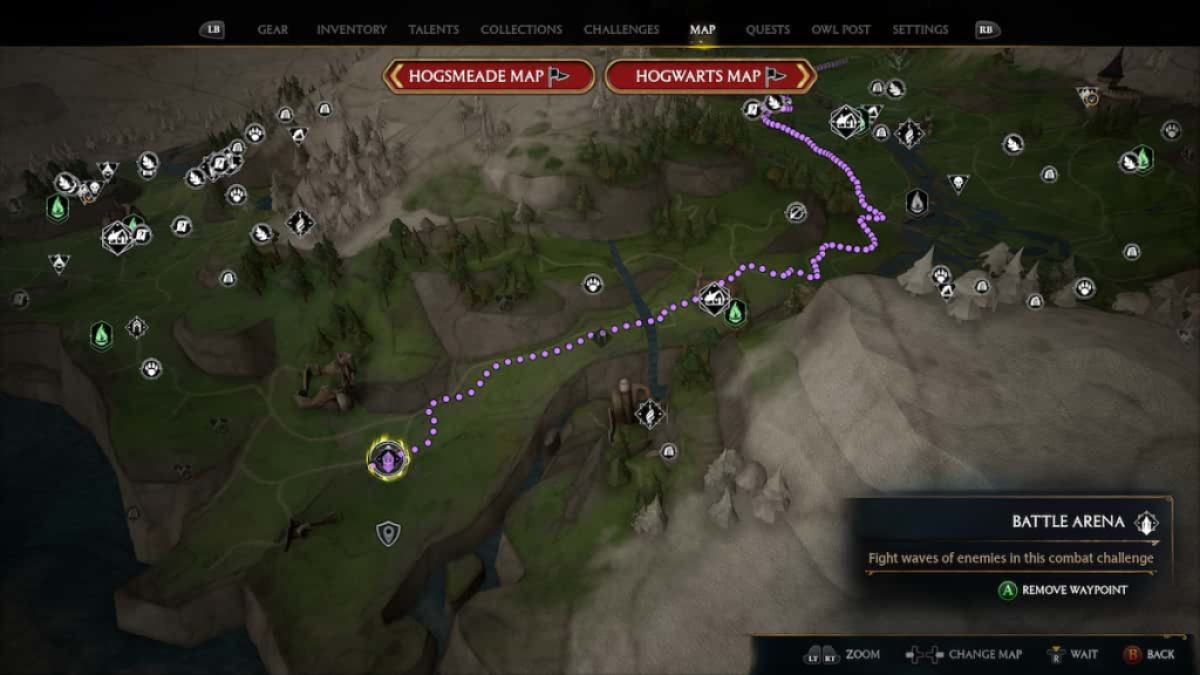 This Battle Arena is toward the southern region of the map, southeast of Feldcroft and just southwest of the hamlet Irondale. You can use either the Feldcroft Catacombs Floo Flame or the Irondale Floo Flame to get there more quickly.
East North Hogwarts Region Dark Arts Battle Arena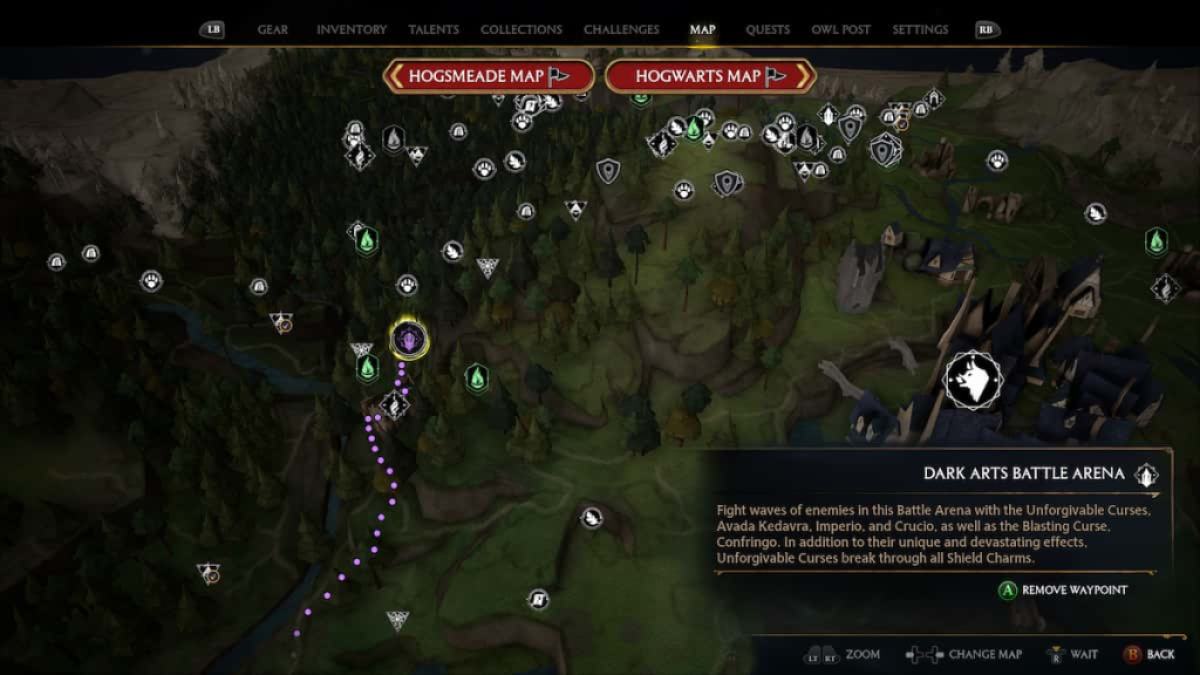 The Dark Arts Battle Arena is not too far from the castle and just west of Hogsmeade village. You can take the East North Hogwarts Region Floo Flame and head just northeast to find it in no time.
How to unlock Battle Arenas in Hogwarts Legacy
To gain entry into the Battle Arenas and begin your waves, you'll need to complete a quick puzzle, like most things in Hogwarts Legacy. Each location will reveal in the upper right corner of your screen a number of vases that you must break to unlock the Arena. The vases will be spread around the area in different spots, and you can easily break them with a basic wand cast. The best way to find all of them is to cast Revelio since they will be highlighted in blue and easier to find. This is how many vases you need to break in each location:
East North Ford Bog: 20 Vases
Feldcroft Region/Irondale: 20 Vases
East North Hogwarts Region: 10 Vases
Once all the vases have been destroyed, the arena will be unlocked for you to begin. Just interact with the statue with X/Square to start your waves of enemies.
Related: Can you get the Dark Arts Pack separately in Hogwarts Legacy?
Why can't I find the Dark Arts Battle Arena?
Unfortunately, the Dark Arts Battle Arena is a little bit different than the other Battle Arenas. If it doesn't show up on your map, that is because you don't have access to it. You need to purchase the Deluxe version of the game, including the Dark Arts Pack in order to compete in this specific arena. You will also be rewarded the exclusive Dark Arts robes and Onyx Hippogriff when you purchase this pack. But even if you don't have it, you will still be able to compete in the other two Battle Arenas.
Looking for more Pro Game Guides Hogwarts Legacy content? Check out our guides on What happens if you don't complete Dueling Feats in Hogwarts Legacy? or Best Spells & Spell combos in Hogwarts Legacy!