Hogwarts Legacy encourages customization in many aspects of your witch or wizard's design. You can choose everything from your Hogwarts House to the cloak and scarf that you wear. One other neat, customizable aspect is your wand. Here are the best looking wand handles in Hogwarts Legacy.
Best Looking Wand Handles from each category in Hogwarts Legacy
The first time you visit Ollivander's shop in Hogsmeade, you'll choose your unique wand and its attributes. These are strictly fun, cosmetic choices, but you will not be able to change any of these decisions after you are finished. What you can change at any time during the game is which decorative handle to use. Again, these options are strictly cosmetic. There are 42 total options for you to find and collect, three from each of 14 categories. We've chosen our favorite from each category.
Shell—Honey Brown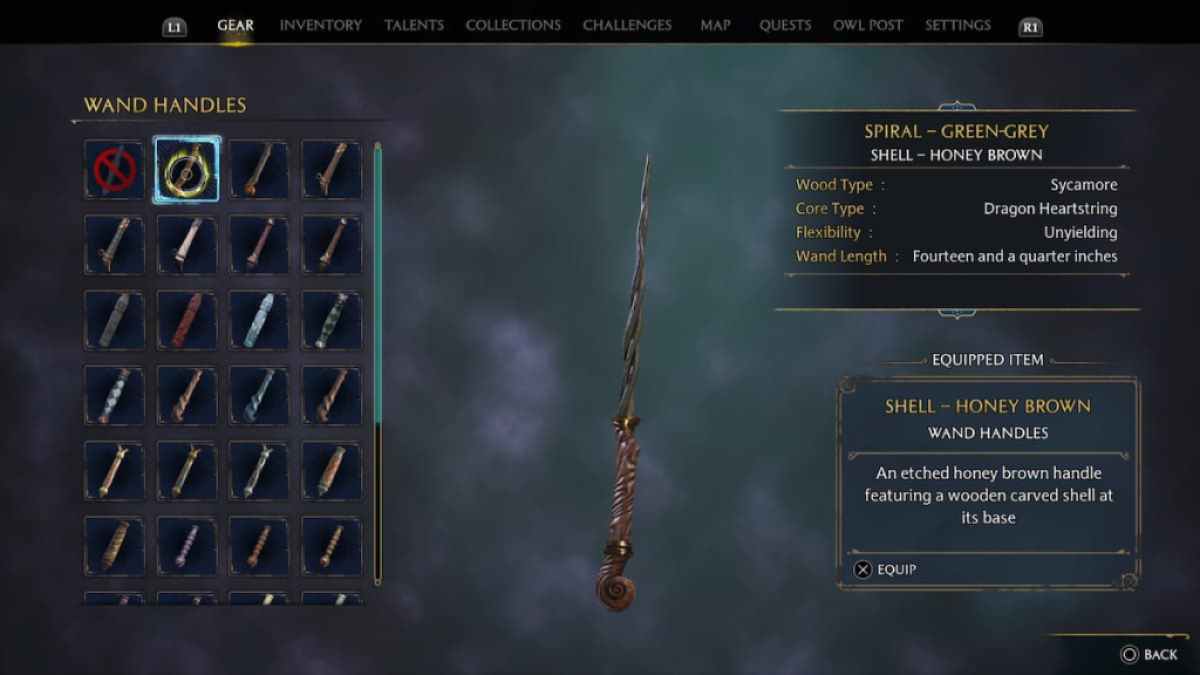 The Honey Brown version of the Shell wand handles edges the others out with its intricate, swirling carvings. The Grey version is also a close runner-up, as it's green shell at the base is a rare but classy color to find in a wand handle. Either way, Shell wand handles can easily give your wand an elegant touch.
Sabre—Ash Brown
Sabre wand handles feature a sleeker and sharper design than most. We chose the Ash Brown version as our favorite due to the contrast in its colors. It doesn't feature any significant patterns, but it will serve well for witches or wizards that like a bold but understated look.
Arrow—Pink Swirl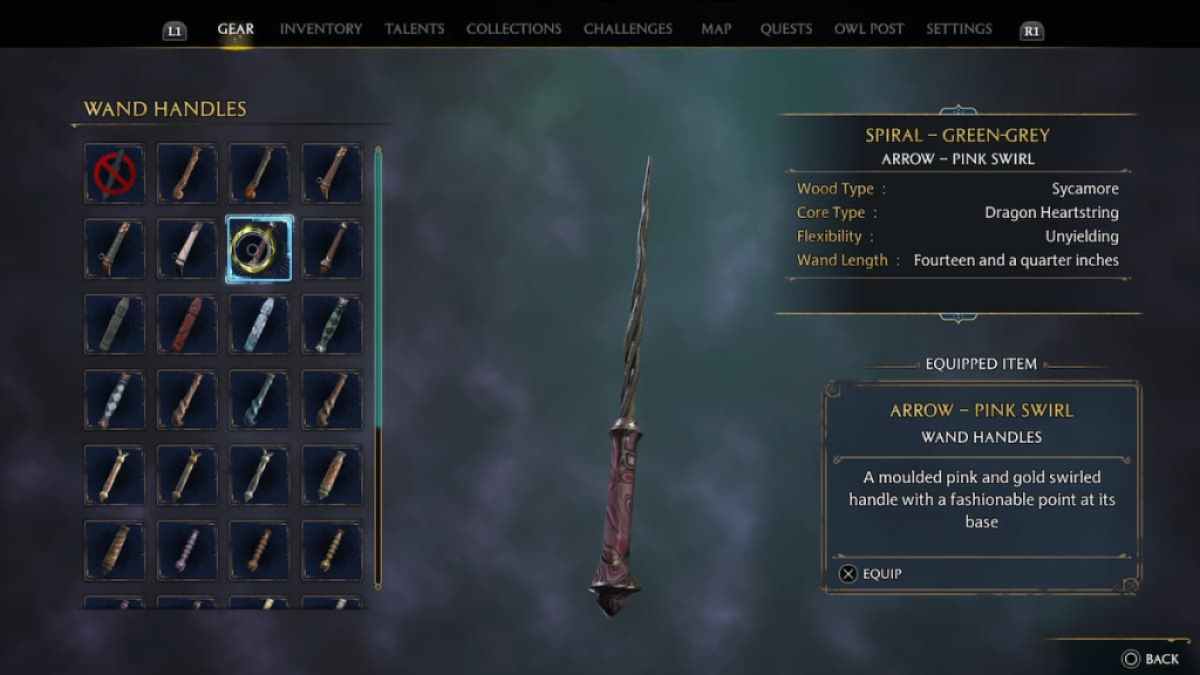 Arrow wand handles all have a shiny veneer, so we figured if you're going to go with such an eye-catching finish, you might as well go all the way. The Pink Swirl version is flashy, fun, and bright. It's perfect for those of you that want your wand to shine.
Basketweave—Black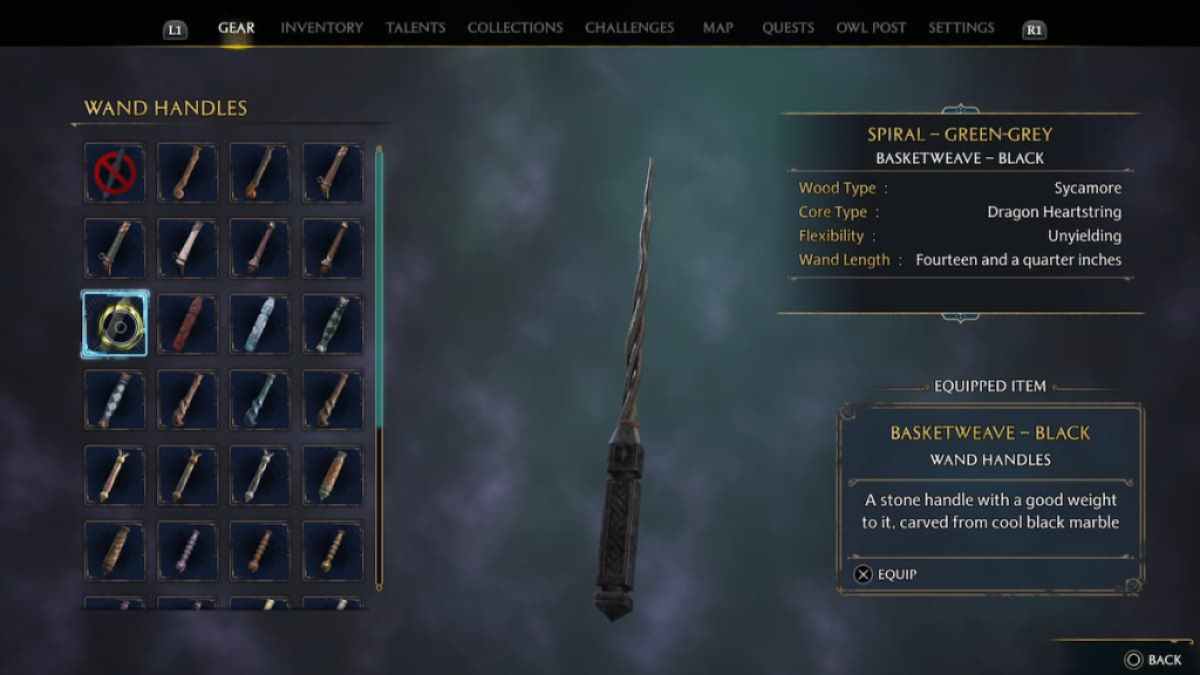 Basketweave wand handles have a bulkier, muted design. While there is a blue and white marbled version available, we prefer a classic black color for this design. It's prefect for witches and wizards who want to show off the darker sides of magic.
Checkerboard—Blue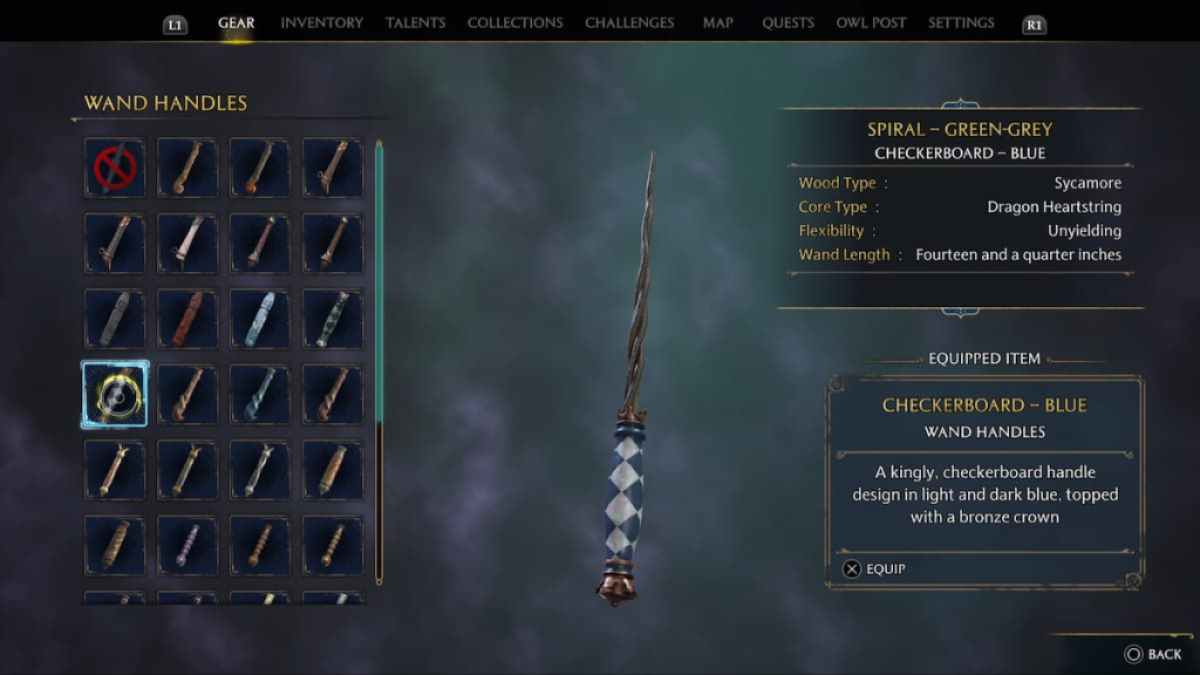 The Blue version of the Checkboard wand handle keeps the design fun and bright, while also having a more realistic style, as it closely mimics the sharp contrast of traditional chess boards. If you have a favorite handle, but want to switch to this one anytime you need to tackle a chess puzzle, we'd understand.
Related: How to flip a cow with Flipendo 10 times in Hogwarts Legacy (Spilled Milk Achievement)
Corkscrew—Light and Dark Brown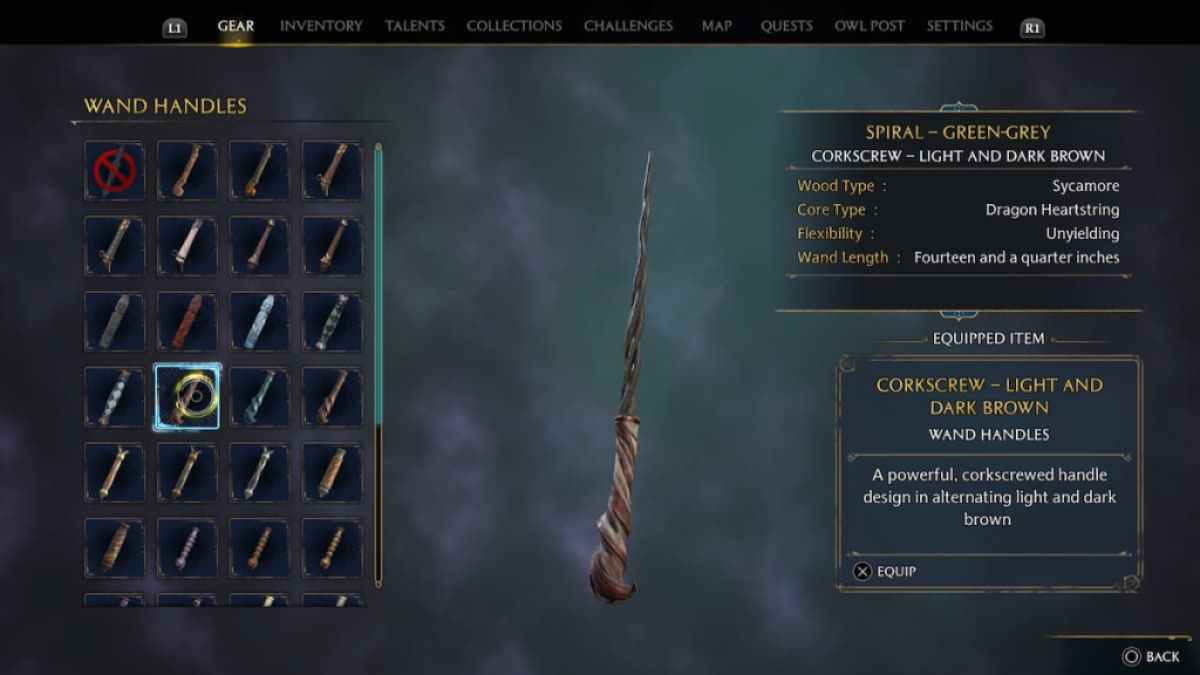 Corkscrew wands are for witches and wizards that are a bit rougher or messier. They probably don't turn in their homework on time. We picked the Light and Dark Brown version of this wand handle style because it shows all of those edges in detail. If you prefer something a little more funky, there's a Teal version that is quite unique as well.
Regal—Black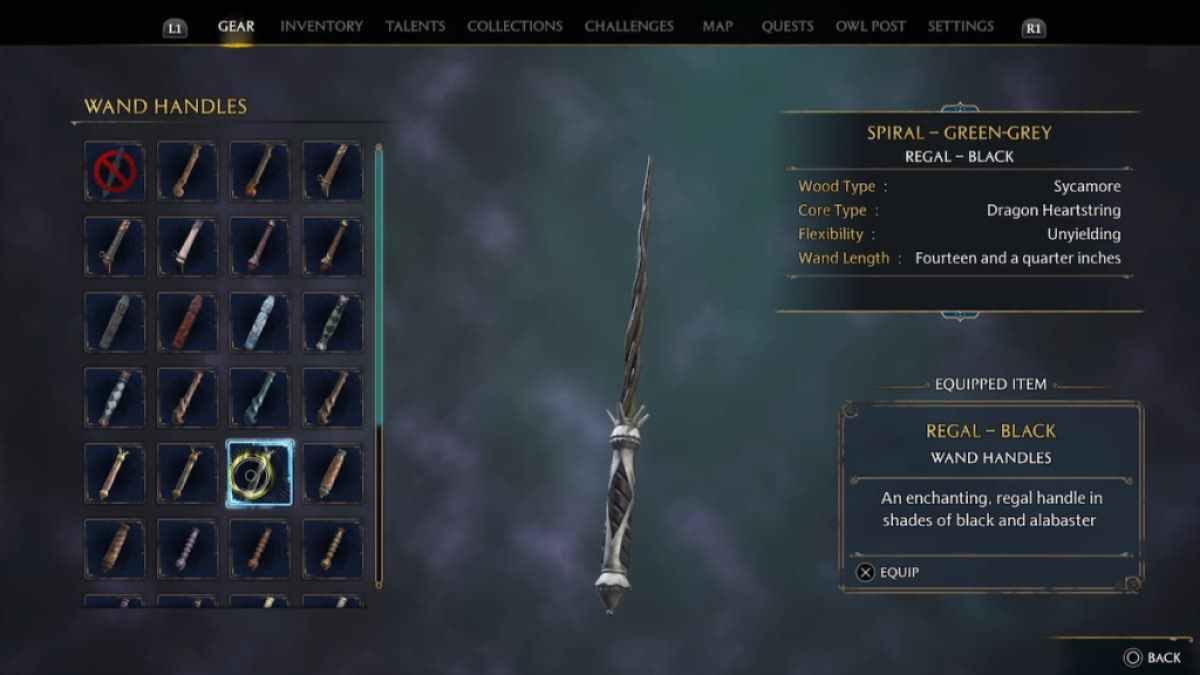 Regal wand handles are for those who chose Unyielding for their wand flexibility. The sharp and strong look of the silver inlay of the Black version of Regal wand handles will show the Wizarding World you stand firm in your convictions. You lead and others follow.
Column—Teal and Brown
While Column wand handles don't have the most intricate shape, the Teal and Brown version makes up for it with it's distinctive, rustic look. It's specifically designed to seem like it is made from aged copper, which can give your wand an older and distinguished look, like it was built to weather storms.
Orbicular—Gold
Orbicular wand handles also have a more traditional design than most, but you can dress it up with the Gold version of this wand handle. With nothing else to distract from its solid, metallic sheen, other witches and wizards will know you are all about the Galleons when they see it. Want something more eclectic? It's dark, but you could also try the Violet version of this wand.
Swirl—Lilac
Speaking of violet and eclectic, if you truly want something bright and flashy, look no further than the Lilac version of the Swirl wand handle. While the others versions can be great for more muted and toned-down looks, this purple beauty will let everyone know when you've whipped your wand out. Great for showing off in a duel, not so great for sneaking around Bandit Camps.
Related: Best Hogwarts Legacy memes
Imperial—Grey and Bronze
Like the Regal wand handles, Imperial wand handles have a more dignified look than most. We prefer the Grey and Bronze version, as it lightens up the design. The Brown and Gold version is a close runner-up, however. The wood handle at the center has a reddish tint that can be hard to find in wood wand handles.
Celestial—Blue
Celestial wands feel both magical and whimsical. The version that shows these qualities best, in our opinion, is the Blue version. It's a muted, darker shade, but almost similar to that of the night sky. The gold accents and stars in the center of the handle are also a cool touch.
Botanical—Bronze Leaf
With an intricate vine and leaf motif, Botanical wand handles fall in the category of handles begging to be seen. Here again we prefer the brightest version, the Bronze Leaf version. Its lighter color helps the design to stand out, and the florals themselves match most any wood you could have chosen for your wand.
Avian—Brown
The last style of wand handle, Avian, has a very proud and ornamental bird at the end. What better way to make it stand out than by using the Brown version and dressing the ornament in gold. You won't find any wild colors here, so if a black or white is more your style, those options are available, too.
How to Get Wand Handles in Hogwarts Legacy
Wand handles are collectable items. They are generally found in Collection Chests hidden throughout Hogwarts Castle, Hogsmeade, and the surrounding countryside Hamlets. You can also receive five wand handles as a reward for completing quests such as Flying off the Shelves, or Gobs of Gobstones.
What wand handle you receive from Collection Chests is randomized, so you'll just need to keep searching until you find the one you like best. If a Collection Chest holds a wand handle, you'll know it by it's cylindrical shape. They also have gold leaf latches.
Looking for more of our picks for the best looking cosmetics in Hogwarts Legacy? Check out Hogwarts Legacy – Best Brooms List here at Pro Game Guides.