After creating an account on the Wizarding World website, you can discover and create your Portrait, House, Patronus, and Wand to immerse yourself into the Harry Potter and Fantastic Beasts universe. While your profile details such as House can be easily changed by redoing the quiz, Patronus is a bit tricky to alter.
Can you change your Patronus on Wizarding World (Pottermore)?
The ultimate answer to this question is yes. You can change your Patronus on your Wizarding World profile, however, it's not that straightforward. If you're determined to attach another mythical creature to yourself, you'll have to delete your existing account and create a new one. Otherwise, you can simply create a brand new, secondary account altogether.
Related: How to change your House in Wizarding World (Pottermore)
How to change your Patronus on Wizarding World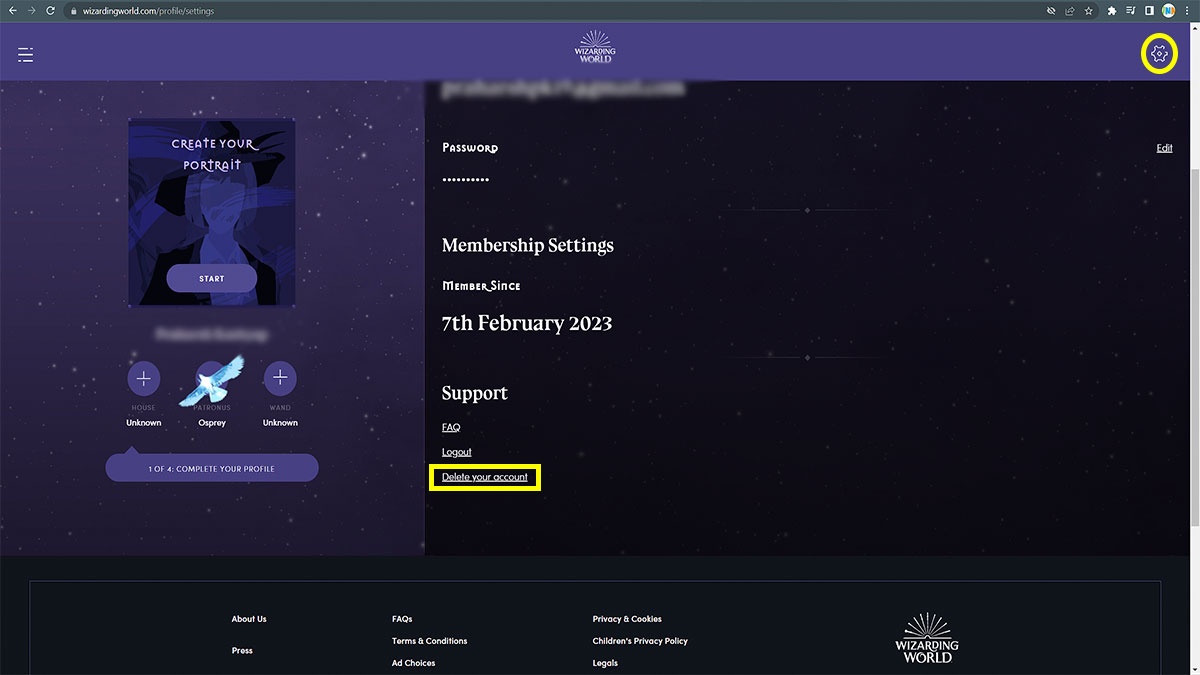 Go to the Wizarding World website and log in to your profile.
Click on the gear icon in the top-right corner to open Account Settings.
Scroll all the way down to the Support section and click on the Delete your account option (see the image above).
Enter and re-confirm your password and select Delete Account to erase your data.
Now you can sign up again using the same email id and change your Patronus, along with all the other profile details.
Doing this will wipe all your data and purchases associated with your profile, if any. If you're okay with that, follow the steps and change your Patronus. If you're looking to assign a specific Patronus to yourself, look for guides that mention the exact answers you need to select to get a Patronus, such as Stag, Hippogriff, Thestral, and Unicorn.
Stay tuned to Pro Game Guides for more Hogwarts Legacy content. In the meantime, head over to our articles on Is Wizarding World down? How to check server status.