There are numerous magical creatures to discover and meet in Hogwarts Legacy. These range from common creatures to rare and mythical ones like the Phoenix. Eventually, you will be tasked by Deek to find a Phoenix, which may leave you wondering how to find Phoenix Dens and collect Phoenix Feathers in Hogwarts Legacy.
How to find a Phoenix in Hogwarts Legacy
To find a Phoenix Den, you will need to complete Niamh Fitzgerald's Trial quest and make your way to the Room of Requirement. Speak to Deek to receive the Phoenix Rising quest and then head to the Phoenix Mountain Cave, south in the Poidsear Coast. Fast travel to the Floo Flame in this region, then make your way to the circled location in the image below.
Related: Where to get Graphorn and Graphorn Horn in Hogwarts Legacy
Defeat the poachers found in the cave and proceed to the top of the mountain. Here you will find a Phoenix. Use the Nab-Sack to capture the Phoenix and return to the Room of Requirement to speak to Deek. You will then be able to add the Phoenix to your Vivarium.
Where to get Phoenix Feathers in Hogwarts Legacy
There are two ways to get Phoenix Feathers in Hogwarts Legacy. The first is to go to Irondale in Felcroft and speak to Padraic Haggerty in the Hamlet Shop. You can purchase Phoenix Feathers here for 700 Galleons. We have marked the Hamlet Shop's location in the map below.
Alternatively, you raise the Phoenix in your Vivarium. Interacting with it by petting and feeding the Phoenix with the Beast Petting Brush and Beast Feed will eventually start rewarding you with Phoenix feathers. Keep at it, and you can collect as many Phoenix Feathers as you need.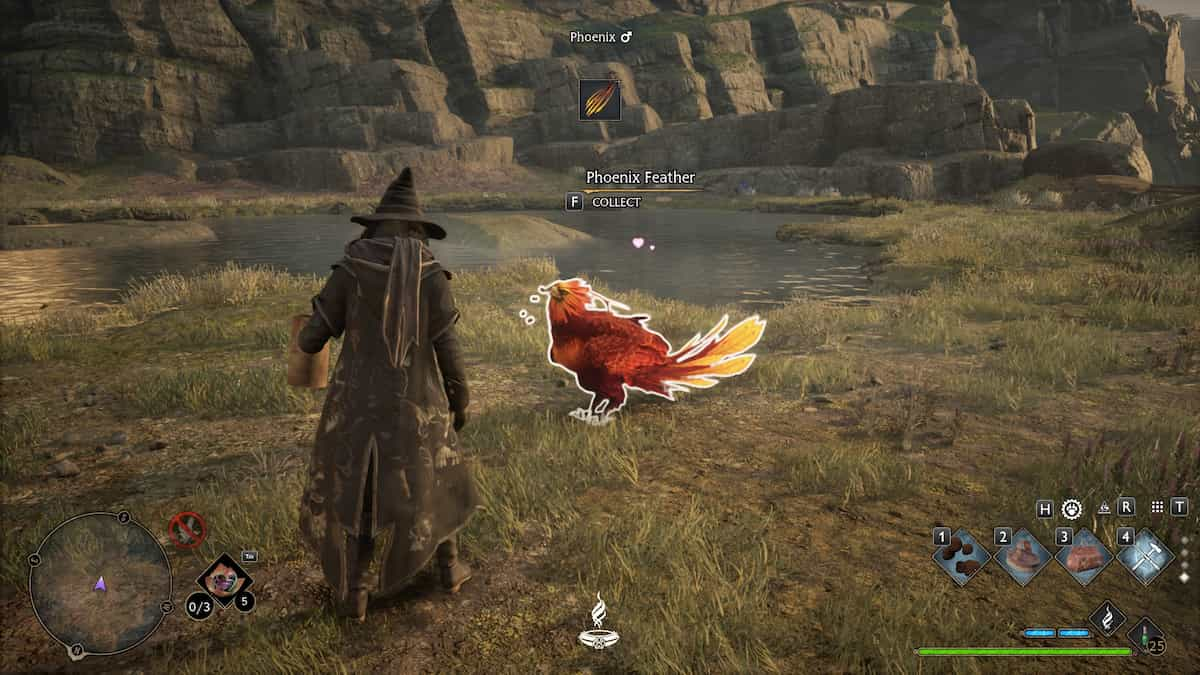 For more information on Hogwarts, check out All Hogwarts Secrets and where to find them in Hogwarts Legacy and How to increase species limit in the Vivarium in Hogwarts Legacy on Pro Game Guides.