You play as a lone wanderer in Hollow Knight with only a Nail to aid you on your journey. This weapon will see you through the darkest and deepest parts of Hallownest. With such reliance on this weapon, you may be wondering if you can upgrade the Knight's Nail and how to upgrade the Nail in Hollow Knight.
Where to find the Nailsmith to upgrade the Nail in Hollow Knight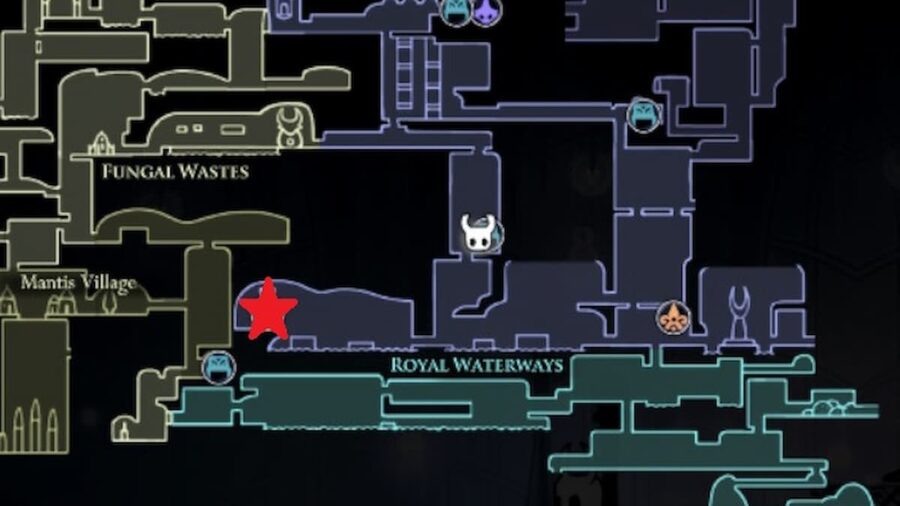 To find the Nailsmith, you must go to the City of Tears. You can find the Nailsmith's hut on the west part of the City of Tears. You will need the double jump or wall jump ability to reach this location, though. This is an important NPC to find, as the Nailsmith can upgrade your Nail. We have marked the Nailsmith's location with a red star on the image above.
After upgrading your Nail completely, you have the choice to end the Nailsmith's life. If you spare him, he will relocate to Sheo's Hut in the Greenpath. If you kill the Nailsmith, his body can be found in the Junk Pit after completing two Pantheons and speaking with the Godseeker.
Related: Is Hollow Knight multiplayer?
All Nail upgrade costs in Hollow Knight
Upgrading the Nail requires Pale Ore. This is given to the Nailsmith, who will then work on your Nail and make it stronger. It can be upgraded four times. Here are all costs for upgrading your Nail in Hollow Knight:
First Upgrade: 250 Geo
Second Upgrade: 800 Geo + 1 Pale Ore
Third Upgrade: 2,000 Geo + 2 Pale Ore
Fourth Upgrade: 4,000 Geo + 3 Pale Ore
For more information on Hollow Knight, check out How to get to the Abyss – Hollow Knight and Which is harder, Cuphead or Hollow Knight? on Pro Game Guides.