Grinding for new Honkai: Star Rail five-stars is always…well, I won't say a chore, but definitely, a feat you need several days of Calyxes for. Silver Wolf is no different. And since I have her on the same alt where I have Welt, I've been doing nothing BUT grinding most of the same resources for both. Here are all the resources you'll need for Silver Wolf.
Silver Wolf's Trace Materials in Honkai Star Rail
Silver Wolf uses machine parts for Traces, which you can farm from Automatons around Jarilo-VI. Robot Settlement is full of them, but you can find a ton of them in the Great Mine as well. You can use your Assignments to farm for the Ancient Parts too.
56 Ancient Parts
71 Ancient Spindles
73 Ancient Engines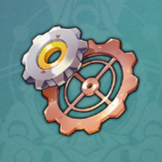 Since Silver Wolf is part of the Nihility Path, you'll also find yourself standing in front of Calyx (Great Mine). It drops the Obsidian Trace materials. Remember: the higher your Equilibrium Level, the easier it is to farm higher-leveled materials.
18 Obsidian of Dread
69 Obsidian of Desolation
139 Obsidian of Obsession
You can get all of these materials from Simulated Universe 3, 4, and 5 as well. Bosses will drop the rare ones sometimes, but Calyx and maps are the best way to farm from as, since SU rooms are random and won't always contain Automatons.
Related: Honkai Star Rail Best Silver Wolf Build – Light Cones, Relics, & More!
Silver Wolf's Character Ascension Materials & Advanced Trace Material in Honkai Star Rail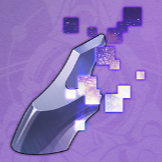 Silver Wolf needs Void Cast Irons (and the Automation parts mentioned above) to ascend levels. Specifically, she needs a total of 65 Void Cast Irons, which you can only get in Stagnant Shadow (Base Zone) for 30 Trailblazer Power per run.
She also uses 12 Destroyer's Final Road advanced trace materials. You can farm of that thrice a week in Echo of War (Supply Zone).
Finally, all Honkai: Star Rail characters need Tracks of Destiny to fully ascend and unlock the last two Bonus Abilities. You can grab Tracks of Destiny as a weekly reward from Simulated Universe, events, and the Embers Exchange in the Store. A couple of them are also available on the free version of the current Battle Pass. Silver Wolf needs eight of them.
Fortunately, however, this is a problem for later. Calyx grinding will take up a LOT of time, trust me.
How many Credits are needed to fully ascend Silver Wolf in Honkai Star Rail?
It's easy to ignore the number of Credits you're using to level up for your characters since you won't be doing it all at once. However, if you're REALLY curious—Silver Wolf needs 3,887,800 Credits. But note that this is for a fully-unlocked Skill/Trace Tree, level 80 Silver Wolf. You won't need that much in the beginning!
For more Honkai: Star Rail farming guides, take a look at Honkai Star Rail Tingyun Farming Guide and Honkai Star Rail Bronya Farming Guide here at Pro Game Guides.