Horizon Forbidden West has a range of machines Aloy will come across, and players will need to know how to defeat them to harvest resources in-game. The Burrower is one of these machines Aloy will meet early on in Forbidden West.
In Horizon Forbidden West, machines have specific weak points and are often vulnerable to specific elemental damage. The Burrower has three weak points: its red eye, the Soundshell, and the Resource Container. It is also weak against Fire attacks, so players can also use fire arrows to take down this machine.
Related: How to defeat Shellsnappers in Horizon Forbidden West?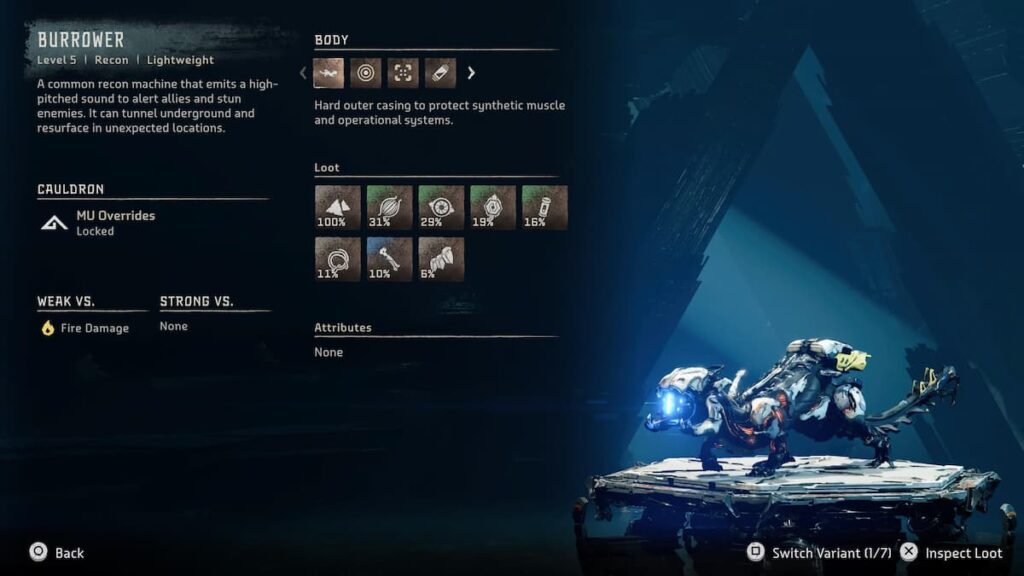 Burrowers are expert diggers in Horizon Forbidden West, and players will often find them tunneling underground during combat. They use a sound attack to disorient Aloy, but that can be dodged easily. Use Aloy's Focus to reveal all the weak points on the Burrower before attacking it.
Players can detach components like the Soundshell and Resource Container from the Burrower by hitting them with Tear-damage arrows. The following components are available after defeating Burrowers:
Metal Shards
Machine Muscle
Burrower Soundshell
Echo Shell
Small Machine Core
Braided Wire
Metal Bone
Blastpaste
Sturdy Hardplate
Burrower Circulator (only found in Burrowers)
Burrower Primary Nerve (only found in Burrowers)
Defeating the Burrower without detaching its components first will not reward players with the best loot. Similarly, using Silent Strike on Burrowers destroys these detachable components and removes them from the loot. To override Burrowers, players will need to visit Cauldron MU located near No Man's Land.
Wondering how to defeat other machine guides in Forbidden West? Check out How to defeat the Slitherfang in Horizon Forbidden West on Pro Game Guides.