The first Horizon Forbidden West DLC, Burning Shores, has just been released. This DLC adds an extensive list of changes in the patch notes for update 1.21. While the primary addition is the new DLC, Guerrilla Games has also added a new Thalassophobia mode for those who fear deep water, as Aloy must travel through these regions in the game. Here is how to enable Thalassophobia mode in Horizon Forbidden West.
Turn on Thalassophobia mode in Horizon Forbidden West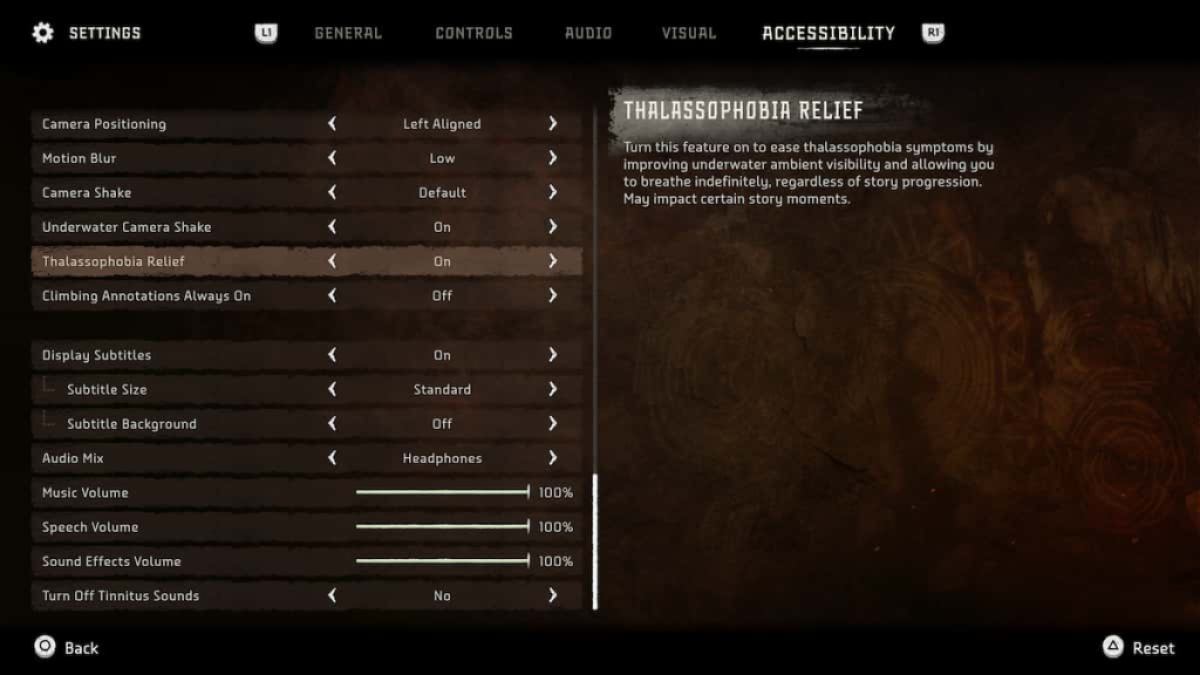 To enable Thalassophobia mode, open the settings by pressing start. Navigate to Accessibility and scroll down until you find the Thalassophobia Relief option and toggle it on. If this mode isn't enough, you can also turn off the Underwater Camera Shake option.
Be warned; however, this option may impact certain story moments linked to finding the underwater breather. It's recommended to avoid these underwater spaces until you have found the diving mask as part of the main story.
Related: How to breathe longer underwater in Horizon Forbidden West
What does Thalassophobia mode do in Horizon Forbidden West?
The Thalassophobia Relief mode is designed to ease thalassophobia symptoms by improving underwater ambient visibility, showing a blue glow, and allowing you to breathe indefinitely, regardless of story progression.
For more information on Horizon Forbidden West, check out How to start Burning Shores DLC in Horizon Forbidden West and Horizon Forbidden West Burning Shores trophy list on Pro Game Guides.