Knowing which weapons to add to your loadout is one of the hardest aspects of Hunt: Showdown for new players. Scrolling through the various rifles and pistols is intimidating when you aren't familiar with Hunt: Showdown's weaponry. Nobody wants to choose an expensive rifle for their loadout, then die with it because they don't know how to use it properly.
Some weapons in Hunt: Showdown has a steeper learning curve than others, and it can be difficult to determine which guns are beginner-friendly. Come join us as we list the best builds for new players in Hunt: Showdown.
Beginner Friendly Builds in Hunt Showdown
Vetterli 71 Karabiner and Hand Crossbow
This is a simple, yet effective loadout for new players. The Vetterli 71 Karabiner is a dependable rifle, even though it does not one-shot to the head. Even using iron sights, the weapon feels nice to shoot, and its high muzzle velocity prevents players from having to lead their shot.
The Hand Crossbow is perfect for eliminating zombies quickly and quietly. This weapon is a one-shot at close range, with the 195 initial damage and the extra bleed damage it inflicts. The Hand Crossbow is helpful when killing bosses quietly, as all bolts can be retrieved once the boss is dead.
As for the tools, the First Aid Kit and Knife are crucial for any player's loadout, regardless of skill level. They will be in every entry on this list. The Choke Bombs are mainly used for putting out fires, causing the enemies to cough loudly, and preventing enemy players from burning their partner's body.
Finally, in the consumables section, the Dynamite Sticks are an easy way to kill enemy players, as well as Fire Bombs. Launching several explosives at the enemy is rarely a bad idea.
Romero 77 and Nagant M1895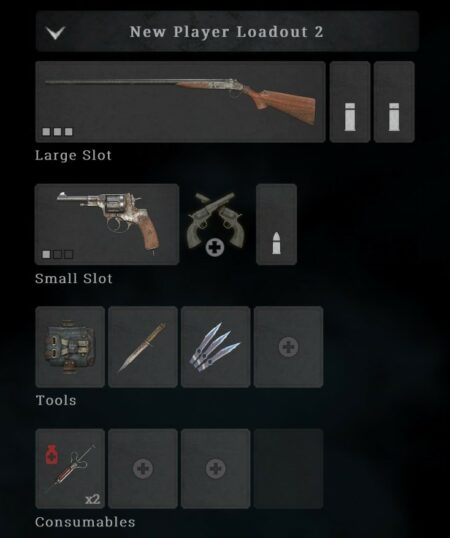 This loadout is well-balanced between short and long-range combat. The Romero 77 is a deadly force in close combat, dealing 200 damage and killing players instantly if they are within 15 meters. The Nagant M1895 is a revolver with a long reload speed but a decent range at 73 meters.
As for tools, throwing knives are a silent method of taking out zombies from a distance. It can be used against players, but it is not that effective, dealing 130 damage and inflicting only light bleeding.
For consumables, we suggest two weak vitality shots, which restore 75 health each. This consumable loadout may not be too complex, but this helps prevent the intimidation of having four different consumables and no idea how to use any of them.
Springfield 1866 and Scottfield Model 3
With the Springfield breech-loading rifle and the Scottfield Model 3, this loadout is a great all-rounder. The Springfield is a beginner-friendly rifle that deals 132 damage each shot. The Scottfield Model 3 is a single-action revolver that inflicts 107 damage every bullet.
As for the tools, Dusters are useful against Immolators, as they do not cause these zombies to explode. If an Immolator's skin is pierced by anything like a bullet or a blade, it bursts into flames, but the blunt melee of Dusters keeps the player safe from this reaction.
For consumables, this loadout carries a weak vitality shot, weak antidote shot, and two Fire Bombs. The weak antidote shot is used to counteract and prevent the effects of poison and lasts ten minutes. Fire Bombs are excellent for area denial and causing chaos in gunfights.
Combat Axe and Nagant M1895
This loadout is perfect for new players who love killing bosses and cutting off entrances. The Combat Axe is efficient at killing bosses due to its 165 damage, as well as its extra bleed damage. While the Combat Axe is mainly used against zombies and bosses, it also inflicts intense bleeding on players.
The Nagant M1895 is a reliable revolver that can be used to duel wield, although this does decrease precision. The Fire Bombs in this loadout are effective against bosses, although it depends on the specific boss, since some are immune to fire damage.
For more guides about learning Hunt: Showdown, check out 12 Best Tips for New Players in Hunt Showdown here on Pro Game Guides.