Ixion is one of the latest simulation-based survival games to hit the gaming market. At first look, the game may look like a simple survival game. But, it is not so, as it has several other underlying gameplay elements like layout planning, upgrade system, and resource management. Due to this, many new players may find it a bit tough to learn the ropes of the game if they are unfamiliar with such titles. So, for all those newbies struggling to go past the first sector, here is a collection of tips and tricks to make you better than before.
Best Beginner Tips and Tricks for Ixion
Management of layout area: Being a builder-survival game set in a spaceship, you only have limited space for building infrastructure. So, before constructing, make a layout plan in your head to utilize each sector to its maximum by buildings as close as possible while leaving some area for laying roads. Also, while building, try to erect buildings of the same type in a sector to unlock the Specializations feature. For example, if an area has a lot of food-producing farms, you can unlock unique perks related to food.
Maintaining stability: One of the core objectives of Ixion is to maintain stability/trust among your crew. You achieve this by catering to the demands of your people from time to time. Use the Trust Bar on the bottom left corner of the screen to understand the current needs of your people and take the necessary steps to attain that. For instance, if your people are unhappy with the current state of housing amenities in a sector, build more crew quarters in that sector to regain trust.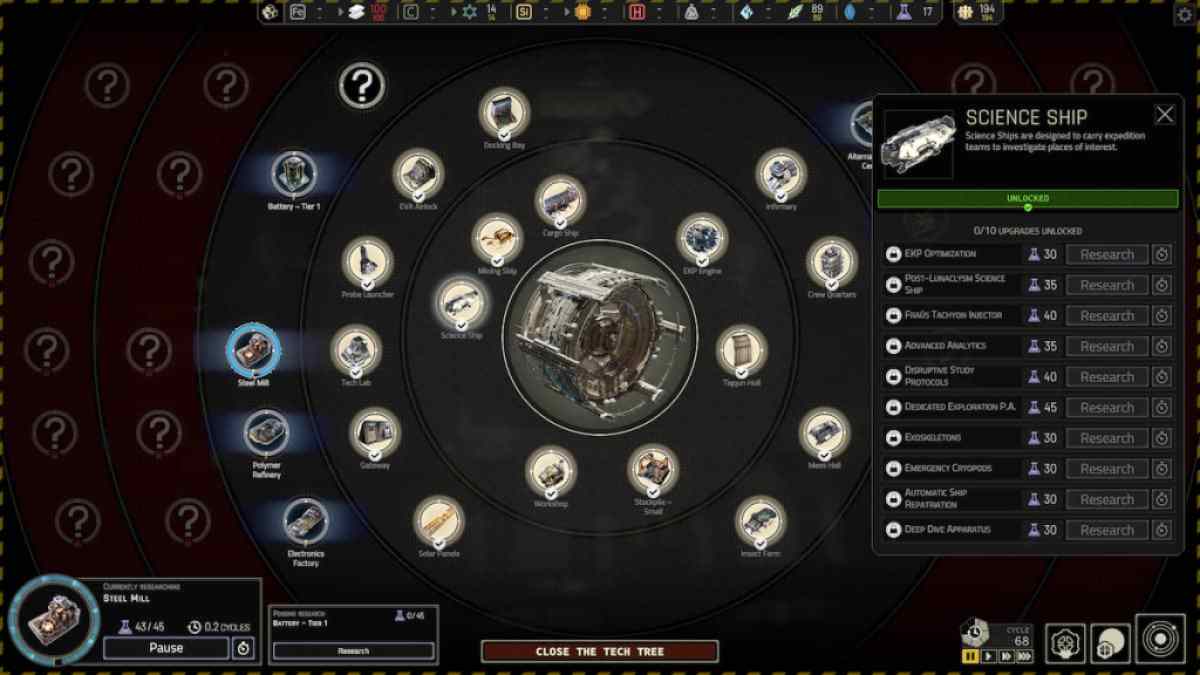 Resource Management: Like most strategy games, Ixion also demands you to farm and manage resources. When you start, make sure you are concentrating on Fe, Si, and Science Points to align better with the storyline. To scale production, try to build more mining and cargo ships from time to time. For food, we recommend you rely on insect farming before switching to algae farms in mid-game.
Protecting the Hull: Apart from maintaining stability, the other core objective of the game is to protect the integrity of your deteriorating hull. You can decrease the chance of complete hull depletion by building more EVA Airlocks in each sector and activating the repair process. But make sure you have a constant supply of alloys required for repairing before expanding. We recommend having at least two EVA airlocks by the time you unlock three sectors.
Related: How to use Space Probes in Ixion
Unlocking the inner upgrade perks: One of the common mistakes several new players tend to commit is to keep unlocking new infrastructure instead of upgrading the old building types. As a result, players often waste precious Science Points that could have been used wisely for other problems. For example, if you feel like the food production is low, instead of researching for a new tech like crop farm for 80 Science Points, unlock perks like Accelerated Growth under your old insect farm tech for 30 Science Points to increase the current production up to 10%.
Remember, these are general tips and tricks to make you understand the game mechanics and features better. To truly improve, you need to practice and keep playing till you master the art of micromanagement.
For more on Ixion, check out Best Chronological order of Tech Tree Upgrades in Ixion or How to transfer resources in Ixion on Pro Game Guides.