One of the main objectives in Ixion is to protect the hull of your spaceship. If you cannot secure it, the hull will slowly deplete and end the game. To save yourself from this scenario, you must constantly maintain the hull integrity of the spaceship by repairing it through an EVA Airlock.
What is EVA Airlock?
EVA Airlock is one of the buildings in Ixion that allows users to repair the hull and construct engines/solar panels. You can erect the building for 60 Alloys and 1 Electronic Chip from the Construction tab. Also, the game restricts you from building only one per sector.
Related: How to improve stability in Ixion
How to improve hull integrity in Ixion
After building an EVA Airlock, it is time to start the repairing process. Connect your EVA Airlock building to an active alloy stockpile with the help of a road. Now, click on the EVA Airlock machine and toggle the hull repair option to start repairing the hull.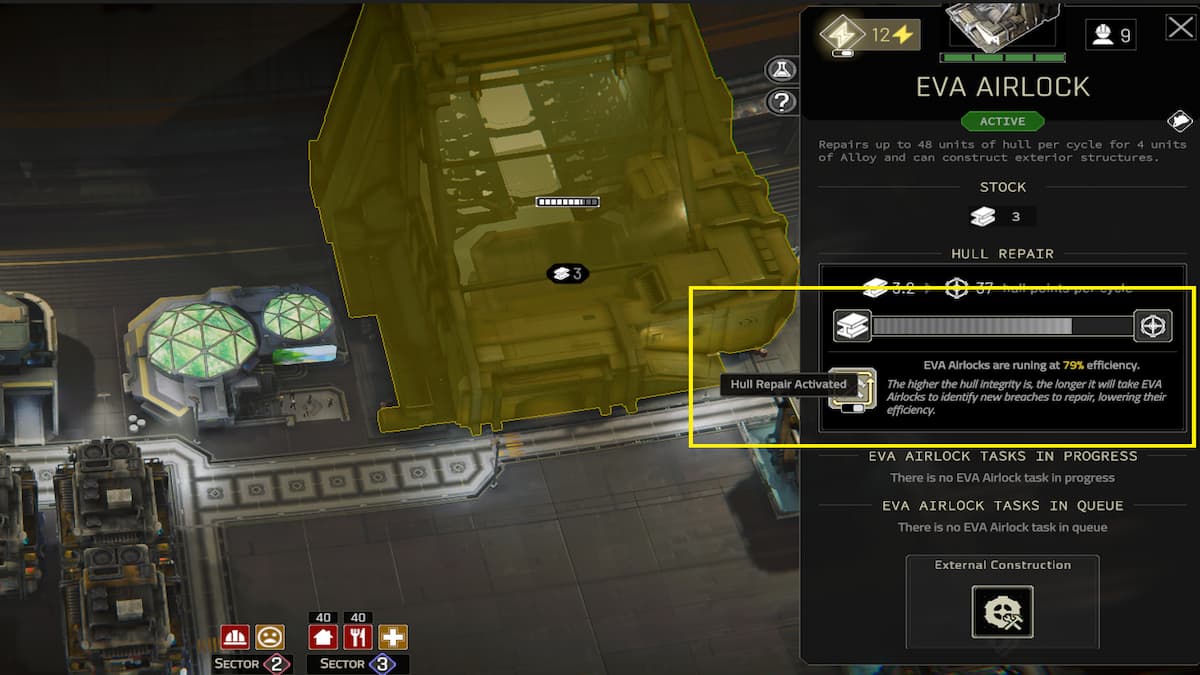 You can speed up the repair process by building several EVA Airlock buildings in each sector. The infrastructure uses four alloys to repair up to 48 units of hull integrity per cycle. So, make sure to maintain a constant supply. Otherwise, your hull will start deteriorating the moment the supply chain is cut. With each cycle, your hull integrity will keep improving and move toward the maximum value of 900.
How to manage hull integrity while constructing solar panels or engine
The EVA Airlock engine only performs one task at a time. You can either use it to repair the hull or construct essential items like a solar panel that can increase the overall power capacity of your spaceship. So, when you are ready to build solar panels or engine modules, we recommend having your hull integrity at least above 700 to compensate for the loss of repairing time. Also, make sure to turn back the Repair after constructing the items.
For more on Ixion, check out How to use Space Probes in Ixion or How to transfer resources in Ixion on Pro Game Guides.