The Sorceress is an Advanced Class of the Mage who uses elemental magic to deal heavy area damage. She is best used to inflict damage on many foes at once and has no trouble being placed on the front lines.
Best Sorceress build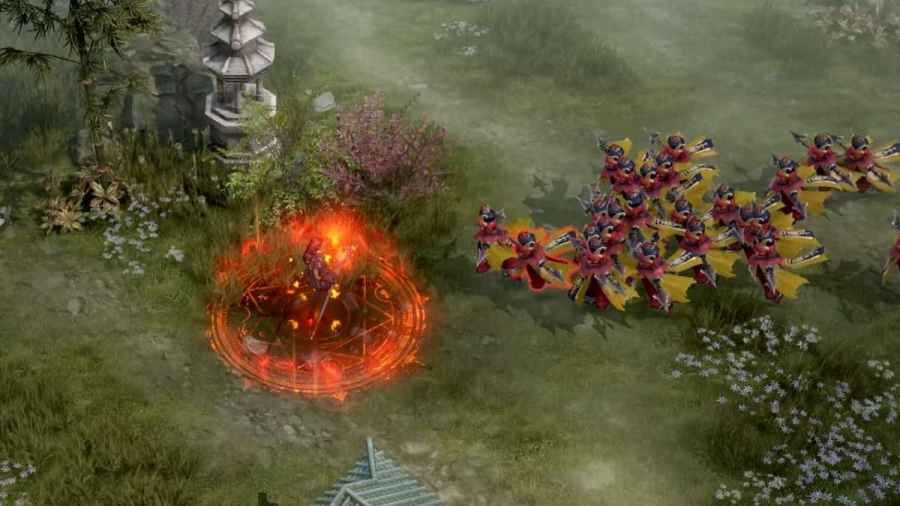 The Sorceress uses magic that calls on the elements and can even summon supernatural creatures to aid them in their destruction of enemies. There's not much room for this character to be a support for a team and is best used as a fighter who throws ranged attacks to multiple foes at once. She really is a DPS and would not be helpful in other roles like a tank.
| Skill | Skill Level | Tier 1 | Tier 2 | Tier 3 |
| --- | --- | --- | --- | --- |
| Blaze | 7 | Mind Enhancement | Flame Expansion | - |
| Doomsday | 10 | Mind Enhancement | Asteroid | Final Strike |
| Explosion | 10 | Mind Enhancement | Weak Point Detection | Final Strike |
| Frost's Call | 10 | Mind Enhancement | Insight | Final Strike |
| Lightning Bolt | 10 | Quick Prep | Vital Point Hit | Voltage Boost |
| Punishing Strike | 10 | Mind Enhancement | Electric Discharge | Final Strike |
| Rime Arrow | 10 | Quick Prep | Piercing Strike | Ice Pick |
| Squall | 7 | Agile Cast | Lightning Whirlwind | - |
Related: Lost Ark – Paladin Build Guide
Sorceress Engravings
You can use Engravings when you reach level 50. Each class has two Class Engravings that will alter the way the class works in small ways. The Sorceress class has Reflux and Igniter. We recommend players choose Igniter overall, as the increase in damage done to enemies will make the Sorceress a great asset to take down multiple enemies.
Reflux - Arcane Rupture is disabled, but Damage of Skills is increased by 8% and cooldown is reduced by 3%.

At levels 2 and 3, Damage of Skills is +12% and +16%. Cooldown is -6% and -10%.

Igniter - Normal skills' cooldown -50% when triggering Magick Amplification and during the Magick Amplification Crit Rate increases by 10% Crit Damage increases by 20%.

At levels 2 and 3, Crit Rate is +17% and +25%. Crit Damage is +35% and +50%.
Sorceress Awakening Skils
Awakening Skills are very useful and powerful but come at the cost of long cooldown times. Players get to choose between two Awakening Skills for every class, but can only use one at a time. The Awakening Skill you select for Sorceress will depend on which Engraving you use.
Enviska's Might - Daro is awakened, which gives the Sorceress a force field of damage-wielding magic. Opponents nearby can be pulled into the area and have higher and higher damage inflicted until the force field creates an explosion of lightning bolts.
Apocalypse Call - The Sorceress can drop random pieces of Meteor and knock over foes within a range of eighteen meters for eight seconds. Enemies that are Challenge (or below) will receive +200% damage inflicted.
Want to read more about Lost Ark builds? If so, check out Best Glaivier Builds in Lost Ark on Pro Game Guides.