Wondering which is the best Fantastic Four builds in Marvel Strike Force? The heroic team features some of the most iconic characters in the Marvel Universe, and players can recruit five of them to make a powerful roster in-game.
Currently, the best roster for the Fantastic Four will feature Namor, Invisible Woman, The Thing, Human Torch and She-Hulk. Namor is primarily in the team to support and increase area damage, while the Thing and She-Hulk act as tanks.
Related: How to unlock Doctor Octopus in Marvel Strike Force – Surgical S.T.R.I.K.E.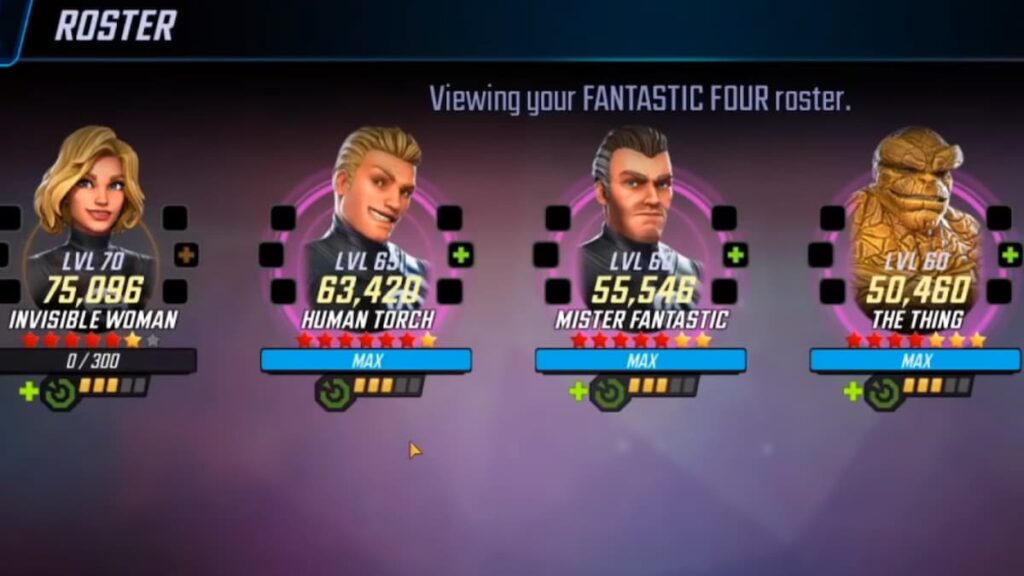 The Human Torch, Thing and She-Hulk will be the primary attackers in the team, while Namor and Invisible Woman strengthen the defence. It is highly recommended that players rank up these characters to seven stars, and unlock all the special abilities.
The Fantastic Four team currently has six members, out of which only five can be selected to make a roster. Mister Fantastic, Human Torch, The Thing, Invisible Woman, Namor and She-Hulk are the six members you can choose from. This team is known for its efficient offence, and they perform quite spectacularly in the Blitz Mode.
The Thing, Namor and The Human Torch are available in the Blitz Store for and you can unlock him with character Shards. Invisible Woman is a legendary character in the game and will require the Sinister Six roster to unlock her.
For more Marvel Strike Force guides, check out Best Sinister Six builds in Marvel Strike Force on Pro Game Guides.