The Minecraft Infinity Enchantment is a helpful effect that makes your bow not reduce your arrow count when you fire. Below, we've covered the methods you can use to put this enchantment on your bow.
How to Get the Infinity Enchantment
Before we begin, we'd like to note two important facts about enchanting your Bow with Infinity. First, it only works on normal arrows. You'll still have to obtain Tipped or Spectral Arrows if your Bow has the enchantment. Second, you can't mix the Infinity enchantment with the Mending enchantment on the same Bow.
Even with the downsides listed about, the Infinity enchantment is convenient because it isn't any more difficult to get than any other enchantment. Let's look at the different methods.
Enchantment Table
Enchantment Tables are the classic go-to method for any enchantment, and Infinity is no exception. To use a level 30 Enchantment Table, you need to have three Lapis Lazuli and an experience level of 30 or more.
Enchantment Tables are, unfortunately, randomized. There is no way to guarantee a certain enchantment will be available. This means that if you want to Enchant the Bow directly (or a Book to apply it), you'll have to place it on the Enchantment Table and hope for the best.
Trading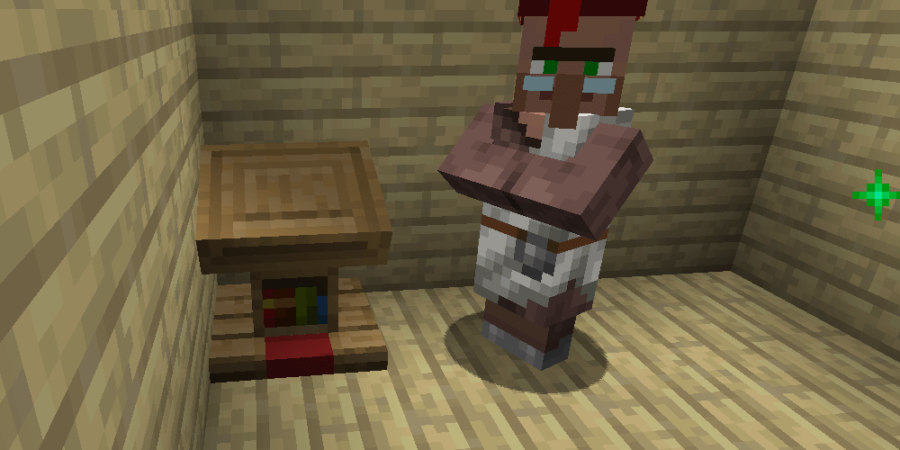 One lesser-known method to get the Infinity enchantment is through trading with Librarian Villagers. If you build up a Village to have many Librarians, it is much easier to find one of them that will trade a Book enchanted with Infinity.
To force Villagers to learn to be Librarians, they must be unemployed and approach a Lectern. It's easiest to do this by trapping Baby Villagers in a small area which contains a Lectern.
While it can take a significant amount of time to get a Villager willing to trade a Book with Infinity, this is often the best method to guarantee you'll get it. Librarians have a higher chance of selling enchanted Books in their Novice, Apprentice, and Journeyman tiers. The price range for a Book enchanted with Infinity is anywhere from 5 to 19 Emeralds.
Fishing
Fishing is one of the most difficult ways to get the Infinity enchantment. It is even more randomized than the Enchantment Table, since fishing is primarily for catching Fish.
You can increase your chances of catching treasure (which includes Enchanted Books) by equipping your Fishing Rod with the Luck of the Sea III Enchantment. Still, catching an Enchanted Book doesn't guarantee that book will have Infinity. This is one of the longest and most arduous methods of getting the enchantment.
Anvil
If you already have a Book enchanted with Infinity and want to apply it to your Bow, you can do this via an Anvil. When you combine two acceptable items (such as the Book enchanted with Infinity and a Bow), they combine to form the associated Enchanted item. In this case, it would be a Bow with Infinity.
Want to see some other magic in Minecraft? Check out our Brewing and Recipe Guide for Minecraft Potions!