Enchanted Golden Apples have been in Minecraft since its version 1.3 and it has since then been one of the most overpowered items in the game. There is good reason behind this, as it provides an astounding number of beneficial effects for your character. The only problem is the cost of obtaining one.
Enchanted Golden Apples, unfortunately, are not craftable. The only way to get them is by finding them in a world-generated chest, console commands, or through your creative inventory. Many players are surprised to find out this information for one of two reasons. Either they are veteran players who played Minecraft before version 1.9 when Enchanted Golden Apples were craftable, or they were unaware that these apples differ from the weaker, craftable Golden Apples.
Related: What Are the Far Lands in Minecraft?
How to Get Enchanted Golden Apples
Since you're not able to craft them, we have explained how you can get them below.
Chests
Each chest has a certain percentage of spawning a single Enchanted Golden Apple. The list below shows you what chance you have of getting them in each chest.
Mineshaft Chest: 1.4%
Dungeon: 3.1%
Ruined Portal: 1.5%
Woodland Mansion: 3.1%
Desert Temple: 2.6%
Bastion Remnant (Java Only): 6.5%
Command
The /give command be used to give players an Enchanted Golden Apple. The syntax for each version is below.
Java
/give <PlayerName> enchanted_golden_apple <Amount>
Bedrock
/give "PlayerName" enchanted_golden_apple <Amount>
How to Craft a Golden Apple
The Golden Apple can be crafted with 8 Gold Nuggets and 1 Apple. The crafting recipe can be seen in the image below.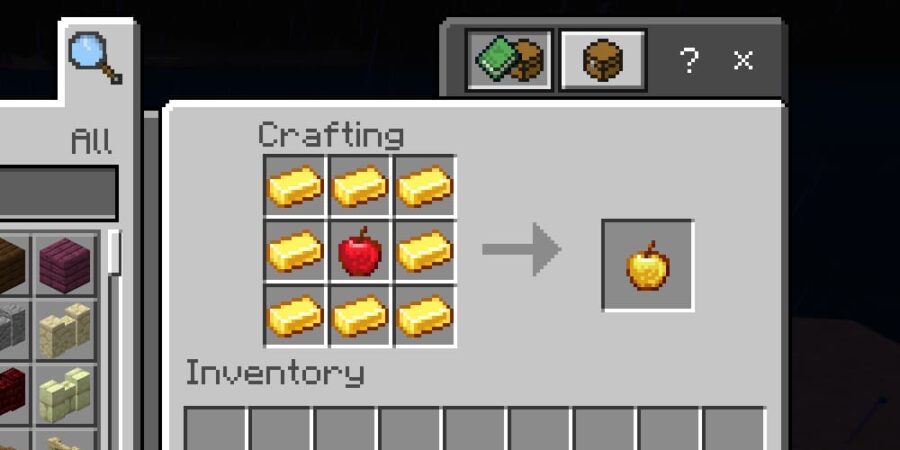 That's all there is to know about the Enchanted Golden Apple and the normal Golden Apple! Don't forget to check out our Minecraft homepage for more great content and guides!
Did you know you can kill the Ender Dragon with beds? Check out our guide on How to Kill the Enderdragon with Beds in Minecraft!