Playing Minecraft on survival can be a difficult task, and players need to rely on all the help they can get. Along with your weapons and shelters, you can also brew a host of different potions using various ingredients. Consuming potions can grant players all sorts of benefits, like restoring health, or providing numerous resistances. One of the most important potions to brew is the Awkward Potion. Though consuming it grants no effect, the Awkward Potion serves as the base for brewing a plethora of other useful potions. Here's how you can make Awkward Potion in Minecraft.
How to get Awkward Potion in Minecraft
As mentioned prior, the Awkward Potion serves as the base for brewing various useful potions in Minecraft. Like all other potions in the game, the first thing you will need to craft to make the Awkward Potion is the Brewing Stand. This item can be crafted by using three Cobblestone blocks, and one Blaze rod. Once you have the Brewing Stand, you will need the following ingredients to make the Awkward Potion:
Nether Warts - As the name suggests, Nether Warts are a type of plant that is exclusive to the Nether dimension in Minecraft. They can be found near stairways in the Nether Fortress, and occasionally in Bastion Remnants. These plants only grow on Soul Sand, and players can make a Nether Wart farm in any dimension by using Soul Sand blocks.
Blaze Powder - Blaze Powder can be acquired by crushing Blaze Rods in the crafting table. This powder will act as the fuel for brewing potions in the Brewing Stand. To get Blaze Rods, players must defeat Blaze mobs in the Nether dimension.
Water Bottles - To craft Water Bottles requires three Glass blocks. Glass blocks can be acquired by heating Sand blocks in a Furnace. Once you have Glass Blocks, place them in the Crafting Table to get Glass Bottles. Then, simply right-click on the Glass Bottle to fill it with water and turn it into a Water Bottle.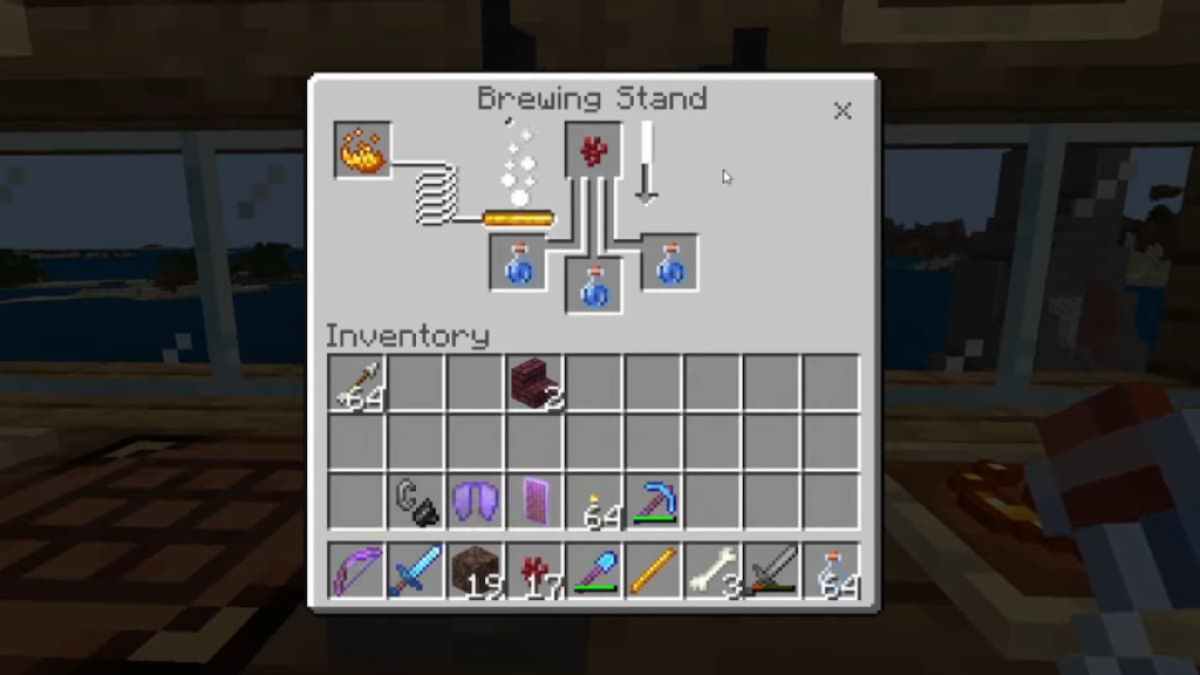 Once you have all three ingredients, you must place them in their required slots in the Brewing Stand. Firstly, open the Brewing Stand by right-clicking on it, and then place the Blaze Powder in the empty slot on the left side. Then, place the Water Bottles in the three slots on the bottom of the Brewing Stand menu. Finally, place a Nether Wart on the top cell to start the brewing process. After a few seconds, the bottles in the three cells at the bottom will become Awkward Potions for you to collect.
How to use Awkward Potion in Minecraft
Awkward Potion is one of the most important potions you must have in your inventory in Minecraft. Therefore, it is quite perplexing that consuming this potion grants no effects. However, the Awkward Potion's real use is to serve as the base for crafting other useful potions. The following are the various potions that require an Awkward Potion to craft in Minecraft:
| Recipe | Potion | Effect |
| --- | --- | --- |
| Awkward Potion + Golden Carrot | Potion of Night Vision | Grants increased vision in darkness |
| Awkward Potion + Spider Eye | Potion of Poison | Decreases max health |
| Awkward Potion + Ghast Tears | Potion of Regeneration | Restores health over time |
| Awkward Potion + Blaze Powder | Potion of Strength | Increases attack damage |
| Awkward Potion + Magma Cream | Potion of Fire Resistance | Grants resistance from Fire and Lava |
| Awkward Potion + Sugar | Potion of Swiftness | Increases movement speed |
| Awkward Potion + Glistering Melon | Potion of Healing | Restores health immediately |
| Awkward Potion + Puffer Fish | Potion of Water Breathing | Grants the ability to breathe underwater |
| Awkward Potion + Rabbit's Foot | Potion of Leaping | Increases jump height |
| Awkward Potion + Turtle Shell | Potion of Turtle Master | Grants increase resistance, and lowers movement speed |
| Awkward Potion + Phantom Membrane | Potion of Slow Falling | Decreases the speed of falling |
Looking for the best enchantments for your gear in Minecraft? Check out Best Enchantments in Minecraft: Best Armor, Sword, Pickaxe, Trident Enchantments & More!, right here on Pro Game Guides.